Despite recent successes on the international stage, Brazilian producers are expressing anxiety about a perceived state of paralysis in federal funding for films.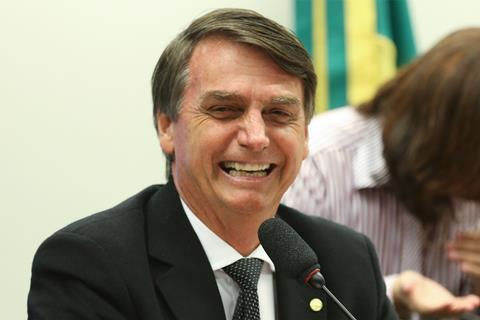 The future of Brazilian cinema remains uncertain in the hands of Brazil's far-right president Jair Bolsonaro. Local producers complain of being paralysed by a lack of funding since the incentive programmes for new productions have been frozen since last year.
In January 2019, the same month Bolsonaro assumed the country's presidency, Brazil's national film agency Ancine announced the last round of applications for financing from its Audiovisual Sector Fund (FSA), the most important federal fund in the country. But since then there have been no further announcements, which makes local producers wonder if there will be a continuity of the incentive programmes implemented by previous governments.
"Not only has the financing been paralysed, but also the progress of the applications, the approvals, the resizing of projects and the extension of deadlines," says Fabiano Gullane, producer on Marco Bellocchio's Cannes 2019 Competition entry The Traitor and Anna Muylaert's 2015 Sundance premiere The Second Mother.
"There has been a disregard for the Brazilian audiovisual sector, which is dehydrating the local industry," adds Gullane. "Our film industry has been targeted and has suffered greatly from this stoppage and the dismantling that has taken place in the cultural arena by this government."
Ancine has not officially commented on the issues raised under Bolsonaro's tenure, but its PR company did issue a statement to Screen International justifying the fact the agency has not announced new rounds of applications for financing and denying accusations of paralysis.
According to Ancine, a substantial increase in its annual budget (which covers all stages of the audiovisual sector including development, production, distribution, exhibition and infrastructure) led to a kind of "operational collapse" at the agency last year. While the agency managed about $92m (brl400m) in 2016 and 2017, the budget rose to $252m (brl1.1bn) in 2018. That had a knock-on effect in compromising the agency's accounting procedures, which were subsequently referred to Brazil's Tribunal de Contas da Uniao (TCU) — the government accountability office.
Money talks
Ancine claims that in 2019, despite operational difficulties, 660 projects received $122m (brl526m) via the Audiovisual Sector Fund (FSA). But the funds the agency distributed last year were allocated in 2018, when Ancine was managed by the previous government, not Bolsonaro's. What producers want to know now is when the agency will be open to new financing lines, which Ancine has not yet confirmed.
Since Bolsonaro assumed Brazil's presidency in 2019, the atmosphere of antipathy between the film community and his administration has only heightened. One of his first moves was to dissolve the country's ministry of culture and create a special secretary office for culture to oversee the film sector, including supervision of Ancine. Initially, this new office — Secretaria Especial de Cultura — and Ancine were subordinated to the ministry of citizenship. But in November they were transferred to the ministry of tourism, another measure that many producers say underlines their sector's lack of status and importance for the Bolsonaro regime.
Ancine's board of directors was also transferred from Rio de Janeiro to Brazil's federal capital Brasilia. But to this day, the board of directors remains incomplete, compromising the agency's operations — including the analysis of projects that have applied to it for funding. It is estimated by those in Brazil's film community that there are around 4,000 project applications at different stages waiting on a decision from Ancine.
Further accentuating the climate of uncertainty for producers, there have been four successive changes of culture secretary since Bolsonaro took office. Henrique Medeiros Pires spent eight months in the office before he was replaced by Ricardo Braga, who was in place for two months. His successor Roberto Alvim lasted slightly longer at three months, before being dismissed in January for plagiarising Joseph Goebbels, the minister of propaganda for Nazi Germany, in a speech posted on social media.
The conservative actress Regina Duarte — best known locally for starring in Rede Globo telenovelas from the 1970s-90s — is the latest person to fill the position, but her appointment has only caused further disquiet. "With all due respect to Regina's work as an actress, what does she understand about management?," asks producer Sara Silveira, who is in Berlin's Competition this year with Marco Dutra and Caetano Gotardo's All The Dead Ones.
Looking elsewhere
Although Berlin has a record number of Brazilian productions in the line-up this year (19, including shorts), Silveira wonders how many films the country will have ready to submit to international festivals in two or three years from now. "Since this obscurantist government appears determined to curb incentive mechanisms in the audiovisual sector, our production [levels] will certainly drop," says the producer. Both 2018 and 2019 saw about 180 Brazilian films released in the country.
Many Brazilian producers are now looking elsewhere. Emilie Lesclaux, who produced Kleber Mendonca Filho's Aquarius (2016) and Bacurau (2019), also believes Ancine is in a state of paralysis and has turned her attention to local incentive programmes rather than waiting for answers from the federal film fund. "I am focusing on projects that I can carry out with public resources from Recife [the capital of Brazil's Pernambuco state]," she says. "Thanks to the reception of my latest films, I am also looking for private or international funding."
There is also concern that Bolsonaro has imposed new guidelines on Ancine regarding the selection of projects, making it clear he does not believe public money should be spent on making "certain types of films". Four LGBTQ-themed TV projects criticised by Bolsonaro in a Facebook Live appearance lost FSA funding after initially being pre-selected as "sexual diversity content": Afronte, Transversais, Religare Queer and Reverse Sex.
Ancine, however, is adamant that "nothing has changed" in the selection of projects. "In the case of the FSA, projects are selected mainly based on their potential for commercial performance, considering the history of the production and distribution companies, among other criteria," it declared in its statement to Screen.
"The act of censoring themes, whatever they are, is absolutely unconstitutional," says LG Tubaldini Jr, producer of Vicente Amorim's Motorrad, which screened at Toronto in 2017. "Our projects with themes considered as sensitive in this administration, from LGBTQ to the environmental crisis, will move forward, even if we have to reinvent ourselves and seek funding outside of Brazil."
Lesclaux laments the current situation as a turning point for Brazilian films on the international stage, given Brazil's strong representation at major festivals in recent years, which has seen awards at Cannes for Bacurau and Karim Aïnouz's The Invisible Life Of Euridice Gusmao, as well as The Edge Of Democracy's nomination for best documentary feature at the Oscars earlier this month.
"This tragic moment follows the extraordinary achievements of Brazilian cinema in the last year," Lesclaux says. "This only happened because until now we were still reaping the rewards of more than 15 years of important public policies for Brazilian cinema."