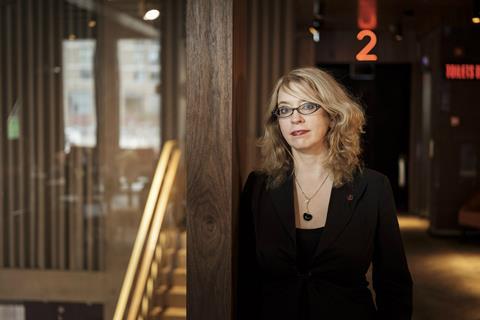 "It isn't a film about mental illness; it's a film about perception of the world and reconciliation."
This is how UK director Carol Morley describes Typist Artist Pirate King, which is premiering in the Critics' Picks section of Tallinn Black Nights Film Festival this month. Morley's fourth feature stars Monica Dolan as Audrey Amiss, a British artist who spent large parts of her life in psychiatric care, and whose work has been been rediscovered since her death in 2013. Shot in late 2021 in the north of England, the film sees Amiss go on a road trip with her psychiatric nurse Sandra – played by Kelly Macdonald – as the two women search for closure.
With a cast also including Gina McKee, the film was produced by Cairo Cannon, Morley's partner in Cannon and Morley Productions, and Screen Star of Tomorrow 2018 Ameenah Ayub Allen. UK sales firm Metro International Entertainment represents world rights.
Screen sat down with Morley in Tallinn following the world premiere to discuss Amiss' unique character, the struggle to create a body of work, and Morley's next projects.
How did you discover Audrey Amiss?
I was awarded a Wellcome Screenwriting Fellowship – the first year it was Jonathan Glazer, then Clio Barnard, then I got it. It was very much about research, not results but I was eager to find something that could trigger a film. Gillian Scothern, a woman who was across everything there, said 'If you're looking for first-person accounts, we've got scrapbooks that were donated where someone collected the wrappers of everything they ever ate.' The archivist said, 'That's Audrey Amiss'. They sent up a couple of boxes from deep storage and allocated me a room for two hours; I was there all day.
I adored her collection of wrappers and the way she presented them on the page, but also the texts that accompanied them gave great insight into the way her mind worked. On her passport, which had been cancelled in the 80s, she had to put her occupation, and had written 'Typist Artist Pirate King.
What about her life seemed ripe for a film?
She likened herself to Don Quixote – 'I'm a bit batty but there's method in my madness.' For me, the idea with her diaries and images was all about how she perceived the world. After I discovered her, I very much wanted to make a film that that wasn't about looking at mental illness from the outside, but taking on the way she saw the world. She had these diagnoses - which she contested. It felt very important to me that she had these diagnoses that did define her, because they do in our society but they weren't necessarily what she believed.
How did you develop the project?
[The original discovery] was six years ago, then the writing took a year. I tried different ways of writing it, My first draft was very experimental. Someone said 'you will never finance this', so that was the end of that. The road journey felt right because Audrey loved to travel. Then she's travelling with her community psychiatric nurse – it could become about the conversation between psychiatrist and the psychiatric patient. I did a lot of research into psychiatric nurses and psychiatrists and they're very conflicted within what they have to do. One psychiatrist said when he began he was very idealistic; then he realised his function was for the government to section people. It becomes very quickly a medication route.
How did Jane Campion become involved as executive producer?
For The Film Programme on BBC Radio 4, I had to choose a film to talk about that really inspired me, and chose [Campion's 1989 comedy] Sweetie. The presenters then said 'we have a call from Berlin for you' – Jane came on and said 'Carol, you're my hero!' I actually cried on the radio – making films is such a struggle, so when you get this affirmation from your hero, it was very special.
This film was an absolute struggle to finance; we developed it with the BFI and BBC, then the BBC didn't continue with it to production and BFI turned it down [the Film Fund later backed it with production funding]. We were reaching the end of the road of how to get money for the film; so I sent Jane the material – she was in the edit of The Power Of The Dog - and she wrote back saying she'd be an executive producer. It shifted into having more visibility.
Is it more challenging for UK independent filmmakers to break through now than when you started your career?
There are more women making films – definitely more debut films by women, which is fantastic. You just hope that they will go on to make their second, third feature if they want to - it's very difficult to create a body of work.
There are so many brilliant British filmmakers – a real energy and way of telling those stories. You don't want them to get homogenised into an American way. With the rise of streamers, there is a 'template' of how you make your film, how many locations you can have, how many people you can have in the film, what kind of shots you can have. I think films will become very samey. If we move forward in the future, and people are requesting certain ways of doing things, it will restrict people who their very exclusion in the past requires them to tell a story differently.
In Britain, women are more writer-directors; I think that's because women need to tell stories that are not told, or not told in that way, so they have to write them.
What are you working on now?
A few years ago I wrote a semi-autobiographical book called 7 Miles Out, about growing up in Stockport – it's teen girls, it's very connected to music, and is in the wake of a father's suicide, so there's a mental illness element. Cairo and I were approached by Michael Winterbottom's company Revolution; we are working [with them], I've adapted it and we're still in development. I always say I want to make it next year, then about four years later… I don't want to tempt fate, I'm still refining the script, but I would love to shoot it next year.
Over the years I've been very interested in Muriel Box, the first British woman to win an original screenplay academy award [in 1947 for The Seventh Veil]. She is one of the most prolific British women filmmakers, and wrote a memoir called Odd Woman Out in 1974; but has never had a British retrospective. I think I'll have to make a film about Muriel – that's a later one.