With a new director at the helm, Busan International Film Festival is out to reclaim its position as Asia's must-attend event and has drawn a clutch of high-profile international guests, who are braving Covid travel restrictions.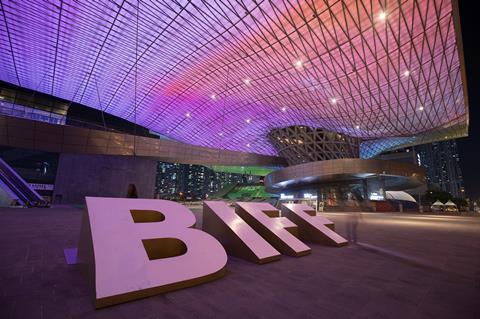 Pre-pandemic, industry insiders would often describe Busan International Film Festival (BIFF) as Asia's "must-attend" event. This year, despite still being limited in size by social distancing and quarantine measures, BIFF is again looking to serve the industry and local audiences the way it used to while adding new innovations. The 26th edition of BIFF (October 6-15) also marks Huh Moonyung's first as festival director.
"The situation is better than last year," says programme director Nam Dong-chul. "We will be able to have a certain number of guests including jury members, competition directors and overseas festival representatives so it will be more like a proper film festival." The organisation was able to apply for a few special exemptions for vaccinated overseas guests, and others were willing to undergo South Korea's mandatory 14-day quarantine.
Attendees will include Japanese director Ryusuke Hamaguchi, who is bringing his two latest films — Berlinale Silver Bear winner Wheel Of Fortune And Fantasy and Cannes best screenplay winner Drive My Car — to screen in Gala Presentation. French filmmaker Leos Carax will be on hand to present his musical Annette, this year's Cannes opener, in the same section. Hamaguchi will also hold a talk with Parasite director Bong Joon Ho at BIFF, while Carax will deliver a masterclass.
Other filmmaker guests include New Currents jury head Deepa Mehta from Canada, whose latest feature Funny Boy screens in the Icons section; Sonje Award jury member Royston Tan from Singapore, who will present his film 24 in A Window on Asian Cinema; and Romanian director Anca Damian, whose animation The Island will premiere in the World Cinema section. Cannes deputy general delegate Christian Jeune, Berlinale artistic director Carlo Chatrian and Rotterdam senior programmer Gerwin Tamsma are among the festival grandees planning to attend.
Korean director Im Sang-soo will present Heaven: To The Land Of Happiness, which was selected to last year's Cannes 2020 label and makes its world premiere as BIFF's opening film. However, Longman Leung, director of Anita, the biopic of Hong Kong cinema legend Anita Mui which makes its world premiere as BIFF's closing film, will only participate online due to scheduling conflicts and the mandatory three-week quarantine he and cast members would face on their return to Hong Kong.
For similar reasons, none of the directors whose titles feature in the New Voices, Chinese Films special showcase look to be able to attend. In this year's other special showcase, Wonder Women's Movies, local director Jeong Jae-eun will be on hand with Take Care Of My Cat and to serve on the New Currents jury.
BIFF will screen 223 films from 70 countries, of which 92 will be world premieres and four will be international premieres. This is up from last year's 192 films from 68 countries with a total of 87 world and international premieres. Each official selection will see multiple screenings in cinemas — an improvement from last year when the uncertainty over whether theatres could stay open meant the festival could only schedule a single screening per title at the Busan Cinema Center. Screenings will remain at 50% capacity, accompanied by online booking, mobile check-in and regular disinfection.
Alongside the official selection, the festival will also host 63 Community BIFF screenings around the city, driven by a desire to engage local audiences in programming the screenings and related events. It is part of Huh's vision to cultivate a more "democratic and open film festival" for Busan's residents, with a broader aim to increase film literacy and extend BIFF's cultural footprint in the city beyond the 10 days of the festival.
Two-pronged programming
"When it comes to Asian films, bringing world premieres is important to us," says Nam. "But in other cases, we have decided to programme a lot of films that filmmakers and cinephiles want to see. So we're going to be showing a lot of much-talked-about films such as award winners from Cannes, Venice and Berlin."
In this two-pronged initiative, all 11 films in the New Currents competition for first- and second-time feature directors will be world premieres. This includes Korea-Japan co-production Missing, directed by Katayama Shinzo, former assistant director to Bong Joon Ho. Furthermore, all seven of the Jiseok Award nominees — films from more established directors selected to A Window on Asian Cinema — are world premieres including Bangladesh New Wave director Mostofa Sarwar Farooki's No Land's Man, which deals with discrimination and hate crimes and features music from AR Rahman.
The Korean Cinema Today — Vision strand, which usually screens 10 features, has been expanded to 12 this year. They are all world premieres including coming-of-age film Nobody's Lover, directed by Han In-mi, and Jung Wonhee's Doom Doom, about a single mother who is also a gifted DJ. "Film festival programmers always pick up a lot of titles from the Vision section," says Nam. "There is a lot of interest in Korean independent cinema so it makes sense to screen more at Busan."
On the non-Asian side, BIFF will screen Cannes 2021 titles including Gaspar Noé's Vortex, Wes Anderson's The French Dispatch and Justin Chon's Blue Bayou, as well as Venice 2021 titles such as Ana Lily Amirpour's Mona Lisa And The Blood Moon, starring Korean actress Jun Jong-seo (Burning), and Edgar Wright's Last Night In Soho, which was shot by Korean cinematographer Chung Chung-hoon, whose credits include Stoker, The Handmaiden and the 2017 reimagining of Stephen King's It.
In a nod to changing times, the festival is launching an OTT series section called On Screen, which will showcase three series including Yeon Sang-ho's Net­flix original Hellbound. BIFF will also make short films available for streaming online through Naver and YouTube.