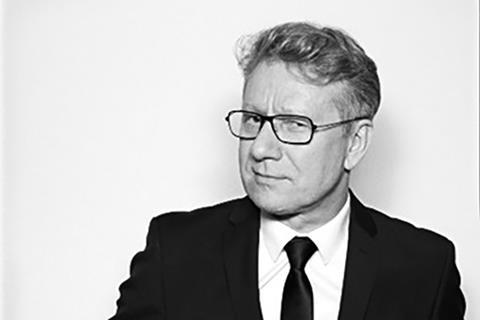 Marek Zidowicz, director of art and cinematography festival Camerimage, brought the event back to its birthplace of Torun in Poland for this year's 27th edition (November 9-16).
It was a key part of his efforts to establish a permanent cultural centre in the historic town to act as both an artistic space and production studio while providing a permanent home for the festival. The Polish event launched in the city in 1993 but – for political and financial reasons – it was staged in Lodz from 2000-2009 and Bydgoszcz from 2010-2018.
When Zidowicz couldn't get the plans for the cultural centre off the ground in either of the towns, he shifted his attention back to Torun where he is confident the project will go ahead.
As announced by David Lynch via a live video call at the festival's opening ceremony, $160m in state and regional backing has thus far been committed to the project, and will officially be named the European Film Centre Camerimage. Zidowicz added that Lynch and fellow festival friend Frank Gehry will be on board to support.
The festival continues to grow, recording 4,500 attendees this year, 750 of which are international cinematographers including Lawrence Sher (Joker), Rodrigo Prieto (The Irishman) and Phedon Papamichael (Ford v Ferrari).
As the 27th edition draws to a close, Zidowicz and festival office director Kazik Suwala spoke to Screen about the plans for European Film Centre Camerimage and how they hope it will provide a year-round home for the festival, provide a space for cinematographers and filmmakers to engage with new technology and work as a physical production studio for local and international filmmakers.
Why did you decide to come back to Torun for the first time in a decade?
Marek Zydowicz: In 2000, we thought we had found a solution in Lodz. The local government agreed to fund a cultural centre with Frank Gehry on board as the architect. Then the politics changed and the project collapsed. We organised a strike at the city hall – it was a terrible time. We then moved the festival location to Bydgoszcz and started talking with the city's mayor about establishing a centre there. He promised to help, but after eight years he said it was impossible.
We started talking with the mayor of Toruń, Michał Zalewski, about both the festival and the centre. The prime minister of Poland then agreed to give Camerimage support independently. For eight months, we worked together with local and national government officials to establish a national culture institution that will be called the European Film Centre Camerimage. In total, we have approximately 600m Polish zloty, or $160m, which has given me the confidence this will happen.
You said at the opening ceremony that it is expected to be finished within the next five to six years.
Zydowicz: We have been thinking about this special place for the festival since 1998. When we started in 1993, we had a small hall and a tent in the middle of the winter. It was crazy because it would be -25°C and snowing, and we would be trying to host workshops in a tent.
What will the European Film Centre Camerimage look like? Do you have a location for it yet?
Zydowicz: The current festival hall in Torun is too small, it's like a cave. Frank Gehry prepared a beautiful concept [for Lodz], and he will again be involved with the new space. We would also like to invite famous architects from around the world.
Torun has older architecture, as it is a UNESCO Heritage site, and we would like to be a sign of the times. We don't want to be like a museum – we are thinking more of an interactive gallery, a learning centre and an institution with an expansive visual arts programme.
David Lynch will help be a part of the plans. The idea is that the festival will take place at the space for two weeks, but the rest of the year there will be painting, video art and other curated events. Film is just one part of it.
Tell us more about the year-round plans.
Kazik Suwala: It will be a place where young people can connect and meet with masters in the visual fields, and where they come and experience new technology. We want them to come here, talk about their new projects and receive mentoring. And when they are more experienced, they can come and teach the younger ones.
Filmmaker Phillip Noyce, who was a 2017 juror on the 'students etudes' competition, said he was amazed by the student films at the festival. He said many of their films were more impressive than the features that year. He left the festival inspired, and that is what we want to take place throughout the year.
Will it have a role in archiving great film, a cause DoP and former AMPAS president John Bailey has been working on for years?
Suwala: Marek wants to go back to this memory idea – to collect and record thoughts. If someone comes and says they have this idea of shooting a movie about a submarine, they would be able to go through the centre's archives, and see for example how Das Boot was made. At the same time, they could be introduced to new technology to make them think how they could do something differently.
How will you place a focus on the ever-growing technology taking place in the industry?
Zydowicz: We wish to prepare a special hall for new technology – whether it's for 3D or a holographic cinema or even projecting 4K and 8K screenings – we must open the door for the future, and provide a production space where people can try new things. We are responsible for showing what is accessible, and also letting cinematographers try new equipment so they have the choice and freedom in their filmmaking style.
Suwala: Sometimes the director and DoP are limited by technology. At Cameraimage, we have created a space where artists can speak with technology companies and make them aware of their needs. This doesn't happen at many other technology events. We give them the ability to all be in the same place, and to discuss and hear different ideas.
Will the new centre also be available to shoot films?
Suwala: We have these Polish production incentives and we must take advantage of them. Because of our international contacts, we think we would be a good connection between Polish and international contacts. In a month, we will have an update about a Polish-American project we are working on with a well-known screenwriter. It's a big project that will connect Polish and American history.
We are at the beginning of this journey, but if it works, we would use this as a sort of pilot where the centre would be an international connection to filmmakers and film production. With the resources we will potentially have when the centre is completed, we can show how production can be smoother and less expensive, plus we will give back certain services and cultural activities.
What do you see as Camerimage's changing role in all this?
Suwala: The festival has grown so much. We have better access to people, the doors are easier to open. Lots of people like Quentin Tarantino know the name and that makes it easier for us to get big-name talent. Ten or 15 years ago, no one would read our festival invitation. Now they do and many like coming to the festival because they meet many of their peers. DoPs and industry figures say they live close to their friends but the only time they see each other is at Camerimage.
Do you see the Camerimage awards as a a precursor to the Oscars? Recent 'Golden Frog' winners have gone on to earn Oscar nominations in cinematography including Ida (2013), Carol (2015) and Lion (2016).
Suwala: We don't plan our programme around potential awards-worthy films, but we do think we have an impact on the Academy and other awards. I have also been told the student awards, coined the Tadpoles, have influenced the Oscars, particularly with our documentary shorts competition. We are now recognised by the Academy as a qualifying festival for the Documentary Short Subject category. That means a lot to us.