Canadian producer-financier BRON Media Corp is looking to cement its pedigree awards season credentials with The Front Runner and Leave No Trace.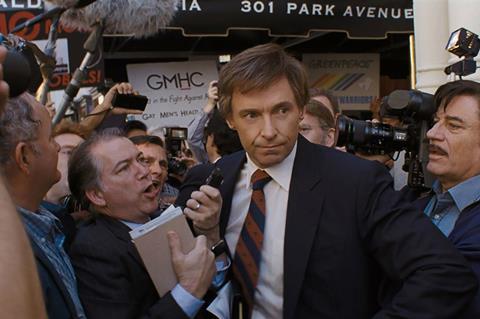 Vancouver-based BRON Media Corp has made plenty of recognisable films since it launched at the start of the decade. Yet over the past couple of years the husband and wife team of Aaron L Gilbert and Brenda Gilbert have been really cooking with gas. Heading into awards season, the film and TV division BRON Studios is likely to be in the conversation with hotly anticipated Toronto-bound drama The Front Runner, which premiered in Telluride and stars Hugh Jackman as flawed 1988 Democratic presidential contender Gary Hart.
It joins Debra Granik's acclaimed father-daughter drama Leave No Trace on the contenders roster and keeps the prestige bandwagon rolling after strong notices in recent awards seasons for Fences, the company's first film to earn Oscar nods, Roman J. Israel, Esq. and, for a while there, The Birth Of A Nation.
The company philosophy of nurturing the best possible talent encompasses commercial plays. Sam Levinson's Sundance hit Assassination Nation, for example, gets a September 21 US launch after Neon and the Russo brothers' AGBO stumped up more than $10m for worldwide rights in Park City. Everything is an evolution, notes Aaron L Gilbert, president and CEO of BRON Studios and CEO and chairman of BRON Media Corp, the umbrella company established several years ago as part of a reorganisation. "Fences wouldn't have happened had many other films not have happened before it," he says. "It was a very important film and we could not be more proud of it."
Entering the industry
Aaron, a former music licensing executive, and Brenda, who comes from the finance sector, formed BRON Holdings inspired by an amalgam of their first names in 1999, the year they were married. Aaron was bitten by the film bug when friends asked him to invest in projects in 2009. The following year, the couple launched BRON Studios to develop, produce and finance content.
The early films involved "a lot of trial and error" and were mostly transactional. Three years in, the focus shifted to supporting the best talent they could access. Welcome To Me, a 2014 comedy starring Kristen Wiig, marked BRON's first partnership with Will Ferrell and Adam McKay's Gary Sanchez Productions. A year later came the Rebecca Hall comedy drama Tumbledown with The Departed producer Kristin Hahn, as well as the Hank Williams biopic I Saw The Light starring Tom Hiddleston, which Sony acquired for the world.
In 2014, the Gilberts met Jason Cloth of Creative Wealth Management, who has backed all BRON productions exclusively ever since. The Gilberts partner with various investors across the businesses of BRON Media Corp, which houses BRON Studios, BRON Animation, slate co-financing vehicle BRON Creative, and BRON Ventures, a strategic investor in companies including Michael Ellenberg's high-end TV venture Media Res.
It was a tough year in 2016. After Aaron fought hard to get Nate Parker's slavery drama The Birth Of A Nation made, it erupted in Sundance, earning awards and sparking a record $17.5m worldwide deal with Fox Searchlight. When revelations about Parker's personal life resurfaced, the film imploded. "It's probably one of the hardest things we've ever had to go through," says Aaron. "I'm still heartbroken with the notion that the film and its important messages never really got out to the world in the way that they could have."
Yet The Birth Of A Nation showed Holly­wood that BRON was a force to be reckoned with, and brought greater access. "How we've thrived is the three Ps," says Brenda, president of BRON Media Corp and BRON Animation. "First is the passion for the art we want to make; second is patience; and third is perseverance. We've been knocked down many times and we've got up together."
The Vancouver-based animation hub has produced Mighty Mighty Monsters TV specials, and US distribution deals are understood to be close on the first two feature-length projects: Henchmen and The Willoughbys featuring Ricky Gervais. The company has a good retention rate on its world-class animators, notes Brenda.
There are roughly 135 people in the BRON Media Corp headquarters and BRON Animation in Vancouver, and some 17 in New York and new offices in Beverly Hills. Recent promotions among the senior executive suite include Anjay Nagpal to chief content officer, Steven Thibault to chief operating officer, Joel Guralnick to chief legal officer, and David Davoli to senior vice president.
Coming up in 2019 are the Chris Evans action thriller The Red Sea Diving Resort, Tom Hanks war drama Greyhound, Fonzo starring Tom Hardy, and Bill Condon's thriller The Good Liar with Helen Mirren, a co-finance arrangement with New Line. BRON Creative's co-finance slate deal with Lionsgate covers The Spy Who Dumped Me, and upcoming titles such as Doug Liman's Chaos Walking and Luc Besson's Anna.
The TV business launched around 18 months ago and the first two projects are set to go into pre-production. Deals are in place with leading players in the UK, France, Scandinavia and Germany. BRON Studios is partnering with Studio­canal's German outfit Tandem Productions on eight-part period thriller Shadow Play, from The Bridge co-creator Mans Marlind. Further project announcements are expected soon.
For now, though, the focus is on Toronto. "[Jason Reitman] did a great job on The Front Runner," says Aaron. "That is our front runner this year for the awards season."