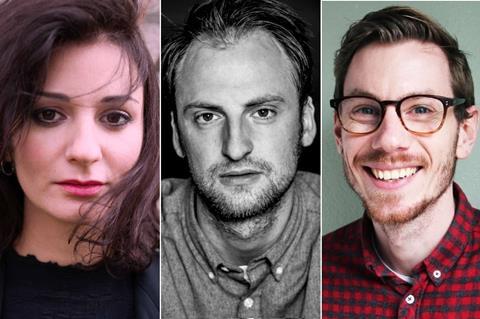 Award-winning filmmakers Ena Sendijarević and Guido Hendrikx have joined forced with sales agent Wouter Jansen to launch director-driven Dutch production company Aventura.
The new outfit will formally launch tomorrow alongside the world premiere of Hendrikx's feature documentary A Man And A Camera, which debuts in the main competition of CPH:DOX. The film was coproduced by Aventura and Jasper Boon's company, boondocs.
Jansen's Vienna-based sales outfit Square Eyes will handle select international sales for Aventura's titles, starting with A Man And A Camera.
Hendrikx is a Dutch filmmaker, whose hybrid documentary feature Stranger In Paradise won the special jury award at IDFA in 2016 and was nominated for a European Film Award. Sendijarević is an Amsterdam-based, Bosnian writer/director who debut feature Take Me Somewhere Nice won best film at Sarajevo Film Festival in 2019.
Aventura's next project is Hendrikx's upcoming documentary Rules of War (working title), which was made in collaboration with Dutch production company Lemming Film.
"Guido, Ena and I have known each other already for a long time, I worked on the projects that they did in film school," said Jansen.
"We started on this whole international route together, playing [films] at festivals and meeting the industry. When Take Me Somewhere Nice started playing and Guido had Stranger In Paradise doing well internationally, we started talking about how it would be nice to bring that experience together."
The idea is for Aventura to become a place where Sendijarević, Hendrikx and other filmmakers will be able to develop "more outspoken" works with greater creative autonomy than other production companies might allow.
"We had a feeling that there wasn't really a young company like that in the Netherlands," Jansen added. The directors will remain intimately involved in the production process. Aventura will produce both drama and documentary.
"Sometimes, it can feel you [as a director] almost give your project away to a producer," said Jansen of the lack of control filmmakers often have over their own projects.
Sendijarević said: "Aventura was born from a desire to combine our experiences in the international film industry and to create a place in the Netherlands for the production of stimulating cinema that's accessible for everyone. We want to (co-)produce our own films, as well as work with filmmakers who want to stay close to the production process and to their audiences."
Not all of the films made by the two founding directors will necessarily go through Aventura. For example, Sendijarević is developing her colonial drama Sweet Dreams with Lemming Film and with Sweden's Platform Produktion as co-producer.