Distributors and exhibitors are harnessing the power of imaginative social media creators who are crafting insider takes on everything from 'Top Gun: Maverick' to the films of Eric Rohmer.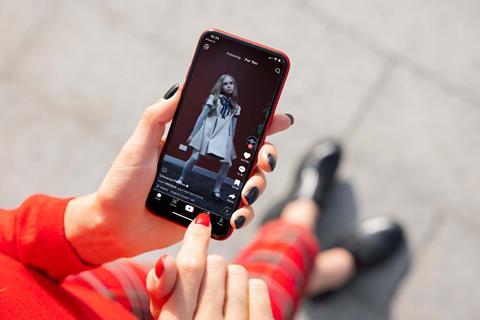 Clips of the titular doll from Universal Pictures' M3GAN dancing eerily to a Taylor Swift song have clocked up 2.1 billion TikTok views and helped push the horror title, about an AI doll turned rogue, to $160m — and counting — at the global box office.
An easily replicated dance teamed with a popular song make for TikTok catnip, but the ability to translate this kind of virality into actual box office is a growing trend in the post-pandemic era.
A 2021 survey by New York-based market research company Suzy found 41% of global users said they looked up cinema times after discovering a new film on the social-media network; 26% went on to purchase a ticket. The company is even testing a 'Showtimes on TikTok' feature that links users to local cinema screenings and up-to-the-minute tickets when viewing film-related content.
Eventising film releases by live­streaming red-carpet premieres and encouraging TikTok creators to share thousands of pieces of behind-the-scenes content is a popular way to catch the attention of the app's users and place the theatrical window at the forefront of audiences' minds.
"Studios have leaned into how important a live moment can be for creating urgency and hype around the release," says Stephen Naughton, TikTok's UK entertainment lead. "It's the melding of traditional media and publicity [with TikTok] to maximise a live moment and engage audiences to make them feel what it's actually like to be part of a movie launch."
He points to the UK release of Paramount Pictures' Top Gun: Maverick, a film that could not guarantee a Gen Z audience without a full-throttle TikTok campaign that included a live­stream from the London premiere. TikTok does not release viewing figures for its livestreams but the popularity of the hashtag #TopGunMaverick, which has racked up 3.6 billion views, suggests there is a strong case to be made for the app's contribution towards a $1.5bn box office.
"TikTok creates cultural moments," says Naughton. "It's about how we can enable that theatrical release to become part of the zeitgeist and become a talking point."
UK-based TikTok content creator Dujon Anderson, 26, has 500,000 followers and posts regularly about films. His content, which centres around the fantasy genre, has scored upwards of 24 million likes on the app. A regular attendee of red-carpet premieres, Anderson believes the presence of creators at these events plays a pivotal role in hyping (or not) a film's release.
"My followers know if I don't post about a film much, it means I probably didn't like it," he says. "I think that does have an impact [on whether they see it or not]," referring to the consumers who flood his inbox and comments sections, curious for his opinion on the latest Marvel title.
Where celebrities generally have a whole team behind them, most TikTokers do not. As Anderson puts it, TikTokers are perceived to be "closer to the general public", with opinions that can be taken at face value.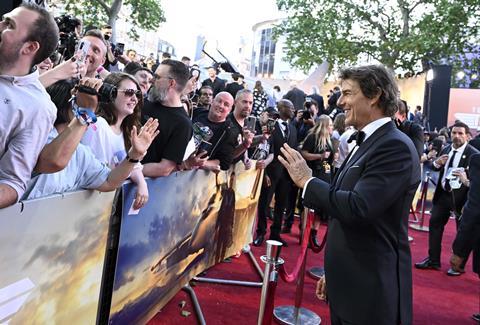 Why so serious?
It is not just the studios and big distributors benefiting from a sprinkle of TikTok gold dust. The app is heralded as a platform for discovery, namely through its For You page with algorithms that curate a stream of videos tailored to the user. Suzy's 2021 survey found 52% of TikTokers claimed to have found a new film, TV show or actor through their feeds, making it the perfect breeding ground for independent cinema to expand its audience.
"TikTok values education and authenticity," insists Kirstin McCarlie, a content creator whose video about female friendships in the films of Eric Rohmer has collected 40,000 views and scored her a paid partnership with Mubi.
The comment sections on McCarlie's videos range from people who share her love for independent cinema to those who are not as familiar but are keen to know more. "You don't necessarily need to be a film expert to engage with content on indie cinema," she says. "You can make it accessible to everyone."
Humour is the key ingredient. McCarlie suggests international and independent cinema is often seen as "quite pretentious", especially to younger audiences. "It's fun to play on that a bit," she says. "Younger people primarily go to the cinema to enjoy a film, so if you're too serious about it, they will be put off."
TikTok's brand of humour is not for everyone though. Universal Pictures' July 2022 release of Minions: The Rise Of Gru sparked an unexpected trend when groups of teenage boys filmed themselves wearing formal suits at screenings. Nicknamed 'The Gentleminions', the craze prompted mixed reactions from cinemas, despite the hallowed presence of under-24-year-olds in the building. Some UK chains introduced dress-code restrictions — while Vue hosted a hugely successful weekend of 'Gentleminions' screenings that actively encouraged the sartorial sensation.
Minions: The Rise Of Gru ended up grossing nearly $940m at the global box office and was the fifth-biggest film of 2022. Theatrical audience polling service PostTrak found 34% of the opening-weekend audience in the US comprised 13- to 17-year-olds — an usually high number for a family-focused animation.
At Cineworld UK, the in-house mantra these days is "don't make ads, make TikToks", according to its social media executive Olivia Ter-Berg. She is the exhibitor's TikTok account runner and won The Big Screen Awards' industry rising star prize in November 2022.
"It's figuring out funny ways to bring films into the videos without explicitly saying, 'Go and watch this,'" she says of how to connect with TikTok audiences. "You can make jokes in a way you can't on other platforms, and it's okay to make those jokes."
Cineworld's TikTok account has racked up 30 million organic views since its inception in February 2022. "The fact we're getting in front of younger audiences and getting that number of eyes on it has the power to change a lot," says Ter-Berg.
With content that often pushes the "sentimental value" of cinema — popcorn, plush leather seats — Ter-Berg says it benefits the entire industry to promote the experience. "There has been a lot of noise [on TikTok] in the last year about different films, about the cinemagoing experience. It's revitalised people's energy, especially post-Covid, for going to the cinema," she suggests. "You only have to look through the comments on videos to see there's so much love for the industry on there. TikTok is not a place to be underestimated."