While in-person attendance by the Taiwanese industry will be light on the ground this year, there are several intriguing projects in the market for buyers to look at.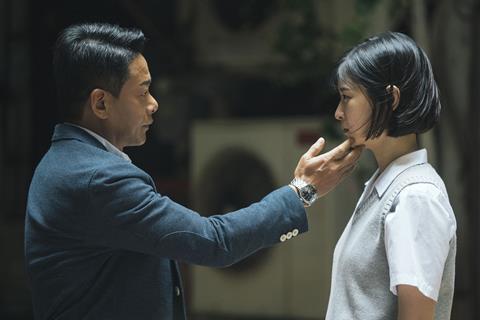 The Taiwan pavilion will reopen on-site at the Palais des Festivals following two years of virtual presence. Through the Taiwan Creative Content Agency (TAICCA), 92 titles from 39 Taiwanese companies will be presented at the pavilion, a 40% increase from 2021.
But the majority of the participating Taiwanese sales and production companies will not show up in-person as Taiwan still has strict quarantine rules in place, despite a recent easing of restrictions.
Representatives from MM Square and Digital Frontier Motion Pictures will be among the few making the trip to Cannes.
A key title from the Taiwan pavilion is supernatural horror Incantation, which has emerged as the highest-grossing local film in 2022 to date. This found-footage tale, presented in an interactive mockumentary style, created a strong buzz and stayed at the top spot of the local box office for four consecutive weeks on its March release. It has clocked up $5.7m (nt$170m) to become the second-­highest-grossing local horror film of all time, after 2019's Detention.
According to figures from the Bureau of Audiovisual and Music Industry Development (Bamid), Taiwan's total box office was $42.3m in the first three months of this year, of which local films accounted for a market share of 22% — with more than half of that percentage coming from Incantation.
While there is no Taiwanese film in Cannes' official selection this year, three virtual-reality works were selected as the VeeR Future Award projects, and will be competing in the Cannes XR section: Fish Wang's Red Tail Ep 1, Madame Pirate: Becoming A Legend by Morgan Ommer and Huang Dan-Chi, and The Starry Sand Beach by Nina Barbier and Huang Hsin-Chien.
Antikalpa
Dir. Philip Shih
The second film by Shih is a Taiwanese teen horror, which follows a group of students who are lured into praying to the evil spirits. When death stalks them, a temple boy uses his special exorcism powers only to discover he is fighting against his childhood sweetheart who has turned into a demon. The cast includes Huang Guan-Zhi (TV series Detention), Regina Lei (The Sadness) and Tseng Wan-Ting (Gatao — The Last Stray). Between 2012 and 2018, Taiwan-born Shih worked on several feature films in Holly­wood, including producing Lionsgate's sci-fi Battle For Skyark and directing Highland Film Group's horror thriller Reaper.
Contact: June Wu, Distribution Workshop
Fantasy. World
Dir. Tang Fu-Rui
Tang is a lawyer-turned-director who brings his own experiences of litigation practice to take on Taiwan's flawed justice system for his directing debut. Starring Lee Kang-Sheng (Days), Joseph Chang (Netflix's The Victims' Game) and Yin Shin (The Island That All Flow By), the film focuses on a defence attorney who struggles to make amends when he discovers that a client from 13 years ago is involved in yet another sexual assault case. It is set to premiere as the closing film of Taipei Film Festival in June. Tang has also directed upcoming drama series The Attorney Of Bachimen, which he adapted from his own award-winning novel.
Contact: Kuek Shee Heng, MG Storyteller
Gaga
Dir. Laha Mebow
Director Mebow dedicates her third film to fellow Taiwanese Indigenous people, with most characters played by the Tayal tribal groups. The story follows a family that begins to fall apart when its head dies. With his passing, Gaga — the traditional beliefs for maintaining the order between people and nature — also vanish. Backers include Sky Films Entertainment and Oxygen Films, with Eric Liang (My Best Friend's Breakfast) and Chu Yu-Ning (The Falls) producing. Mebow has worked as a scriptwriter, film director and TV producer for more than 25 years. Her film Hang In There, Kids was selected as Taiwan's entry for the best foreign-l­anguage film at the Academy Awards in 2017.
Contact: Albert Yao, Swallow Wings Films
A Holy Family
Dir. Elvis A-Liang Lu
Documentarian Lu turns the camera on himself in this documentary. The film serves as an intimate homecoming journey to his distant family after a 24-year absence, as well as a portrait of rekindled family bonds despite their different religious beliefs. Lu's elder brother is the village medium while his father is a gambling addict who turns to the deities to make him rich. The documentary recently had its world premiere in Visions du Réel's international competition in Switzerland. It is produced by Taiwan's Volos Films and Films de Force Majeure from France, with Stefano Centini and Jean-Laurent Csinidis as producers. Lu's first feature-­length documentary The Shepherds, about Taiwan's first LGBTQ+ friendly church, competed in Taipei Film Festival in 2018.
Contact: Deckert Distribution
Incantation
Dir. Kevin Ko
This supernatural horror film has scared up $5.7m (nt$170m) at the Taiwanese box office, making it the biggest local film in 2022 thus far. Shot in the format of an interactive mockumentary,Incantation invites viewers to join the protagonists and take part in an evil ritual as the story unfolds on screen. Director Ko's Empty-Shells Production and producer Push Yang's JHT Entertainment produce the film, which recently had its international premiere at Far East Film Festival in Udine, Italy. Ko's directing credits include slasher film Invitation Only, romantic comedy Dude's Manual and fantasy romance A Choo!.
Contact: Sin Wang, Activator
The King Of Wuxia
Dir. Lin Jing-Jie
This documentary pays tribute to legendary director King Hu, best known for his breathtaking wuxia epics such as Come Drink With Me, Dragon Inn and A Touch Of Zen, which became the first Chinese-­language film to win an award in Cannes when it took the technical grand prize in 1975. Produced by Sky Films Entertainment, the documentary traces the footsteps of Wu in Taiwan, Hong Kong, China and the US through interviews with more than 40 industry heavy­weights including Hsu Feng, John Woo and Sammo Hung. Lin directed narrative feature The Most Distant Course and The Man Behind The Book, which was nominated for best documentary at Taiwan's Golden Horse Awards in 2011.
Contact: Eric Chou, Taiwan Film and Audiovisual Institute
See You At The Rally
Dir. Kanny Chang
Chang's latest film is billed as the first Taiwanese film about rally racing, following a man with a limp who has to rebuild his life alongside the young son he never knew existed. The cast is led by James Wen (Gold Leaf), Malaysia's Jack Tan (Shuttle Life) and Ivy Shao (Venus On Mars). The screenplay is written by Wen Yu-Fang, a two-time Golden Bell award-­winning scriptwriter. The project won the Taipei New Horizon Screenplay Award at the Golden Horse Film Project Promotion's work-in-progress section last year. Backers include New Century Southward Development and mm2 Entertainment. Chang's feature debut Nowhere Man premiered at Vancouver Chinese Film Festival in 2018.
Contact: Zara Lin, MM Square