As the 2022 Cannes Marche du Film kicks off, Screen highlights the buzz titles ready to entice international buyers.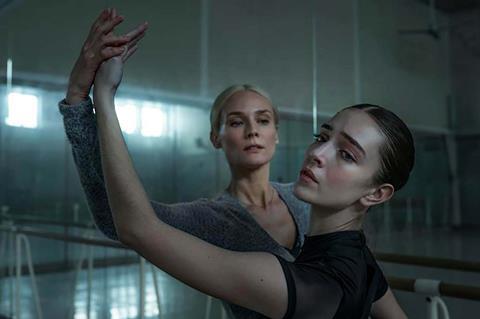 Altitude Film Sales is launching sales on Gonzalo Lopez-Gallego's thriller American Star, headlined by Ian McShane, about an assassin on a final assignment on the Canary island of Fuerteventura. Michael Elliott for EMU Films and McShane for his company Tamariska Inc produce. Also on Altitude's slate is Hang, a survival thriller set in the Andes, directed by Marco van Belle and produced by James Harris and Mark Lane.
Anton is introducing buyers to The End We Start From, directed by Mahalia Belo (a Screen Star of Tomorrow in 2012) and starring Jodie Comer (Screen Star of Tomorrow, 2016), about an environmental crisis that submerges London in water and tears apart a family. Sunny­March and Hera Pictures produce, with Anton and BBC Film co-financing. UTA Independent Film Group is handling North American sales.
Bankside Films hopes to grip buyers with psychological thriller Brightwater, directed by Lance Edmands and produced by Joe Pirro and Alex Lipschultz. An architect travels to Maine to build a luxury resort, only for his girlfriend to disappear. Scoot McNairy, Jack Reynor and Emily Browning star. Bankside's slate also features comedy of horrors Raised Eyebrows, directed by Oren Moverman and set in the 1970s world of ageing comedian Groucho Marx, who is played by Geoffrey Rush.
Cornerstone Films is handling international sales, and co-repping the US with UTA Independent Film Group, on Christine Jeffs' medical drama A Mistake, starring Elizabeth Banks as an eminent surgeon fighting for her reputation after the death of a patient. The GFC Films title is produced by Matthew Metcalfe and Jeffs. Cornerstone will also begin shopping Kiah Roache-Turner's Australian arachnophobia horror Sting.
Dogwoof will be introducing Tribeca premiere Lynch/Oz to buyers, a documentary examining the influence of Victor Fleming's The Wizard Of Oz on the work of David Lynch, directed by Alexandre O Philippe and produced by Kerry Deignan Roy. Canadian title Swan Song, meanwhile, follows the National Ballet of Canada's staging of a new production of Swan Lake. It is directed by Chelsea McMullan.
Embankment Films will screen footage of Joika, writer/director James Napier Robertson's drama about US ballet dancer Joy Womack, starring Diane Kruger and Talia Ryder. The UK outfit is co-representing US rights with UTA Independent Film Group. Embankment's slate also features Guy Nattiv's Golda, in which Helen Mirren play Israel's first and only female prime minister, Golda Meir. The film is produced by Michael Kuhn for Qwerty Films, Jane Hooks and Nicholas Martin, plus Nattiv's outfit New Native Pictures.
Film Constellation is bringing Lotfy Nathan's Un Certain Regard drama Harka to the market, which is set in Tunisia, where a young seller of contraband gas must fight for his family's survival. Julie Viez produces, with Adam Bessa starring. Film Constellation will also be launching sales on Pakistani filmmaker Saim Sadiq's Un Certain Regard drama Joyland. WME Independent represents North American rights.
HanWay Films begins sales on Uberto Pasolini's The Return, a retelling of Homer's epic Greek poem The Odyssey. Ralph Fiennes stars as Odysseus, with Juliette Binoche playing his wife Penelope. It is produced by James Clayton and Pasolini for UK company Red Wave Films. HanWay is also introducing buyers to Meg Ryan's second feature as director, What Happens Later; she stars opposite David Duchovny in the romantic comedy, which sees a couple reunite for the first time in decades when they are snowed in at an airport.
Independent Entertainment is introducing Maria to buyers, starring Felicity Jones, Jonathan Bailey and Jason Isaacs and directed by Simon Amstell, with EMU Films producing. The comedy follows a young woman whose life is turned upside down on her father's wedding day.
Metro International will be showcasing a new promo for Carol Morley's Typist Artist Pirate King, about the life of artist Audrey Amiss, which stars Monica Dolan and Kelly Macdonald. Cairo Cannon produces, with Jane Campion as executive producer. First footage of Joe Stephenson's Doctor Jekyll, starring Eddie Izzard, will also be shown.
Screenbound will be screening the market premiere of Shakespeare adaptation A Midsummer Night's Dream, starring Robert Lindsay, directed by Sacha Bennett and produced by Michael Berenger, Steve Jarvis and Tracy Jarvis.
Mister Smith Entertainment's The Convert is hoping to win over buyers. The action feature from New Zealand's Lee Tamahori stars Guy Pearce as a preacher who arrives at an 1830s British settlement in New Zealand, and is caught in the middle of a war between Maori tribes. Te Kohe Tuhaka also stars. It is co-produced by Auckland-based Jump Film & Tele­vision and Australia and UK-based Brouhaha Entertainment.
Protagonist Pictures is introducing drama Wild Four O'Clocks. Michelle Pfeiffer plays a woman who finds herself responsible for her two estranged grandsons in the debut feature from Peter Craig, produced by Marc Platt and Adam Siegel; CAA handles the domestic sale. Protagonist is also launching Raymond De Felitta's New York-set comedy Artist In Residence, in which Diane Keaton play an eccentric artist who is facing eviction from her home. Andy Garcia and Josh Hutcherson are also attached to star, with WME Independent selling for North America.
SC Films International is continuing sales on the Véra Belmont-
directed animated drama My Father's Secrets, which follows a family's journey to reconciliation after facing the trauma of the Holocaust. France's Je Suis Bien Content and Belgium's Leftfield Ventures co-produce. Elliott Gould leads the voice cast. SC Films will also be commencing sales on action thriller Little Bone Lodge, directed by Matthias Hoene.
Signature Entertainment will be screening the market premiere of family adventure film Don't Go Below, directed by Matt Drummond and produced by Megan Drummond. It will also be launching worldwide sales on romantic comedy She Is Love, starring Haley Bennett and Sam Riley. Jamie Adams' film follows an estranged couple who unexpectedly reconnect after many years.
WestEnd Films is bringing Jane Campion, The Cinema Woman, which premieres as part of Cannes Classics. Julie Bertuccelli's French documentary, produced by Estelle Fialon, looks at the life of the pioneering filmmaker behind The Piano and The Power Of The Dog.
AMP is championing supernatural thriller Shelby Oaks, from Chris Stuckmann and produced by Aaron B Koontz. A young woman's search for her long-lost sister uncovers a disturbing truth about the imaginary demon from their childhood. Production is under way in Ohio.
GFM Animation has Sneaks, an animated comedy adventure about a pair of misplaced sneakers in New York trying to find a way back to its 'sole' mate. Laurence Fishburne and Macy Gray head the voice cast, with Rob Edwards directing. Sister company GFM Film Sales is leading with Oak, a horror directed by Kevin Lewis about a cursed oak tree.
Blue Finch Films has worldwide sales, excluding North America, on Amanda Kramer's musical thriller Please Baby Please. Andrea Riseborough and Harry Melling play a 1950s bohemian Manhattan couple who become the obsession of a local greaser gang after they witness a murder.
Celsius is bringing Come Together (working title) to the market. Tim Roth leads the drama, from writer/director Oliver Schmitz, about a white racist about to commit an act of terrorism, who then wakes up in hospital with amnesia. Currently in pre-production.
Film Seekers will introduce Meg Rickards' Pizza With Love, about a man trying to save his late sister's pizzeria. The drama from Boondogle Films, Well Tempered Productions and Streetcar Productions is set to shoot in South Africa in October.
Kaleidoscope Film Distribution celebrates the 50th anniversary of Mike Oldfield's Tubular Bells, billed as the most successful instrumental album of all time. The Official Tubular Bells 50th Anniversary Live Show And Documentary features a concert, shot at London's Royal Festival Hall, plus a documentary feature. Both are directed by Matt Hargraves and produced by Martin Gernon.
Reason8 is bringing Pensive (Rupintojelis), a Lithuanian horror film from Jonas Trukanas about a group of high-school classmates who are picked off by a killer after a graduation party. It is produced by Emilija Sluskonyte of Cometos.
Carnaby International will be screening Kindling, the debut feature from Connor O'Hara, which centres on a young man with testicular cancer, who decides to turn his last summer into an uplifting celebration of life, love and friendship. Jamie Gamache and Mark Foligno produce.
Jinga Films is pushing Larry Wade Carrell's The Quantum Devil, a horror film about a team of scientists in danger after they travel to another dimension. The film is produced by Loris Curci and written by Carrell and Zeph E Daniel, all of US outfit Crazed House.
Moviehouse Entertainment hopes buyers will be hooked by comedy horror ManFish, the feature debut of Marc Coleman. Feelings develop when a humanoid sea creature washes up into Terry's life. Writer/director Coleman also produces, alongside Gav Mukerji.
Parkland Pictures commences sales on The Trouble With Jessica, a dark comedy from Matt Winn about a couple whose endeavours to save themselves from financial ruin take an extreme turn. Shirley Henderson and Rufus Sewell star. It is produced by Sarah Sulick of Bright Films.
Devilworks continues sales on The Nanny's Night, a Spanish horror story about a babysitter who is part of a satanic cult. Ignacio Lopez directs, and the cast includes Juan Carlos Vellido and Diana Peñalver. Spanish companies Artistic Films and Panic In Frames produce.
101 Films International is prioritising Biblical apocalyptic thriller Left Behind: Rise Of The Antichrist, set six months after the mass vanishing events depicted in Nicolas Cage-starrer Left Behind (2014) and based on the book series of the same name. Kevin Sorbo directs, and Neal McDonough stars.
Brilliant Pictures is fishing for sales with Deep Fear, a shark survival thriller about a yachtswoman who puts her life at risk to save a sinking vessel manned by drug traffickers. Marcus Adams directs, with Sean O'Kelly and Marc Bikindou producing. Ed Westwick stars.
Canoe Film has premiere screenings of horror film Raven's Hollow, from co-writer/director Christopher Hatton. William Moseley plays poet Edgar Allan Poe during his time as a West Point training cadet, with Kate Dickie also starring. English-language territories have already sold to AMC's Shudder, and the Middle East to Phoenicia.