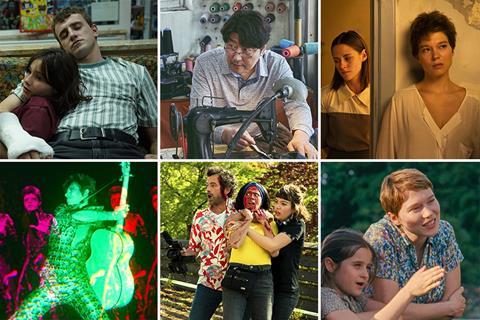 Ahead of the 75th Cannes Film Festival (May 17-28, 2022), Screen's reviews editor and chief critic Fionnuala Halligan has picked out a few of the stand-out titles from the Official Selection, Directors' Fortnight and Critics' Week sections.
Full previews of each Cannes strand are below.
Broker (S Kor)
Dir. Hirokazu Kore-eda
Japan's Kore-eda, who won the Palme d'Or with Shoplifters in 2018, returns to Competition with this self-penned Korean-language drama produced by Seoul-based Zip Cinema and backed and distributed by leading Korean studio CJ Entertainment. Song Kang-ho, Gang Dong-won, Lee Ji-eun, Doona Bae and Lee Joo-young star in this film about two men who have taken a child from a 'baby box', where parents leave infants they cannot raise, as well as a regretful mother and two police detectives. Gaga Corporation just acquired Japanese rights and Neon will distribute in North America.
Contact: CJ Entertainment
Crimes Of The Future (Can-Greece)
Dir. David Cronenberg
Eight years after Maps To The Stars played at Cannes, Cronenberg returns with an original work named after — but distinct from — his 1970 body-horror feature. The Canada-­Greece co-production from Serendipity Point Films and Argonauts Productions reunites Cronenberg and Viggo Mortensen and also stars Kristen Stewart and Léa Seydoux. The story takes place in the near future where some humans accept accelerated evolution while others try to police it. Neon holds US rights, mk2/Mile End will release in Canada, and Metropolitan in France. Cronenberg's prior Cannes selections include Cosmopolis, A History Of Violence, Spider and Crash.
Contact: Rocket Science
Decision To Leave (S Kor)
Dir. Park Chan-wook
Winner of the Cannes 2004 jury grand prize with Oldboy and 2009 jury prize with Thirst, South Korea's Park returns to the festival for the first time since 2016 Competition entry The Handmaiden. His Korean- and Chinese-language film stars Park Hae-il (The Host) and Tang Wei (Lust, Caution) in the story of a detective who suspects — and is attracted to — a mysterious woman while investigating her husband's death. Seoul-based Moho Film produces with CJ Entertainment backing and distributing locally. Mubi has multiple rights including North America, UK and India.
Contact: CJ Entertainment
Holy Spider (Den-Ger-Swe-Fr)
Dir. Ali Abbasi
Iran-born, Denmark-based Abbasi, whose genre-bending troll story Border won Un Certain Regard in 2018, returns to Cannes with a much darker drama. Inspired by a true story, it follows a female journalist trying to track down a serial killer in the Iranian holy city of Mashhad, who kills sex workers in an obsession to "cleanse the streets of sinners". Jacob Jarek (Denmark's Profile Pictures) and Sol Bondy (Germany's One Two Films) lead produce. Abassi co-wrote the script with Afshin Kamran Bahrami. The director reunites with his Shelley and Border cinematographer Nadim Carlsen.
Contact: Flavien Eripret, Wild Bunch International
Nostalgia (It-Fr)
Dir. Mario Martone
Neapolitan film and theatre director Martone is traditionally more of a Venice fixture than a Cannes habitué. He was last in Competition on the Croisette back in 1995 with L'amore Molesto — which, like Nostalgia, is an adaptation of a novel about the darker side of the director's hometown. Based on the book of the same name by Ermanno Rea, Nostalgia stars Pierfrancesco Favino (The Traitor) as a man who returns to Naples after four decades abroad and comes face to face with a past that was never buried.
Contact: True Colours
RMN (Rom-Fr-Bel)
Dir. Cristian Mungiu
Longstanding Cannes favourite Mungiu returns with his fourth film in Competition. The filmmaker won the Palme d'Or with 4 Months, 3 Weeks And 2 Days in 2007, and his history on the Croisette dates back to his debut Occident, which screened in Directors' Fortnight in 2002. Since then, Mungiu has served as a member of the jury (2013) and won the Cannes director prize for Graduation in 2016. RMN is a contemporary-set film detailing multiple ethnic groups. Mungiu produces for Mobra Films in co-production with Wild Bunch International, Why Not, France 3 Cinéma and the Dardenne brothers' Les Films du Fleuve.
Contact: Flavien Eripret, Wild Bunch International
Triangle Of Sadness (Swe-Ger-Fr-UK)
Dir. Ruben Ostlund
Following his Palme d'Or win for The Square in 2017, the Swedish director returns to Cannes' Competition with his English-language debut. The dark comedy follows a model couple on a yacht with the super-rich; the group dynamics shift when they are marooned on a deserted island. The cast includes Woody Harrelson, Harris Dickinson and Charlbi Dean. Ostlund's longtime producer Erik Hemmendorf of their joint company Plattform leads the production team and Philippe Bober's Coproduction Office continues its relationship with Ostlund; SF Studios has Nordic rights, Bac has taken France and Alamode has Germany.
Contact: Coproduction Office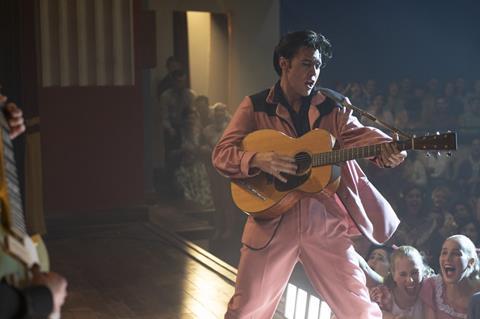 Elvis (US-Australia)
Dir. Baz Luhrmann
Luhrmann opened Cannes with The Great Gatsby in 2013 and Moulin Rouge! in 2001 and brought Strictly Ballroom to the Croisette in 1992. Now the Australian filmmaker returns with Elvis, the anticipated drama about Elvis Presley's rise to become the King of Rock 'n Roll and his complicated relationship with manager Colonel Tom Parker. Austin Butler gets the big break as the hip-shaking crooner whose music changed the world, while Tom Hanks plays Parker. Warner Bros holds worldwide rights.
Contact: Warner Bros
Final Cut (Fr)
Dir. Michel Hazanavicius
Hazanavicius has been a Cannes fixture since his silent comedy The Artist was a sensation in the 2011 Competition; he later returned to Competition with The Search (2014) and Redoubtable (2017). Originally scheduled for Sundance, this Cannes opening film (aka Coupez!) is a remake of hit Japanese comedy chiller One Cut Of The Dead, about a horror film shoot that goes wrong when zombies invade for real. It stars Romain Duris, Hazanavicius regular (and wife) Bérénice Béjo and Grégory Gadebois, with the director among the producers for La Classe Américaine and Getaway Films.
Contact: Flavien Eripret, Wild Bunch
The Natural History Of Destruction (Ger-Lith-Neth)
Dir. Sergei Loznitsa
With an ongoing war in his home country, Ukrainian director Loznitsa presents his latest feature documentary, inspired by WG Sebald's 1999 essay collection On The Natural History Of Destruction, and focusing on the Second World War air raids that pounded German cities. Loznitsa will arrive in Cannes after exiting both the European Film Academy (his choice) and the Ukrainian Film Academy (theirs), having diverged in responses to Russia's invasion of Ukraine. The filmmaker has presented all four of his fiction features in Cannes, as well as docs such as Maidan (2014) and last year's Babi Yar. Context. Loznitsa's Atoms & Void co-­produces with Germany's Looksfilm, RBB and MDR.
Contact: Bettina Offermann, Progress Film offermann@progress.film
Moonage Daydream (US)
Dir. Brett Morgen
Morgen, who co-directed the Cannes 2002 out of Competition title The Kid Stays In The Picture, returns with this David Bowie documentary — the first to be approved by the musician's estate. Given full access to the archives in 2017, Morgen has spent five years on what is described as an "experiential cinematic odyssey" using unseen footage, performances and music. Bowie's longtime producer Tony Visconti is among the collaborators. Neon distributes in the US, Universal Pictures Content Group will release internationally, and HBO Documentary Films has taken North American streaming and cable rights. BMG and Live Nation Productions co-­financed Moonage Daydream, named after the track on Bowie's album The Rise And Fall Of Ziggy Stardust And The Spiders From Mars.
Contact: Neon; Universal Pictures Content Group
Butterfly Vision (Ukr-Czech-Cro-Swe)
Dir. Maksim Nakonechnyi
In an interview with Screen International shortly after this year's line-up was announced — and just after Wild Bunch pounced on this Ukrainian debut about a female prisoner of war's difficult return home — Cannes delegate general Thierry Frémaux enthused that it had something of the immediacy of war films made in the US after 1945, adding, "You would think it was shot a month ago." Director Nakonechnyi is one of the co-founders of Tabor, the independent Kyiv-based production company behind the film.
Contact: Flavien Eripret, Wild Bunch International
Corsage (Austria-Lux-Ger-Fr)
Dir. Marie Kreutzer
Vicky Krieps (also in Un Certain Regard's More Than Ever) plays one of Europe's first modern celebrity royals, Empress Sisi of Austria, in Kreutzer's female-gaze period piece, which sees the legendary beauty reassessing her future as she turns 40 in 1877. This is Kreutzer's first time in Cannes after two Berlinale slots: her 2011 debut The Fatherless played in Panorama while The Ground Beneath My Feet was in Competition in 2019. Corsage is the first to emerge of two revisionist Sisi biopics that went into production before the pandemic: the other is Frauke Finsterwalder's Sisi And I (The Match Factory).
Contact: mk2 Films
Joyland (US-Pak)
Dir. Saim Sadiq
Representing the first Pakistani feature in official selection at Cannes, this debut feature from Columbia University alumnus Sadiq follows a young man from a patriarchal family who secretly joins an erotic dance theatre and falls in love with a trans starlet. This follows the Pakistani director's short Darling, winner of best short film at Venice's Horizons in 2019, which stars the same trans actress Alina Khan and is also set in a dance theatre in Lahore. Joyland's main backers include US-based All Caps and Pakistan's Khoosat Films, with WME Independent handling North American rights.
Contact: Film Constellation; WME Independent
The Stranger (Australia)
Dir. Thomas M Wright
Joel Edgerton stars as a seasoned undercover officer in this crime thriller, which sees him opposite Sean Harris as two strangers living outside the law who meet and form a friendship. Their seemingly chance encounter sees one induct the other into a vast, influential criminal organisation, offering him salvation from a violent past. Based on a true sting operation, it marks the second feature of Australian actor, writer and director Wright after 2018's Acute Misfortune. It is produced by See-Saw Films, fresh from award-winning success with The Power Of The Dog, alongside Anonymous Content. Edgerton also produces through Blue-Tongue Films.
Contact: Rocket Science; Cross City Films; CAA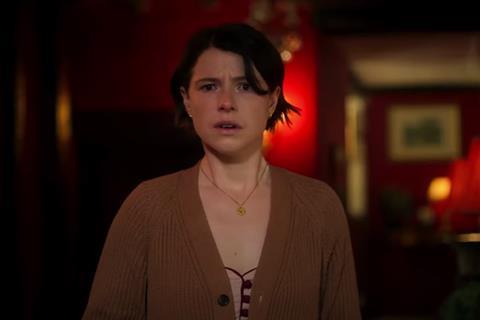 The Five Devils (Fr)
Dir. Léa Mysius
Writer/director Mysius' debut feature Ava premiered in Critics' Week in 2017, where it won the SACD Award for best feature. She has subsequently written and co-written screenplays for the likes of Arnaud Desplechin (Ismael's Ghosts, which opened Cannes in 2017) and Jacques Audiard (Paris, 13th District, which played in Competition last year and was nominated for five Césars including best adapted screenplay). Mysius' second feature as director is the story of a little girl who is able to reproduce and capture any scent; the smell of her long-lost aunt leads her into dark past memories. F Comme Film produces the film in co-production with Trois Brigands Production (both France).
Contact: Flavien Eripret, Wild Bunch International
Funny Pages (US)
Dir. Owen Kline
The coming-of-age story about a teenage cartoonist, who rejects the comforts of his suburban life in a quest for soulful purpose, marks the feature directing debut from Kline, who played the young brother to Jesse Eisenberg in Noah Baumbach's 2005 indie favourite The Squid And The Whale. The producer roster includes Elara Pictures' Sebastian Bear-­McClard and Oscar Boyson, filmmaker duo Benny and Josh Safdie, and screenwriter/editor Ronald Bronstein — who all worked together on the Safdies' Good Time and Uncut Gems.
Contact: A24
Men (UK-US)
Dir. Alex Garland
Ex Machina director Garland makes his Croisette and A-list festival debut with a macabre horror. Jessie Buckley plays a woman who retreats to the English countryside to heal following the tragic death of her husband, only to attract unnerving attention from local men, all of whom are played by Rory Kinnear. Paapa Essiedu and Gayle Rankin round out the cast. It is produced by Andrew Macdonald and Allon Reich for DNA Films and financed and distributed by A24.
Contact: A24
One Fine Morning (Fr-Ger)
Dir. Mia Hansen-Love
Fifteen years after her first film All Is Forgiven (2007) played Directors' Fortnight, Hansen-Love returns to premiere her eighth feature, the semi-­autobiographical One Fine Morning. Also written by Hansen-Love, it stars Léa Seydoux — who appears in David Cronenberg's Competition entry Crimes Of The Future — as a woman juggling single motherhood, an ill father and an unexpected love affair. Hansen-Love previously played in Un Certain Regard with Father Of My Children (2009) and in Competition with last year's Bergman Island.
Contact: Alice Lesort, Les Films du Losange
Paris Memories (Fr)
Dir. Alice Winocour
Writer/director Winocour is a Cannes regular: her 2005 short Kitchen played in Competition; her 2012 debut feature Augustine bowed in Critics' Week; Mustang (2015), which she co-wrote with director Deniz Gamze Erguven, premiered in Directors' Fortnight before being nominated for the best foreign-­language Oscar; and Disorder (aka Maryland, 2015) launched in Un Certain Regard. Now, after debuting her last film Proxima (2019) in Toronto, she returns to Cannes with Paris Memories (Revoir Paris), which stars Virginie Efira (Benedetta) as the survivor of a terrorist attack searching for the man who saved her life.
Contact: Pathé International
Aftersun (UK-US)
Dir. Charlotte Wells
Scottish writer/director Wells' feature debut unravels around Sophie as she processes her complex relationship with her father through memories of a holiday they shared 20 years prior. Francesca Corio and Celia Rowlson-­Hall star as the young and adult Sophie respectively, with Paul Mescal playing Sophie's father. The film took part in the 2020 Sundance Institute directors and screenwriters labs, and is produced by Amy Jackson of Unified Theory Productions and Adele Romanski, Barry Jenkins and Mark Ceryak of Pastel, with backing from BBC Film, BFI and Creative Scotland in association with Tango.
Contact: Charades
Summer Scars (Fr)
Dir. Simon Rieth
Prolific young French director Rieth, whose six short films have screened on the international festival circuit, presents his feature debut Summer Scars (Nos Ceremonies). It concerns two brothers harbouring dark secrets about an incident from an idyllic summer years before, when they played dangerous games of death and chance. An encounter with their childhood sweetheart brings troubling memories to the surface. Ines Daien Dasi produces for Les Films du Poisson, in co-­production with Manuel Chiche for The Jokers subsidiary Spade; The Jokers distributes in France.
Contact: Flavien Eripret, Wild Bunch International
Cannes profiles by Nikki Baughan, Charles Gant, Melanie Goodfellow, Tara Judah, Melissa Kasule, Jeremy Kay, Geoffrey Macnab, Lee Marshall, Wendy Mitchell, Jean Noh, Jonathan Romney, Michael Rosser, Mona Tabbara, Silvia Wong.