There were two separate incidents of spectators fainting during screenings of Kenneth Mercken's debut feature, Coureur, in International Film Festival Rotterdam's Voices sidebar this week.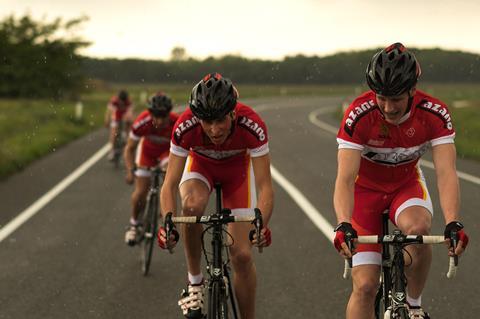 Two audience members found scenes of the professional cyclist hero, Felix, injecting himself with performance enhancing drugs and having blood transfusions hard to watch. The film, sold by Intramovies, is generating considerable buzz in advance of its Benelux release through Paradiso later in the spring.
The film was produced by Koen Mortier and Eurydice Gysel through Flemish production outfit, Czar. It had backing from the Flanders Audiovisual Fundand Le Centre du Cinéma et de l'audiovisual de la Fédération Wallonie-Bruxelles as well as Screen Flanders, IDM Alto Adige and FVG Film Commission. The coproducers were Kino produzioni, Climax Films, Canvas, RTBF and BNP Paribas Fortis Film Finance.
What makes Coureur all the more startling is that it is directly based on Mercken's own story. He really did have a father desperate for him to make the grade in cycling; he really did take performance enhancer EPO; he really did push himself so hard in this sport that he risked his life.
"My father is still a cyclist at his age, 75, and still competitive. I think I had to realise his dream (of being a professional cyclist). Of course, it was also my team but maybe it was his dream more than mine," Mercken says of the way his father drove him relentlessly to excel at the sport - and sometimes to bend the rules. In the film, the father (Koen De Graeve) taunts and bullies his son Felix (Niels Willaerts). They eventually come to blows.
When Coureur had its world premiere in Ghent, Mercken's dad attended the screening. "We had some drinks and he became quiet and he said 'I've been wrong'."
In spite of everything, the father and son are close. Mercken acknowledges that without his father, he would never have had the cycling career. "And maybe I would never have done this (feature) and become a filmmaker. He kind of shaped my personality by pushing me this hard. It is dual. There are negative sides to that but I appreciate the way he brought me up."
As a kid, Mercken watched his father competing in Belgian cycling races. It was a "wild world," full of drinking, drug-taking and fights but his father "was one of the heroes in this world. He would always win."
Mercken took up cycling himself partly to earn "recognition" from his father but also acknowledges that he was intrigued by the darker side of the sport. "I wanted the film to be visceral and physical. I wanted it also to be dirty," the director says of his attempt to put spectators into the "head" of a cyclist.
What is it like taking banned substances to improve your performance in the saddle? "You can't compare it to recreational drugs," Mercken says. "What happens when you take all these performance enhancing drugs is that there is a certain euphoria. A lot of endorphins are released because you're doing this, because you're getting better. This is very closely related to one of the themes of the film which is the addiction to attention and being in the limelight. "This also released endorphins…you kind of lose your grip on reality and you become like a robot."
After quitting cycling, Mercken went to film school. In 2012, he graduated with his short The Letter, which dealt with the same subject as Coureur. It won him the VAF Wildcard (production funds for a new project) and was screened at many international festivals. His second short Feel Sad For The Bunny also had festival success.
As for the issue of cheating in cycling, Mercken was determined not to moralise in his film. "I want the viewer to work that out for themselves, what they feel about it ethically. I do feel that sports is not a fair game to begin with…this is a fiction, this idea of Olympic fairness. For sure, everybody around me was cheating - or let's say 80 or 90% were cheating.' He does add, though, that he doesn't think it is a "normal situation when you are a young cyclist with this needle constantly in your arm."