As the Cinema and Television Benevolent Fund (CTBF) prepares to host a premiere event around Downton Abbey, CEO Richard Wilson talks to Michael Rosser about how the charity is adapting to changes in the industry.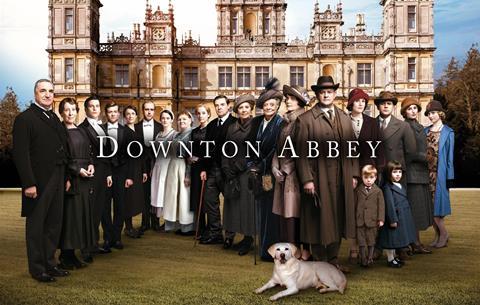 The Cinema and Television Benevolent Fund (CTBF) is set to host the premiere screening of Downton Abbey series 5 at London's Empire Leicester Square cinema tonight (Sept 17), including a Q&A with creator Julian Fellowes and stars Jim Carter, Laura Carmichael and Lesley Nicol.
It marks the first time in its 90-year history that the charity has staged a TV premiere on such a grand scale, having previously been best known for its annual Royal Film Performance. (Last year's screening of Mandela: Long Walk to Freedom made headlines when the death of Nelson Mandela was announced on stage at the end of the film.)
"This is the perfect example of where we want to go as a charity," CTBF chief executive Richard Wilson told ScreenDaily.
"It is that perfect mix of an iconic British TV drama series showing in an iconic cinema in Leicester Square. [The Empire was the site of the first Royal Film Performance, A Matter of Life and Death, in 1946.]
"It's got a cross-platform feel to it and that's exactly what we are as a charity. We don't want to be thought of as just cinema or television. Hopefully, it's the start of things to come."
The leading charity for people who work or have worked behind the scenes in the UK film, cinema and commercial television is looking to place increased emphasis on the TV side of the business.
"It's an area that we're really focussing on right now in terms of strengthening our links with the rapidly changing television sector," said Wilson.
"We want to ensure that our role in a vastly expanding television marketplace is right up there with the contribution we make to beneficiaries across film and cinema."
Training and awards
The CTBF has supported the TV industry since the 1950s when the ITV franchises were first introduced. But Wilson, who took on the CEO role at the charity in Dec 2012, wants to offer more help for people in TV.
"The first thing we will focus on is training and awards," said Wilson.
"We already run the Jon Brabourne Awards (JBAs), which grants up to £5,000 to individuals, supporting a variety of training projects and, indeed, the making of films. I feel strongly that we need to run a parallel process in television."
The JBAs give young talent who come from disadvantage backgrounds or who have been hit by accident or illness a first firm foothold to help them begin their career in film and television.
Increasing profile
Wilson is also on a mission to increase awareness of the charity, with the Downton Abbey premiere part of that drive.
"It's surprising how many people that we currently support who hadn't heard of us until they were in need," he explained. "There is a view that all our focus is on care for the elderly but we do an awful lot more than that and want to support more people in the industries we cover."
The CTBF's care for elderly members of the industry includes the Glebelands Care and Nursing Home in Berkshire, which cares for more than 40 residents and includes the Broccoli Cloisters building, opened after the Albert R Broccoli and Dana Broccoli Foundation donated $1.4m to the charity.
The CTBF also partnered with Anchor care homes earlier this year to launch a National Care Plan, so people working in the industry could place elderly parents into one of 96 homes around the country at a discount.
But its reach extends to more than 1,000 beneficiaries every year, with 16 welfare visitors around the country available to assess those in need.
Those who are helped can range from professionals who have enjoyed a successful career but have hit hard times post-recession to young families hit by a crisis. The latter could include parents who work freelance in the industry who need to take time off work to take care of a sick child.
"We're providing multiple types of care and support across all generations and I don't think we've been very successful in getting that message across so it's something we're trying to promote so that the industry is aware of the services we offer," added Wilson.
Raising funds
While the CTBF is looking to help more people, it currently spends more on welfare than is raised through annual fundraising legacies.
"It's important that we increase our fundraising and events as well as partnerships and sponsorships," urged Wilson.
"So we're looking for new supporters but, as a priority, we're focussed on people and support for beneficiaries."
Looking beyond tonight's premiere, Wilson is preparing for the next Royal Film Performance.
"This year's Performance is all organised but all I can say at this stage is that it is a terrific film with Royal attendees and I'm hoping it'll be a very serious fundraiser," added Wilson.
It will be the 70th anniversary of the Royal Film Performance in 2016 and will remain integral to the CTBF's patronage, fundraising and profile. However, Wilson is keen to "move towards a position where it is not the only jewel in our crown".
"Downton Abbey is the start of that journey."