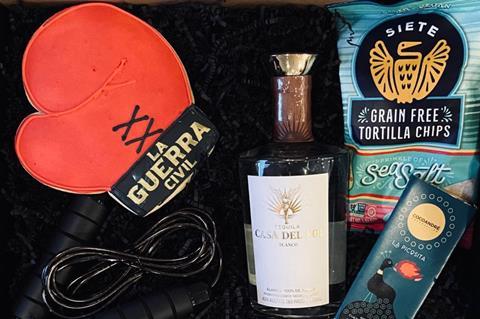 The online Sundance Film Festival 2022 opens today and filmmakers, executives and PR specialists are finding ways to mark the occasion. Watch parties and drinks events are taking place across multiple international locations and carefully-curated gift boxes are being sent around the world.
In the UK, Doc Society, which has backed fiive films in the Sundance selection, is hosting an opening-night party tonight at a central London venue. It is an opportunity for fiction and non-fiction UK-based filmmakers to celebrate their selection, with invites also extended to industry guests who would typically have flown out to Utah. Trailers from the selected films will be projected, with VR filmmakers encouraged to bring headsets to exhibit their works.
Free drinks will be served at the event, with an invite stating "there better be dancing…". Covid safety measures include mandatory lateral flow tests on the day for all attendees, with tests available at the venue.
Doc Society CEO Jess Search has also set up a WhatsApp group for filmmakers to stay in touch throughout the festival, and arrange further meet-ups.
Tabitha Jackson, the UK-born director of Sundance Film Festival, says, "Love that so much!" of what Search and her team are doing to create a Sundance vibe in London.
Doc Society runs the BFIs Doc Fund and the BFI has put on its own activities. There was a Zoom get-together earlier this week to give filmmakers the opportunity to network with executives, producers and journalists and there will be an informal get-together in London during the festival itself.
British Council's film team has a longstanding relationship with Sundance, and normally uses a 'travel grant' programme, co-funded by the BFI, to send short filmmakers to the festival. Five UK shorts have made it in this year, including John Ogunmuyiwa's Bifa-nominated Precious Hair And Beauty.
"It's really gutting that the five teams we had already awarded grants to this year won't get their moment in the Utah snow," says British Council, Film director Briony Hanson. "We'll be tweeting, and watching, and wishing them well – and hopefully sending them to the next festival that happens in real life where they can make those connections and try out their elevator pitches in the bar."
Dinner, brunch and Q&As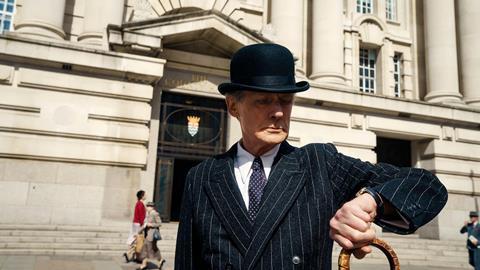 Oliver Hermanus' Living is having its world premere on in the Premieres strand. Stars Bill Nighy and Aimee Lou Wood are having a dinner in London with producers from Number 9 Films, plus execs from backer Film4 and sales agent Rocket Science, ahead of the virtual Q&A on the day of the screening on Friday January 21. (Hermanus is in South Africa, but will join the Q&A.)
Brian And Charles, another UK title backed by Film4, is having a team dinner on January 23 to mark its own premiere.
Danish producer Jacob Jarek, whose horror Speak No Evil has its world premiere in the Midnight genre strand, has organised a 'Sundance day' for his Copenhagen-based cast and crew. It is timed to the film's first screening, at 23.55 on Friday 21 in Utah – which is 07.55 on Saturday 22 in Copenhagen.
"In the morning we will have a brunch with waffles and mimosa, while we do our Q&A which is after the screening," says Jarek. "During the day we plan on going on a ski trip at Copenhill, an artificial mountain with a ski slope built on top of a power plant in Copenhagen.
"After that we have an after-ski drink, and finish it off with a dinner together."
Jarek anticipates the workload during the festival will run to a similar schedule as for an in-person event. "Most of our activities will be centred around press, which in any case would happen parallel to the festival itself," said Jarek. "We are hoping we can make the best out of it!"
Playing in the World Cinema Dramatic Competition, Martika Ramirez Escobar's Leonor Will Never Die is the second-ever Filipino film to be selected at Sundance, and the first for 16 years.
Escobar has flown from her home in Manila to Los Angeles for the film's launch. Monster Jimenez, who produced the film alongside Mario Cornejo, said it is important for her director to capitalise on a key moment for the film. "It's a good excuse to get out of Manila, and just feel the energy of other filmmakers who are there already," says Jimenez.
She has been impressed by the communication from the festival regarding the enforced changes to the event. "Sundance has been in constant touch on a daily basis with us," she noted, "with their reminders about ticket purchases, reservations and online meet-ups. Their hospitality is first-rate, and even before word got out that they were finally going to do it all online, we already got an email from Tabitha and personal notes from programmers and Sundance staff."
The team behind Krystin Ver Linden's buzzy US Dramatic Competition thriller Alice are spread across the globe, with Linden in Los Angeles; lead actress Keke Palmer aiming to watch with family in Chicago; castmates Common and Jonny Lee Miller working from London; and producer Peter Lawson planning to "throw some shrimp on the barbie" from Australia.
Chase Joynt's US-Canadian documentary Framing Agnes, about the discovery of case files from a 1950s gender clinic, launches in the Next section on Saturday 22, with a 'digital watch party' in the works. The film team had already booked flights and accommodation for Park City prior to the online switch; but producer Samantha Curley says it has provided the chance to reconnect with the film's location.
"Framing Agnes is a deeply LA film," said Curley. "The archives were here, we shot the film here, and the majority of our team is based here. And so a few of the folks on our team who aren't already here decided to transfer their flights to/from Salt Lake City and come to Los Angeles instead. We'll be watching films together, joining Zoom panels and talks together, and finding ways to celebrate with our closest friends and collaborators."
Gift boxes
Creating a buzz around a film with buyers is that much harder when everyone is experiencing Sundance from afar. For PR specialist and long-time Sundance collaborator Danielle Pelland, the answer is to put together customised packages inspired by the themes of the relevant film. The titles she is working on this year include UK boxing documentary La Guerra Civil, directed by Desperate Housewives star Eva Longoria Baston. A celebratory package created by festival sponsor Chase Sapphire (pictured above) has been sent to key executives ahead of the premiere on Friday 21 and includes Casa del Sol tequila, a jump rope, a promotional boxing glove cookie and snacks sourced from Latinx businesses.
The key is to be as ingenious as the filmmakers. "Sundance is all about spotlighting the creativity of the industry," she notes. "My work is to help celebrate filmmakers and their great work."