Ahead of their CineEurope award, Screen spoke to Lee Jury and Tony Chambers about Disney's amazing 2016.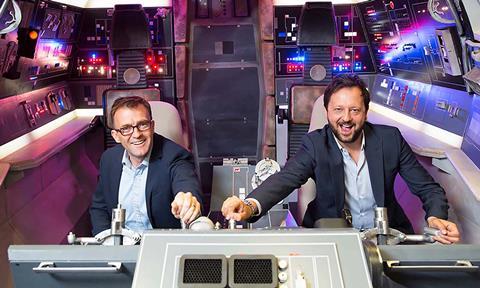 When, in February 2012, Walt Disney Studios Motion Pictures UK and EMEA boss Daniel Frigo moved to run The Walt Disney Company Italy, the studio did not need to look very far to anoint a successor — or rather successors.
Tony Chambers, head of studio sales and distribution, and his colleague Lee Jury, head of studio marketing, jointly stepped up to run the vacant post, co-running the studio for both the UK and EMEA region.
Fast-forward to 2017, and the shotgun marriage can fairly be judged a resounding success, with Disney dominating the distribution scene, achieving the studio's best ever year in EMEA in 2016, and delivering three of that year's five highest grossing films in the region (Rogue One: A Star Wars Story, Finding Dory and The Jungle Book).
Of course, as they themselves are keen to stress, Chambers and Jury don't make the films, which come on a delivery line from Disney's five enviable brand pillars: Marvel Studios, Lucasfilm, Pixar, Walt Disney Animation Studios and Walt Disney Pictures.
But their success in exploiting value from this rich flow of product will see them this month named International Distributors of the Year at CineEurope in Barcelona.
Seated together one May afternoon in Jury's London office for a rare interview, the pair reflect on their opposites-attract partnership, and the challenges and opportunities afforded by their shared leadership role.
Power sharing
"When we were hired to do this, we sat down and said, 'We both have to make this work,'" recalls Chambers, a wiry Irishman who joined Disney from auditors Price Waterhouse in January 1995, initially in the Munich office, gradually working his way up to his present post.
"The agreement was, and has been, and will be, we divide and conquer. We have to make it work. The stakes are too high. Yes, we both have our own discrete areas, but there's a lot of grey. No one is precious about who does what, how they do it. And then with regard to our discrete areas, all key decisions, we discuss, we agree, we consult."
"We're very different, and we know each other's strengths," adds West Midlands-born Jury, who joined Disney exactly six months after Chambers, as PA to then-UK sales boss Richard Napper. Like his partner, he has been at the company for 22 years.
Asked to clarify, Chambers offers: "I'm quite detailed, organised, planned. I'm not saying Lee doesn't plan. I will bring a structure, I will bring a financial element to all the discussions, and that's where the strengths are."
Jury, in turn, adds: "My leadership style is much more about being creative, sharing a vision, influencing my teams, getting the best out of them. I try to give myself and the teams time to think creatively, because I think that's how you get good results."
As for the grey zones that fall into both their remits, Chambers says: "Areas like the forecast, the budget, the five-year plan, target-setting, meetings and presentations with filmmakers, exhibitors. It's something that isn't just sales, it isn't just marketing. It is a case of, it's Europe, it's the UK, and that's the two of us. If, for example, there's a release date decision, Lee is part of that discussion. If there's a marketing positioning, this is why we've chosen this target audience, I can't say, 'This is nothing to do with me.' We're in this together. We may sound like an old married couple, but in five years there has not been one disagreement, ever."
Both men make a persuasive point that their role running operations in the UK and Ireland helps them relate to their equivalent territory teams when overseeing the EMEA area. As Jury says: "We're running a market, a big one, and we've got skin in that game."
Chambers amplifies: "We can't preach from the pulpit without implementing ourselves. I'd like to think that we're not out of touch. And it removes, possibly, another layer of management who are a bit more distant, don't have to implement, don't necessarily hear the day-to-day concerns of exhibitors. If there's an issue, if there's a problem with a delivery, or a discussion with an exhibitor, I get to hear about it, and that may have implications in France, in Germany, in Spain or wherever, and it helps."
Blockbuster status
In terms of the scale and frequency of its releases, Disney presents a major contrast with other studios, the smaller-size or even medium-size movie being very much the exception rather than the rule. Instead, the company focuses its efforts on a handful of tentpole blockbusters each year, with many of the UK and Europe teams working specifically on only two or three of the five brand pillars.
"Every single movie that's created, be it The Finest Hours, Queen Of Katwe, all the way to a Star Wars, the people behind that movie have spent three, four, five, six years on it," says Chambers. "So the expectations on a Star Wars or a Finest Hours, when you're sitting down with a filmmaker, are broadly the same. With this business, there are so many unknown variables, and they outweigh the number of known variables; everything is a roller-coaster. You have to expect the unexpected.
"But what you have to do is have integrity, be able to look yourself in the mirror, be able to look the filmmaker in the eye, in good times and in bad, for a smaller movie or a bigger movie, and know that you've done them and the movie proud," continues Chambers, "Because if you don't, you can fool people once, you can fool people twice, but you can't fool them for much longer, and that goes for exhibitors, filmmakers and the studio."
Adds Jury: "It's all about trying to give yourself enough agility at the back end to be able to react to the unpredictable nature of the business. We don't always get it right. If the film doesn't open at the level that we would have expected, how are we going to ensure that we hit our target? Moana was one. Monsters University a few years ago opened to a third of expectation, and we still had a target to hit that we hit. You could rest on your laurels that opening weekend and say, 'Well, we tried,' but that's never going to be enough. What are the actions we are going to take to turn that around? Having teams oriented towards those brands is one of my big focuses, to ensure they're focused on delivery, and leveraging those advantages."
Local nuance
While the global nature of the film business and the interconnectedness of the world means that creative executions of what Jury calls the "hero elements" of the marketing campaigns — trailer and main poster image — are likely to be consistent within Europe, Disney also recognises the value of local flexibility.
"Increasingly it's about the variety of different platforms that we are now fulfilling, and how many more of those that have emerged, where you can add more local nuance. How we can storytell individually. In France for example with Moana, which was released there as Vaiana, we could unlock all the French Polynesian connections to that film in that market. As much as we do drive towards a global campaign, our filmmakers are very keen to listen to and learn from each of our markets.
"For example, why a market like Italy has never had a relationship to the Star Wars franchise like the UK has, and try and unpick that and figure it out and iterate it in such a way that we can hopefully improve each time. That's the real test-and-learn approach that we have."
As for the evolution of marketing spend at Disney, Jury explains: "No two campaigns are the same, either by market, or within a market. But generally speaking, we are seeing much more of a shift towards digital; we've definitely experimented and been very successful in that space. The way that social is at the core of every element of our campaign, digital is at the core of every element. And it affords you much more flexibility and agility.
"Campaigns like Finding Dory in the UK were very digital-centric. We used our big broadcast beats and outdoor to spark a conversation using the 'Unforgettable' quote that helped play that nostalgia card, but you're only newsworthy for a very short space of time, so through digital we aimed to stay relevant for longer. In the UK's case, we used the platforms of Wimbledon, then the Olympics, then the heatwave, to remain visible and relevant. It's about getting a mix that gives you enough reach to the audiences you are targeting, but affords enough flexibility to work at that critical last stage and beyond after opening, to really stay in people's news feed."
Jury adds: "We build our campaign from the bottom up — who are the audiences that are predisposed to it, and who have we got to bring on board? The Force Awakens is a great example of where we did play with the mix of the spend to orientate the campaign towards audiences that were not predisposed to Star Wars. There was a high index towards females that we needed to convert. And the biggest audience share in the UK that we had potential with was the over-50s, because they were the ones who perhaps had the most nostalgia for Episode IV. We put a lot of effort into chasing them."
With studios increasingly looking to brand partners to share the burden of marketing costs and amplify the message, Disney is well placed to take advantage. Says Jury: "Our position in the market with our titles that have a great deal of equity, several sequels, several high-profile pieces of IP like Beauty And The Beast, they are attractive to brand partners. But our competition equally have the ability in that space. And we've cut ourselves out of a lot of categories, purposefully. We're not in fast food — we try to be responsible to healthy living.
"We're very specific," Jury continues. "What's critical to us is that we're partnering with brands in a way that they do augment a campaign, and that there is an authenticity to it. In any big industry right now, it is very easy to be found out, by confusing audiences or partnering in the wrong way, and bigger does not necessarily mean better.
"So yes, you can take a big cheque from a partner, run away with it and have it do some of the heavy lifting, but there are some questions to ask about whether it's really delivering. I'm not going to name names, but you can look at several brand campaigns [at other studios] that I would question if they were additive. We govern ourselves very carefully. There are some big brands that we could have partnered with on The Force Awakens that we didn't, because we felt it wasn't complementing the campaign."
With the Disney Midas touch showing no sign of tarnishing, and especially the inspired reinvigoration of live-action studio Walt Disney Pictures under Sean Bailey, with the exploitation of the animation catalogue into global hits such as The Jungle Book and Beauty And The Beast, complacency remains the enemy.
Explains Jury: "We both echo the same thing to our teams from Rogue to Beauty to Guardians [Of The Galaxy Vol. 2], every Monday morning that we've been fortunate to see great numbers, which is, 'Don't ever get used to this.' The worst thing you can do is get complacent.
"We have had some real challenges, even in the last 12, 18 months, and every failure is relative. We aim to learn from everything. What we've tried to do more of, which we didn't used to, is to look back at success as well as failure, to see what we could do better. We look back at Beauty And The Beast and say, 'OK, amazing, but were there things that we should have done a bit differently?' Or in Guardians' case, was there an audience that we could have perhaps unlocked?"
Adds Chambers: "And that goes back to Frozen, the biggest animated movie of all time. After Frozen, we all had a huddle as to what we could have done better. A lot of people have been here a long, long time. So they know that it's not normal to have four of the top 10 movies of all time in the UK, three of which have been delivered in the last 16 months. That does not normally happen. We have to stay humble. And I hope if you were to ask and speak to promotional partners, exhibitors or anyone, they wouldn't think that we're out banging chests. I hope that's something the team don't do."
Chips in Jury: "It's our time in the sunshine, and it won't be forever."
Moving target
While Disney is reaping the benefits of an extraordinary overlap between current popular taste and its inventory of film brands, it is already braced for an inevitable shift in audience affections.
Says Chambers: "[Disney Animation and Pixar chief creative officer] John Lasseter has this mantra, which has permeated through the rest of the studios, and it's, 'Quality is the best business model.' So the mantra, irrespective of whether people think, 'Oh, there will be superhero fatigue,' or, 'There are too many animation titles out there,' quality at the end of the day will and should succeed. Quality of storytelling at the heart of it, but keep it engaging, keep surprising people. Keeping it fresh, that's what the filmmakers at the studio have a phenomenal ability to do."