Some of the best fun of Cannes is to be had speculating which films will win the festival's big prizes. But for international sales companies, it's a more serious business. Screen explores the significance of a Croisette launch when films are finally released around the world.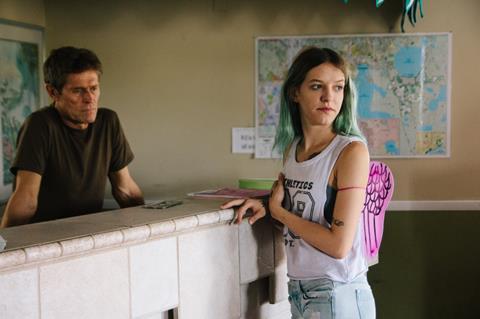 Every year at Cannes Film Festival, assembled sales agents, buyers, exhibitors, programmers and especially — it must be admitted — members of the press enjoy being distracted from their daily cares by speculating which titles will win the key prizes. And for the broader constituency of arthouse film lovers not present at the festival, the awarding of the Palme d'Or provides a vital access point.
The question remains: how valuable is selection, and ideally a win, in Cannes? And for which kinds of films does it matter most? It is hard to argue, for example, that Todd Haynes' Wonderstruck (global box office so far: $2.5m) really saw its commercial fortunes lifted by its participation in Cannes' Competition last year.
On the other hand, Sean Baker's The Florida Project, the buzz title in the 2017 Directors' Fortnight, had the kind of lift-off that might have been harder to achieve in the packed line-up of Toronto, catapulting it to an Oscar nomination for Willem Dafoe and $12.8m worldwide box office.
Cannes launchpad
"A Cannes launch is almost necessary for certain types of films," is the opinion of Vanessa Saal, managing director, sales and distribution at Protagonist Pictures, which presents Pawel Pawlikowski's Cold War in Competition this year. "For certain titles to become event arthouse films, Cannes is a very important stamp of the beginning of commercialisation, especially with anything that's foreign language."
The pitfall is that if the Cannes critics take against you, as famously happened with Sean Penn's The Last Face and Gus Van Sant's The Sea Of Trees, it can be hard to recover. "Cannes puts an amount of importance to the press that's even higher than usual," says Saal. "If you have something that's panned at Cannes versus somewhere else, you'd rather be panned somewhere else."
Charlotte Mickie, vice president of Paris-based sales outfit Celluloid Dreams, says: "Generally the Cannes selectors are very astute about their choices, so we go with their judgment if they want something and it's such an honour, but of course things can and have gone sideways from time to time."
Mickie notes that Cannes audiences can be "terribly wrong" with their initial reception of certain titles, citing the examples of Jane Campion's Sweetie in 1989 and the Coen brothers' Barton Fink in 1991 — although any hostility to the latter was quickly corrected by the Cannes jury that awarded it three prizes including the Palme d'Or. Celluloid Dreams founder and president Hengameh Panahi adds that the company's only bad experience was with Takashi Miike's Shield Of Straw in 2013: "The Japanese producers were surprised that such a commercial movie could be selected in Cannes' Competition. Well, the French critics massacred the film and by the time the reviews were out we saw all our deals being cancelled. We never sold the film in France. We tend to say that bad reviews can kill a film, but good reviews don't sell the film."
For Louisa Dent, managing director at Curzon Artificial Eye — one of the key distributors of foreign-language and arthouse titles in the UK — the great advantage of a Cannes premiere is that afterwards you know where you stand: "You've got all the press, exhibitors, partners, funding bodies, UK film festivals — there is a level of attendance at Cannes that is not there for Venice or Berlin, not in the same way. You get a very clear idea. If the press is not on board, you can reconfigure the way you plan to release."
Bump tactics
For buyers and sellers alike, a big topic of negotiation for titles competing for the Palme d'Or is likely to be the tricky subject of bumps in the minimum guarantee (MG). If a deal is being hammered out ahead of the prize-giving, sales agents are likely to propose clauses in the deal memo that call for price hikes relating to category wins. "Distributors will be willing to put a bump in for the Palme d'Or but not that many of the other prizes," says Saal, who adds that European and Japanese distributors are more open than the US to this suggestion.
Mickie agrees: "Bump clauses can sometimes work for awards other than the Palme d'Or, but it's becoming rarer, and the bumps are more lucrative and easier to secure in continental Europe."
From the buyer's perspective, according to Dent: "It's asked for, and we often say it is a bit meaningless, which I think it is. Everyone asks for everything. They're always going to ask. It really so much depends on the film."
Dent adds that for titles from hitherto little-known directors such as Laszlo Nemes'Son Of Saul (grand jury prize, 2015) or Cristian Mungiu's 4 Months, 3 Weeks & 2 Days (Palme d'Or, 2007), a big prize is a handy help, while the Palme d'Or in 2010 for Apichatpong Weerasethakul's woozy, audience-challenging Uncle Boonmee Who Can Recall His Past Lives made the difference between a film that "would have struggled to have done anything in the UK" and the modest achieved outcome ($147,000 at UK cinemas).
A Palme d'Or win last year for Ruben Ostlund's The Square for Curzon was a nice-to-have, but much more valuable in engaging UK audiences were the film's talking-point scenes, as was the case with Ostlund's Force Majeure (aka "the avalanche movie"), which did not even play in Competition — it screened in Un Certain Regard. "Much more important than being in Cannes or winning a prize at Cannes is the film itself and whether you've got a hook that you can market it on," says Dent.