Emirati film-maker Ali F Mostafa and producer Rami Yasin talk to Melanie Goodfellow about The Worthy, which played in DIFF's Muhr Emirati competition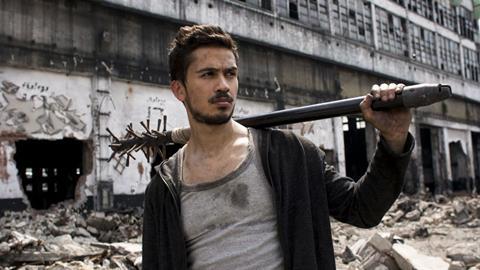 Action thriller The Worthy, by Emirati film-maker Ali F Mostafa, unfolds in a dystopian future in which conflict has resulted in an environmental catastrophe.
The film premiered at this year's BFI London Film Festival and also played in Dubai International Film Festival's Muhr Emirati competition.
It follows a disparate group of survivors banded together in an abandoned factory compound housing one of the last remaining sources of uncontaminated water.
When a predatory stranger breaches the perimeter, the group find themselves in a fight for their lives in which it is not always clear who is the enemy.
The film's scenes of destruction and exploration of societal breakdown resonate with current events in the Middle East but Mostafa says the premise is not meant to be unique to the region.
"It's a reflection of what we may have witnessed or seen in the news," says Mostafa. "You can't help being moved but it's not based on these events. It's a 'What if?' kind of scenario that could happen anywhere."
Unlike Mostafa's first two feature films — City Of Light and From A To B — which he wrote, produced and directed, it is the first time the film-maker has directed a feature developed by a third party. Based on a script by Vikram Weet, the production was developed by Emirati film company Image Nation and Peter Safran and Steven Schneider, the US producers of genre hits The Conjuring and Paranormal Activity.
"It was kind of eye-opening but I come from an advertising background so I'm used to being given a script and a storyboard and being told how you are going to interpret it," says Mostafa.
"I didn't have the same pressure that I had on the other films where I was very involved in the production process. I could focus on being a director… I have plenty of ideas of my own but it's a route I would happily take in the future."
Mostafa worked closely with UAE-based producer Rami Yasin in transposing the feature to the Arab world as well as searching for locations and the ensemble pan-Arab cast featuring Maisa Abd Elhadi, Ali Suliman and big-screen debutant Mahmoud Al Atrash in the lead role.
"I think 80% of it was written, but there was quite a lot of stuff that got changed because of the locations we chose," says Yasin. "The characters and the order in which they go was in the original script, but how they go, we worked on that a lot."
The feature was shot last year against the backdrop of an abandoned Communist-era factory in Romania. "It looks amazing. We looked at a lot of locations, in India, Serbia and Jordan, and then we ended up in Bucharest," says Mostafa.
The film finishes on an open-ended note and both Mostafa and Yasin admit they would love to shoot a sequel. "We have some great ideas so if it does well we would love to make another one," says Mostafa.