As the world's longest continually running festival marks a very special anniversary, Edinburgh's artistic director Mark Adams talks Michael Rosser through this year's energetic line-up and Wendy Mitchell spotlights the event's Finland focus.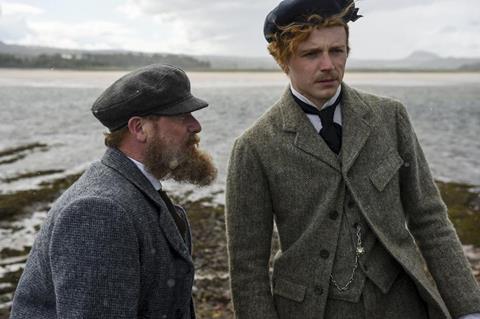 Edinburgh International Film Festival (EIFF, June 15-26) may be celebrating its 70th anniversary, but it has more "energy, enthusiasm and excitement" than ever, according to artistic director Mark Adams [pictured right].
EIFF is marking the occasion with a few nods to the past but its focus is very much on the future and emerging talent. "Everybody is looking out for new talent and anything we can do to showcase upcoming film-makers is key for us," says Adams, who is now just over a year into the job.
Nowhere is this focus on talent more prominent than in the Michael Powell award for best British feature, with nine of the 12 films in competition helmed by first-time feature directors. These range from actress Mercedes Grower, who makes her directorial debut with improv-based dark comedy Brakes, to Euros Lyn, best known for directing episodes of Doctor Who and Daredevil, who has made revenge thriller The Library Suicides.
Also in competition is Tommy's Honour [above], from director Jason Connery — son of Sean Connery, who is a long-time supporter of EIFF and hosted the festival's 60th birthday party. The Scottish period drama, starring Peter Mullan and set against the backdrop of the early days of professional golf, will receive its world premiere as the opening film of EIFF.
It will bookend the festival with the world premiere of another Scottish film, a remake of Whisky Galore! (the original screened at EIFF in 1956 as part of a tribute to Rank Film Distributors). "It is really important for us to celebrate local film-makers and actors," says Adams. "You always hope to get world premieres but to open and close with major films from the region is fantastic."
As well as its Best of British strand, EIFF will bring new films from around the world to the Scottish capital through its American Dreams, European Perspectives, World Perspectives and Focus On Finland sections.
Marking the anniversary, EIFF commissioned a bespoke tartan to celebrate its 70th edition, incorporating the red, black and white of its logo and integrating the aspect ratio of 70mm film into the design. In a further nod to its 70th, the festival will screen a series of iconic films in their original 70mm format including 2001: A Space Odyssey and Lawrence Of Arabia.
In total, the festival will show more than 160 features from 46 countries — a vastly different picture from the first edition. Launched in 1947 as the International Festival of Documentary Films by the godfather of British documentary, John Grierson, it holds the title of the world's longest continually running film festival (Cannes launched in 1946 but was not held in 1948 or 1950 due to budgetary restraints).
The programme expanded to include international fiction films in the 1950s with guests including John Huston, Dirk Bogarde and Gene Kelly, while Ingmar Bergman boosted the festival's reputation by hosting the UK premieres of his latest works at five consecutive festivals from 1957-61.
In 1969, the festival introduced its then-groundbreaking retrospective strand and screened films from the New German Cinema and the new wave of American Independents throughout the 1970s and '80s. UK premieres included E.T. The Extra-Terrestrial, which opened the festival in 1982 (the print sent up was labelled 'Bringing Up Baby' due to piracy fears) and will be screened at EIFF this year with John Williams' iconic score performed live by the Royal Scottish National Orchestra.
EIFF resurrected
In recent years, though, EIFF has been dogged by reports of decline. There was a backlash when the festival shifted its dates from August to June in 2008, and the 2011 EIFF is widely regarded as a failure with a lack of guests and awards accompanied by major worries over funds. But last year's edition saw more than 50,000 admissions, a 9% increase on 2014, and Adams' appointment as artistic director — joining from Screen International where he served as reviews editor — has brought fresh energy to the festival.
"The buzz is out there internationally, which is really satisfying," says Adams. "Other festival programmers and sales agents are very supportive and EIFF helps films with their distribution."
EIFF also continues to grow its industry programme and will introduce a works-in-progress section to showcase up to seven UK narrative features. More than 1,200 industry delegates and film-makers attend the festival and this year's industry programme will run for nine days from June 16-24 alongside a talent lab that runs from June 17-20.
Programme highlights include two sessions hosted by the BFI NET.WORK, looking at opportunities available for new and emerging film-makers across the UK, offering tips from executives and film-makers on how to make the best short film on a short-film budget. Distribution Rewired will return to EIFF for a second year. The two-day focus will aim to develop communication and collaboration between film-makers and film distribution professionals working with new and emerging distribution methods.
Asked about the biggest challenges when pulling together this year's programme, Adams replies: "The [football] European Championship. We can't play a new British film against a big England game."
Finland in the spotlight
Cannes prizes, awards nominations and Angry Birds: ahead of Edinburgh's Finland spotlight, Wendy Mitchell hails the Finnish film boom…
It has been a banner year for Finnish film: the Rovio-developed The Angry Birds Movie has become a global box-office hit (approaching $300m after three weeks), The Happiest Day In The Life Of Olli Maki took the Un Certain Regard prize in Cannes, The Fencer received a surprise Golden Globe nomination and now Edinburgh International Film Festival (EIFF) and Galway Film Fleadh are hosting Finnish spotlights.
It's not a fluke, as 2017 is also set to be a big year for the Finns: a biopic about artist Touko Valio Laaksonen — better known as Tom of Finland — will hit screens and the $17m Iron Sky sequel will be unleashed. The country's first tax incentive for film production could also be introduced next year.
Producers say Finland has a healthy local ecosystem: the Finnish Film Foundation has steady development and production funding of about $24.5m (€22m) per year and backs a diverse range of films. Finnish audiences love watching local films — the local box-office market share for 2015 was an enviable 30%. "The domestic markets are working well," says Petri Rossi, head of production at the Finnish Film Foundation. "Our challenge is to get our producers and directors working more internationally."
Annika Sucksdorff, a producer at Helsinki-filmi, is working on Dome Karukoski's Tom Of Finland biopic, a $3.6m (€4m) feature sold by Protagonist Pictures and shot in Spain, Sweden, Germany, Finland and the US. Eager to produce more projects of its scope and international potential, she is coming to EIFF to meet potential partners. "We have a new strategy to do more mid-range budget, European-financed films in English with American and British cast," says Sucksdorff, who hopes to build a slate of at least five English-language films. "We have Finnish and British investors who want to invest."
One English-language Finnish project that has been successful on the festival circuit is Mikko Kuparinen's 2 Nights Till Morning, which screens in EIFF's Finland strand. The film's producer, Mikko Tenhunen of Mjolk Movies, agrees that looking beyond his borders is important for more projects. "We are a small country of 5.5 million people so there are limits to how big a film can be in Finland."
Helena Mielonen of Bufo Films and sister distribution outfit B-Plan, who is in the delegation of producers headed to EIFF, is excited to work with the new crop of film-makers. "The young generation is talented," she says. B-Plan will release The Happiest Day In The Life Of Olli Maki, Juho Kuosmanen's debut feature, as well as Selma Vilhunen's forthcoming feature debut Little Wing (produced by Making Movies).
Indeed a number of companies have sprung up in recent years, including the female-led Tuffi Films, which has a busy slate of fiction, documentaries and multi-platform series.
"Even when we're trying to appeal to audiences, we have that artistic sensibility," says Vilhunen, who is lining up teenage love story Stupid Young Heart and Wife, about a Thai woman who moves to a remote Finnish town.
Genre films are also growing in profile. Mikko Aromaa, chairman of Nordic Genre Invasion, a coalition of 20 Nordic genre film producers, says titles such as 2012's Iron Sky have changed local perceptions about genre. "They opened up the doors of the Finnish Film Foundation and other official entities to a new way of thinking."
The next Finnish genre film generating buzz is Bodom, being sold by Film Constellation, and which will be delivered this autumn. "Public financiers are open to all kinds of films and genres," says producer Aleksi Hyvarinen of Don Films.
Leila Lyytikainen of Fisher King, which is developing killer-mosquitos tale Bloodsuckers by Elin Gronblom to shoot in 2017, adds: "Nordic genre content has a reputation for being story-driven. There is quality in it."
Other projects of note are popping up without state money, such as the first Finnish superhero film Rendel, currently in production. At the top end of the scale, The Angry Birds Movie (Finnish intellectual property from local games and media powerhouse Rovio with Sony as production and distribution partner) also keeps some Finnish flavour. Aardman veteran Steve Pegram, who is Rovio's head of TV animation, says: "There is a quirkiness to the tone of storytelling that you see only in Finland."