The show's co-creator tells Screen why the gritty TV crime drama was a challenging but rewarding experience.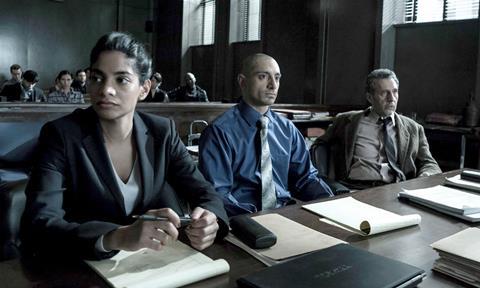 Film writer/producer/director turned TV creator Steven Zaillian (below) is not entirely sure what stories he wants to tell - and says he likes it that way. But if you look at his extensive CV, which includes screenplays for Schindler's List, American Gangster and Moneyball, a sense of purpose resonates throughout: "Something with a good, solid story, good characters and also some kind of social relevance interests me," Zaillian explains. "This isn't true of everything I've done, but I'm certainly drawn to those things. Even if it is fiction, most of the things I've done are quite realistic."
That sense of realism carries through to HBO limited series The Night Of, the eight-episode show Zaillian co-created with Richard Price.
The genesis of the idea came in 2009, when Jane Tranter, formerly the head of BBC Worldwide Productions and Adjacent Productions, sent Zaillian a copy of BBC show Criminal Justice. The Bafta and International Emmy-winning show produced by Pier Wilkie, written by Peter Moffat and starring Ben Whishaw, which follows one accused individual through the justice system, interested Zaillian enough to create a US adaptation. (Tranter, who left the BBC and Adjacent in 2015, served as executive producer on The Night Of through her independent production company Bad Wolf.)
Tag team
Zaillian immediately knew Price, a Writers Guild of America nominee for his work on the gritty HBO crime series The Wire, should be involved. The pair worked on the series' overall story arc, with Price writing the first drafts of each episode and Zaillian penning all subsequent drafts. "We weren't sitting in a room together," Zaillian says. "It worked out well for us that way. I think we played to each other's strengths.
"Richard knows the world of police, particularly in New York City, so he felt comfortable with that," Zaillian continues. "He was less familiar with the legal part of the story — the trial and all that goes with it — and I was interested in that. I'm a lot about detail, so both of us working together made it a fuller experience."
Zaillian, who directed all but one of the episodes of The Night Of - The Theory Of Everything helmer James Marsh shot the other - filmed the pilot in 2012. James Gandolfini, who was originally cast as the lead character John Stone, and who performed the role in the original pilot, died in the summer of 2013. As Zaillian and Price finished writing the remaining scripts, Zaillian got in touch with John Turturro and offered him the part.
"Strangely, John's name was on the shortlist originally," Zaillian recalls. "I had a list of four or five people, including James [Gandolfini] and John. Whether he knew it or not, he [Turturro] was on the list from the beginning."
The basic premise of The Night Of, as it was with its BBC source material, is a young man who, through a series of bad choices and unlucky circumstances, is arrested and put on trial for the murder of a young woman. "I just felt that was a strong premise," Zaillian explains. "Then, when Richard started to write, the first choice he made, really from a sense of realism, was to make this kid the son of Pakistani immigrants because that would be more realistic when it's set in New York."
This led to the casting of British Pakistani actor Riz Ahmed for the central role of Nasir 'Naz' Khan, and Zaillian was thrilled with the choice. "Over the course of the story, Naz goes from being a college student who has never been arrested, to someone who can survive, and even thrive, in Rikers Island," he explains. "Riz has that kind of range. He's smart, experienced in both his profession and his life, and was completely committed to making his portrayal of Naz real."
This character choice also allowed for the exploration of themes surrounding the cultural mix of the US. "We got into the whole Jackson Heights community of South Asian people, and followed this kid through the justice system," Zaillian says.
That system piqued the interest of Zaillian, who admits he has always had an interest in the processes and operation of such institutions. "Even though it's fiction, I was approaching it as if it were real to the extent this is a real system and we're going to look at it in a realistic fashion," he says. "But, frankly, I wasn't that familiar with it going into it. I'd never been to Rikers Island, I hadn't spent a lot of time in arraignment courts and police stations. So from my point of view, going to these places, seeing what they're like and incorporating that on-the-scene research, I just wanted, along with Richard, to show it the way it is."
Behind bars
As part of the process of writing the show, Zaillian and Price made frequent trips to the Rikers Island prison complex in New York City, courts and police stations. Zaillian also ensured the heads of the production departments made the same research trips before shooting, as well as spending time in Queens, New York, where they filmed a significant amount of the show. "You can look at almost every scene and what you're seeing there is something that we saw when we went to these places," Zaillian explains.
The reality of what happens at the arraignment courts was a particular surprise. "It's something that goes on every day, through the day, 365 days a year," he says. "It's kind of a factory and people who are arrested get maybe 30 seconds to a minute to stand before the judge. It's an incredible thing to see."
The Night Of, produced by BBC Worldwide Productions, BBC Drama Productions, Bad Wolf and Film Rites, was filmed over the course of 150 days between October 2014 and April 2015. The police precinct was built in a former post office in midtown Manhattan, and the main wing of Rikers and the trial courtroom were shot on a set. The rest of the show was filmed entirely on location.
Zaillian had conversations with the actors about character and performance, but believes in discovering the scene as it is happening. "It's really as we're shooting that we're finding the scene and finding the performance, and the nuance of the characters," he says. "Even as we're rehearsing, I'm shooting as much as I can to make sure we haven't lost the best performance."
As The Night Of was his first foray into television, Zaillian was not fully prepared for the time commitment it would entail. After shooting, he spent another year in the editing room, putting it all together. "It became my primary job for five years. When it's over, you need a little bit of time to collect yourself and think about what's next," he says.
The writer, director and executive producer is still not entirely sure what projects are on the horizon, although he is as open to television as he is to film. "It's starting to blur now," he says of the distinction between the two forms. "I think television, for a very long time, felt like something very different from films, but now they're getting closer. TV is taking on the kind of precision you think of when thinking about film. I think it's great, since so few films are being made these days, that television has taken up the slack. It's fantastic, certainly for writers and for directors too."
Zaillian is pleased with The Night Of's reception, but admits he has been in a bubble since the creative process around the show began. "You don't really know how people are going to react to it, and frankly you're not shooting it in order to get some kind of reaction. You're just trying to do what feels right. So the fact it worked for people was great."