Authenticity was key to the makers of crime thriller Giri/Haji, in which the action moves between London and Tokyo, so filming in Japan was essential. But the producers had not foreseen the size of the cultural chasm between British and Japanese approaches to location shooting, and just how much Tokyo would surprise them.
The eight-part drama, produced by Sister Pictures for the BBC and Netflix, explores the butterfly effect of one murder on two cities and centres on Kenzo Mori (Takehiro Hira), a Tokyo detective and family man who is dispatched to London to search for his missing brother.The script, by Joe Barton, sets a large number of crucial scenes in Japan, and executive producer Chris Fry quickly committed to filming in the world's most populated city.
"We decided early on that it was important to shoot as much as possible in Tokyo because I felt there was a need for authenticity," says Fry, whose recent credits include Sister Pictures-produced Chernobyl, the acclaimed Sky/HBO miniseries which won 10 Emmys in 2019. "I've seen some shows try to cheat things by using the UK with a lot of Japanese extras but we didn't think it would feel the same and wanted to maintain as much truth as possible."
It was streaming giant and co-producer Netflix that suggested working with Tokyo-based production service company Twenty First City, whose work ranges from Avengers: Endgame to HBO series Girls.
"The most important thing, from their point of view, was starting early because Japanese culture is very different to ours and needs a certain amount of care and attention when looking for locations," Fry recalls.
This meant more preparation during pre-production, and approaching businesses and individuals in the correct manner. "You would never walk into someone's property or shop and say 'We're a film company, are you interested?'," Fry explains. "That is simply unacceptable culturally in Japan. You need to write them a letter; arrange a meeting; formally greet them with a business card, held with two hands; take presents; and discuss proposals. It's a much longer process."
Filming outdoors also proved a challenge. "You need to get the permission of everyone on the street because what you don't do in Japan is create any inconvenience to other people's normal lives," he says. "If we were filming on a pavement and a resident were irritated that we were blocking the way, it would be considered highly inappropriate and very rude to have done that."
Avoiding cliché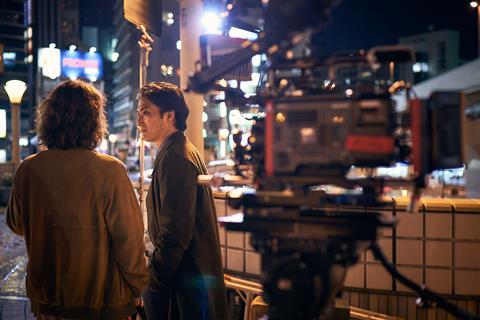 With locations agreed, Giri/Haji – which translates to Duty/Shame – shot for eight weeks in late 2018. Lead director Julian Farino, whose credits include HBO's Entourage and Ballers, wanted to avoid the clichéd depiction of Tokyo as a neon-soaked metropolis, and instead took inspiration from the everyday life depicted in the films of Hirokazu Kore-eda.
"I wanted to show something more moody and not picture postcard," says Farino. "Rather than gangsters in neon, I wanted to show the side of Tokyo that is more like downtown Manhattan – browns, greys and beiges. I thought it was a way to make this our own."
Having never been to Japan, Farino was daunted by the prospect of directing scenes in another language but made sure that his translators were actors so they understood the communication of notes.
"The actors were immensely impressed that this was a western production that treated Japanese characters as three-dimensional and not just the villain or token character," he recalls. "The culture of respect also means that 99.9% of the time, the actors were word perfect on every take. That was quite something to experience."
The production shot on locations including the Nemoto Shipyard in Kawasaki-ku and Ueno Sky Bridge, while a police station was re-created on the 13th floor of a pet insurance company in Shinjuku. Kenzo's family apartment was, however, built as a set at Pinewood Studios in the UK.
"At the outset, I wanted anything set in Japan to be shot in Japan," says Fry. "But having visited several locations, it quickly became apparent that shooting the interior home of our main character was going to be problematic because a lot of apartments in Tokyo are very small. Spending two weeks in a very small apartment would have been problematic so we decided to build that a Pinewood."
Fry concedes that, if the drama were to return for a second season, he would look to do a little less in Japan due to time constraints and increased costs but adds: "I'd still do as much as I could over there. It is the most extraordinary place."