Normal People, the second novel from Irish writer Sally Rooney, was an unexpected sensation when it was published in 2018.
Voted book of the year by UK bookseller Waterstones, it also claimed the prize for best novel at the 2018 Costa Book Awards and became a bestseller on both sides of the Atlantic. The 12-part BBC television adaptation, which was produced by Element Pictures and broke viewing records for the BBC3 channel on the corporation's iPlayer streaming service, cemented Rooney's sensitive exploration of the on-off love affair between two County Sligo teenagers as a fully-fledged cultural phenomenon.
Even accounting for the heightened appetite for entertainment of a captive, locked-down audience, Normal People's success is impressive. So what is it about Marianne and Connell's faltering steps into adulthood that has so captured the cultural zeitgeist?
"I think it's unique in the way it deals with the whole element of growing up from 18 to 22 in a really mature way," reflects Daisy Edgar-Jones, who beguiles as the privileged, damaged Marianne, opposite Paul Mescal's sensitive hunk Connell.
"A lot of the time, when you see depictions of young love, it can be quite light-hearted. What Sally has done with the book and now with the series [Rooney co-authored the screenplay with Lady Macbeth writer Alice Birch] is tell a story that is actually representative of what young people are like. Of what heartbreak feels like; not taking it lightly – it is a really big feeling when you're experiencing it for the first time.
"There's a simplicity," she continues, noting that the story's lack of contrivances makes it more identifiable for the audience. "The biggest, most dramatic events happen in domestic settings that we can all relate to. For example, Marianne asking Connell what he would like to study, and suggesting he study English at Trinity. It seems like a small moment but, when you see the ripple effect it has on the rest of his life, it's immense."
There is also a sense that the show has tapped into a particular need in the audience that stems from the unusual pandemic circumstances in which it has been viewed. "The whole story is about human connection," Edgar-Jones says. "Right now, this is the time where we're really noticing the connections we have with other human beings. And we're also, a lot of us, really lacking that. So it's interesting watching two people connect in a very raw way."
Just as Gen X audiences connected with the poetic fatalism of the encounter between Jesse and Celine in Richard Linklater's Before Sunrise, so millennials have embraced the bumpy journey of Normal People's Marianne and Connell. But there is also a universality in the appeal of these flawed and realistically textured characters – audiences of all ages can imagine either having been one of them, or having fallen in love with one of them.
"I fell in love with both of them," smiles Edgar-Jones. "It is universal. I have heard that Sally gets told she is the voice of the millennials. But I think, with Normal People, Sally's voice is timeless."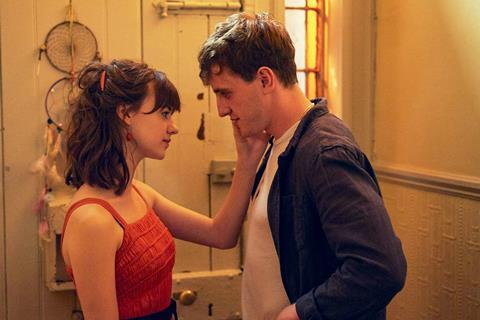 Creative synergy
The casting of the two main roles was crucial to the success of the small-screen adaptation. The series represents the first major leading role for both Mescal – whose previous experience was predominantly in theatre – and Edgar-Jones, who had supporting roles in ITV series Cold Feet and Canal+/Fox's War Of The Worlds under her belt. Individually, they are both excellent, but together there is an alchemy at work – the result, says Edgar-Jones, of a creative synergy that was present between them from the outset.
"When I've been trying to describe the chemistry that people talk about, it's exactly like you said, it's completely in rhythm," she says. "That kind of chemistry either exists or it doesn't. Very early on in the process, Paul and I did really click into sync. When you read the book, I really remember the quote that Sally uses about Connell and Marianne when they speak, of it being like two figure skaters and sometimes they throw each other off on tangents, but they always catch each other. I think that's so beautiful."
Rooney's writing, Edgar-Jones says, was an invaluable resource. "It was amazing to be able to get to a scene and have not only your character's inner life written in such detail on the page, but also the way that your character comes across to other people in the room. I would take a lot of hints on Marianne's physicality from the way Connell describes her, because I think she comes across probably more abrasive than her chapters would imply that she feels. I'm a bit spoiled now. Going on to my next film, I'll be like, 'I need a novel, I need every detail!'"
In addition to the book, a spot of sleuthing during the preparation process unearthed another source of character clues in the form of the Spotify playlist Rooney compiled to get into the mindset of Connell and Marianne.
"I don't know if Sally knew we had found her playlist," says Edgar-Jones. "It was something she had made when she was writing the story. Paul and I found it and put every song on our own playlists that we had made for our characters. It's interesting, because music is so definitive of your character and of your mood. It's a very effective tool as a way to tell a story, but also it's a good way of accessing a character who is in a different headspace than you are.
"A lot of Marianne is quite like me and easy to explore," she continues. "But there are also some parts that are quite far from me. And it's more of a challenge to access the darker parts that she goes through later in the series. I found music to be incredibly helpful."
The 12-part series was divided between two directors: Lenny Abrahamson took the first six episodes and Hettie Macdonald helmed the second tranche. Edgar-Jones pays tribute to the harmony of approach brought by two filmmakers she describes as "actor directors".
Perhaps equally important, however, given the number of sex scenes and the weight that was placed on the sexual dynamic as a means to explore the broader relationship, was the involvement of intimacy co-ordinator Ita O'Brien, whose input Edgar-Jones calls "invaluable".
"I really cannot believe that's a new thing," she says. "I hope it becomes the norm. I know if I were ever to do a scene like that again, I wouldn't do one without having somebody there to look after not just the actors, but also the directors and all the people who are on set. It's important they don't feel like they're ever taking advantage of anyone or putting anyone out of their comfort zone."