Drive-in cinemas can operate in England from Monday, June 15. But in a country that hasn't previously embraced the format, what shape will the new venues take?
For Alan Crofton, festivals director at international events company Mainstage Festivals, lockdown initially looked like a crisis. "March was one of the most difficult months of our lives as a company," he says.
Mainstage specialises in "music events in unique locations". With a consumer base that suddenly couldn't travel and couldn't be in crowds, it had to cancel six large-scale festivals. Crofton knew the company had to branch out. Early brainstorming sessions set upon a drive-in cinema as a way to keep business going and support the many freelancers the company works with in event production.
"Since then it's grown enormously and had such a positive response that it's become so much more than just an opportunity for getting people back to work," he says of @TheDriveIn, the vehicle-attended cinema experience which will tour the UK starting from July 4 with dates currently through until October.
Crofton suggests it's a stepping stone to getting audiences back to watching films in cinemas. "This offers a comfortable way for people who are maybe nervous about leaving their house at this point, or nervous about leaving the comfort of their surroundings, having been locked down for so long. It offers a nice in-between."
Tickets went on sale at the end of May; the tour will stop for five nights at each of 13 venues across 13 weeks.
With two touring trucks (one for the screen, the other for the kit), the crew will set up on a Tuesday ahead of the first screening on Wednesday evening. It will dismantle the cinema following the Sunday evening screening and set off for the next location early on Monday.
Crofton's music event knowledge has come in useful. "We've tried to create as fluid as possible a touring experience," he says.
Such motion is in stark contrast to the drive-in set up by outdoor cinema specialists The Luna Cinema.
Established by George Wood in 2008, Luna's unique selling point for its open-air screenings since has been an impressive roll call of historic venues, including Hampton Court, Westminster Abbey and the Tower of London.
"We've had numerous occasions when we could have done drive-in and I've always said no," said Wood. "It's that communal experience we specialise in – you feel isolated in your vehicle, like you're socially-distanced. Flash-forward to 2020, and it's the perfect form of entertainment for everyone."
The company had just gone on sale with its biggest outdoor season to date when the impact of coronavirus hit. What started as a contingency plan quickly became a four-site drive-in programme, with expansion on the way.
"We can do drive-in cinema in a way where it can merge that nostalgia for classic American drive-in, with bringing it into the 21st century where there's actually a brilliant cinema experience," says Wood.
Single-location drive-ins have also taken their place on the grid. Like Crofton, theatre producer Laura Elmes saw her industry threatened by lockdown and social distancing. A vacant lot at the Troubadour Meridian Water, an ongoing regeneration project in Enfield, north London, provided the perfect opportunity for the show to go on, through The Drive In London.
The council were more than happy with their new operator. "They loved the idea," says Elmes. "They know us, they know that we're going to be adhering to all of the guidelines. They're just so excited to have a big event coming to Enfield – a new entertainment offering for everyone in the area.
"Something exciting and new to do somewhere that is very safe – gets you out of the house but without coming into contact with others."
Distribution and exhibition
The UK Cinema Association, the trade body which represents the majority of cinemas in the country, says it does not have any members operating drive-ins, but they would be welcome to join. It said it has had contact with companies looking to expand into the drive-in business in recent months but pointed out the needs of its existing members take precedence right now.
For distribution, UK-based rights company Filmbankmedia expedites the licensing process for most drive-in venues in this country.
It was established in 1986 to handle non-theatrical distribution (public screenings outside of traditional cinema and home entertainment) on behalf of a number of studios and distributors in the UK.
Joint-owned by Warner Bros Entertainment, Sony Pictures Releasing and NT Digital Partners, it now operates in over 100 countries worldwide, distributing to hotels, trains, schools… and drive-ins.
"They've managed to turn around the licensing of the film rights in a quick time which was essential to this project," says Crofton, who admits that side of the equation has been "a learning experience".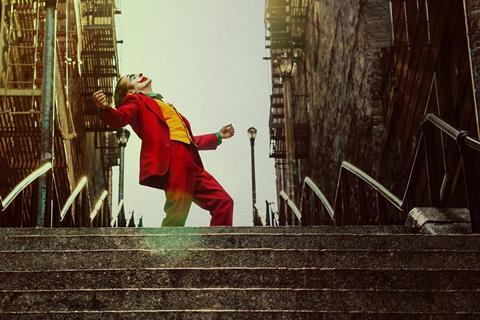 Luna also operates through Filmbankmedia for the majority of its titles, both for classic fare such as Grease and Back To The Future, and titles more recently in cinemas such as Joker and Rocketman.
"It's a collaborative process – we speak to them on an almost daily basis," says Wood. "We've said, 'Could we get the rights to this?', and they come back to us. I think everyone's aware that we're all in this together, we all need to find a way to show films."
Elmes is working directly with programming veteran Claire Beswick, whose career has spanned Vue, Odeon, the BFI and Curzon. She set up independent venue The Living Room Cinema in 2018 and is now contacting rights holders directly for The Drive In London's programme.
"[Claire] had all those relationships already – once we had her, people realised we've got someone really good on board and were very up for it," says Elmes.
Location, location, location
The venue is a crucial element of any drive-in – what Wood calls "the calling card" for Luna, which had 68 venues in place for its open-air season.
When that paused, the team contacted them all with the drive-in idea. "We put together a list of the venues we felt were most suitable; those that had a big car park or we knew had space, or we knew were well-connected with regards to their road networks," says Wood.
Four have made it to the exhibition stage: Allianz Park, the north London home of the Saracens rugby team; Knebworth House in Hertfordshire; Blenheim Palace near Oxford; and Warwick Castle. At least one further venue is to be confirmed.
"We wanted to do something to lift the local community's spirits in an environment where they can relax and socially-distance outside of the confines of their homes," said Neil Ormondroyd of Allianz Park Events. The venue's car park will start with a 160-car capacity, which will increase to 200 once initial screenings have taken place.
Blenheim Palace, one of the largest stately homes in the UK, has cancelled 90% of its 2020 event programme due to Covid-19 – "a huge financial loss, but also a loss to our local communities," says operations director Heather Carter.
It has worked with Luna as an open-air venue ("we know and trust the team") so the 450-car capacity drive-in was a natural step for this summer.
"It was very important to us that vehicle engines could be switched off during the event for health and safety reasons and to protect the environment," says Carter. "We will continue with drive-in for as long as it's popular and needed. It would also be lovely to have some alfresco dining events with entertainment, following the social distancing guidance."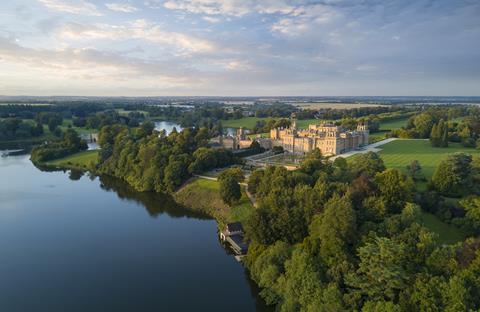 Mainstage's history in events meant, even though this is @TheDriveIn's debut year, the company was not starting from scratch. "We want to make sure we have the right space for every experience," says Crofton. "We're not looking to have large amounts of cars in each location – probably less than 100."
This allows them to apply for a different license with local councils – one intended for street parties and fetes rather than large-scale festivals. Depending on size, drive-in cinemas require either a temporary event notice (£21) or a premises licence (cost dependent on event capacity and duration) from local councils, under the Licensing Act 2003.
"What we've tried to create is an experience where people are arriving to a not-intimidating amount of cars. They feel like it's a nice intimate experience – the screen size is nice, the sight lines are good, and you're not waiting ages for the food to be delivered."
Most of its confirmed venues are easily-accessible car parks, including Newcastle and Bristol Airports, Edward Street in Leeds, Brighton Marina, and Edinburgh Zoo.
"The event will be contained within the airport car park and will not cause a disruption to the local community," said Dean Ward, head of commercial at Newcastle Airport. "Mainstage has devised a very attractive product – as an airport we have an extensive estate and as the event will also bring benefits to the local community, we were happy to get involved."
@TheDriveIn and The Drive In London are both providing a number of free tickets to NHS staff and key workers, with Newcastle Airport confirming a ticket lottery for local residents.
Social distancing
Coronavirus has caused many to invent and learn new ways of interacting; the drive-in industry is no exception.
The Drive In London will be "contact-free" says Elmes, with cars two metres apart, and food and drink ordered via a mobile app and delivered to your vehicle. Twenty staff will be positioned around the venue, with toilets cleaned between each use. The company is doing a friends-and-family traffic test and a separate technical run-through to make sure it is ready for its July 4 launch.
Audio transmission and quality was an early concern for Luna, so Wood tasked his team with finding a solution. "They came back a few weeks later with a wireless speaker that sits on the dashboard, doesn't rely on an FM frequency and having to license one which is tricky. Equally it doesn't rely on the car's battery – doesn't rely on the customer having to do anything! I put myself in the mindset of, operationally on site, how is it going to work if someone says, 'I can't do my radio at 86.4'? I can't then have a steward go into the car and press the buttons."
Instead attendees will collect their wireless box on arrival, with each one disinfected between each use.
@TheDriveIn has a preview screening arranged in London to test its set-up, and has reduced on-site staff as much as possible. Ticket checks are done via the pre-registered license plate on the vehicle, cars will have designated toilets for their occupants to use, and will be disinfected after each use. A food delivery app allows customers to pre-order their meals for a particular time slot, up to two weeks in advance. In classic drive-in style, it will be delivered by wait staff on rollerskates.
"A lot of social distancing measures lend themselves really nicely to drive-in," says Crofton.
As for the cinema centerpiece, @TheDriveIn is using a "top-of-the-range" LED screen, "similar to what you see at racecourses, festivals, and concerts," according to Crofton.
His team is doing a tour of locations this week to determine the best exact position and angle for the screen in each venue.
Across Luna's five sites it will use high-definition LED screens at three, to allow programming in daylight hours. The other two will use a large-scale projector, and are running screenings after dusk.
Despite the government's latest announcement, At The Drive-In and The Drive In are sticking to their early July launches, while Wood says if they bring any dates forward it will only be one venue and by one week.
"The British public have a real interest in drive-in because of the nostalgia and the novelty," he adds. "I'm a big believer that drive-in is the gateway back for people who are really scared to leave their homes right now, for all sorts of entertainment, be it theatre, opera, ballet, comedy.
"There are a lot of people that, having watched the news for the last 10 weeks, are thinking, 'I'm not going to go into a cinema or a theatre for quite a while.' We need to rebuild people's confidence for the future of this industry – they'll then come back to open-air cinema, and very quickly be going back to normal, indoor cinema."