It's A Sin overcame broadcaster pushback to offer a fresh – and uniquely British – take on the 1980s HIV and Aids crisis. Screen talks to creator Russell T Davies and executive producer Nicola Shindler
"It is surprising when you look at British tele­vision how rarely the HIV story has been told from a gay point of view, featuring gay characters and written by gay writers," says Russell T Davies, creator and writer of smash-hit drama It's A Sin.
The show is partly based on Davies' own time as a student in the early 1980s, when he would visit friends from back home in Wales who had moved to London. They would throw epic parties at a flat dubbed the 'Pink Palace', and these experiences would serve as the inspiration for the events of It's A Sin. Spanning 1981-91, the series follows three gay men (played by Olly Alexander, Omari Douglas and Callum Scott Howells) and their friends who move to the capital and experience first-hand the Aids crisis.
Davies finally felt ready to start work on the project in 2015 after finishing Cucumber, his series about the gay scene in Manchester. "I literally finished that show and thought, 'Now it's time to face the big one.' I was getting older and I felt more confident."
The series was developed by Studio­canal-backed Red Production Company, with Red founder Nicola Shindler and Davies executive producing. The project was a co-production with HBO Max, which joined at script stage and acquired US rights. It was produced by Phil Collinson, with Peter Hoar directing all five episodes. All3Media handled international rights.
Despite Davies' status as one of the best-known TV writers in the UK (other credits include the acclaimed Queer As Folk, Years And Years and the Doctor Who revival), it took five years and rejections from all the major UK broadcasters before It's A Sin finally aired on Channel 4 earlier this year.
"There was no prejudice behind [the rejections]," explains Davies. "It was the opposite. There was the feeling from commissioners that they'd seen it before… but that came from 13 years of Mark Fowler in [UK soap] EastEnders. So people thought they'd seen the story, but they hadn't. I knew I had things to say that had never been said."
One example is a key sequence in episode two, set in 1983, when lead character Ritchie (Olly Alexander) is in denial about the existence of HIV and instead spreads conspiracy theories about the disease. "I remember that vividly," says Davies, "and I'd wanted to write this ever since. I knew no-one had ever put that on screen in that way."
Multi-Bafta winner Shindler – who produced several of Davies' projects while at Red, including Queer As Folk and Years And Years, as well as Happy Valley and Last Tango In Halifax, before leaving to found indie Quay Street Productions in 2020 – agrees that Davies' take was unlike anything UK commissioners had seen before. "They had seen brilliant American versions," says Shindler, "but they hadn't seen the British version."
While the duo discovered that one unnamed commissioner had dubbed it "that miserable Aids drama", most said they loved the script but were unable to make it work for their channel at that time. Shindler did not approach the streaming giants because "it never felt like something they would be open to, to be honest with you".
What got the project over the line was Ian Katz being appointed director of programmes at Channel 4 in 2017. C4 commissioner Lee Mason (who left for Disney+ earlier this year) took the script to Katz who quickly committed to the project. "We were shocked because we'd said goodbye to it and it was sitting on a desk," says Davies.
Doubling up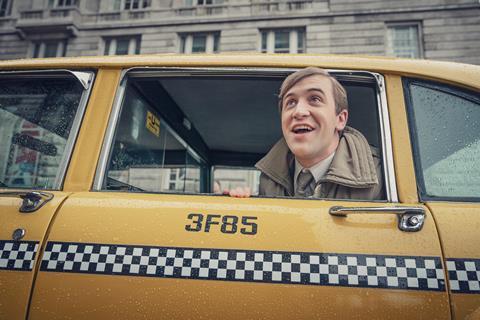 Production started on the 5 x 45-minute drama in October 2019. Despite being set for the most part in 1980s London, the project was never actually filmed there – Manchester mostly stood in for the capital, and a key sequence in New York was recreated in Liverpool. "If we could have done a week of exteriors in London it would have lifted it to a whole new level, but there was no way we could have afforded it on our budget," says Shindler.
While the supporting cast included some high-profile names in UK and US TV, such as Keeley Hawes, Stephen Fry and Neil Patrick Harris, the lead roles went to four young actors with varying levels of experience.
Alexander has appeared in TV's Skins and feature film The Riot Club, alongside his music career as artist Years & Years. Co-stars Douglas and Scott Howells – both regulars on the London stage – make their TV acting debuts in the series. The key role of Jill Baxter, a friend to the three boys and the "heart of the story", according to Davies, went to Lydia West, whose previous TV credits were Years And Years and Dracula.
"We worried about [the casting]," says Davies. "We looked at this script and said, 'This is a cast of young people. That's hard to launch a show with.' That's why we got a lot of [experienced stars] in case we needed it. But it turns out the young cast just caught fire."
"Both Channel 4 and HBO realised their potential early on and their marketing focused on them," adds Shindler.
It's A Sin launched in the UK in January 2021. By March 1 it had amassed 18.9 million views on Channel 4's streaming service All 4, making it the broadcaster's "most-binged" show ever. It was also its biggest drama launch, with the first episode drawing 3.26 million viewers, according to industry body Barb. Shindler admits the structure of the show, which begins in 1981 and jumps two or three years per episode, is "not traditionally a bingeable structure" and prompted "long conversations" during development.
Davies, seeing the release model used on one of his shows for the first time, also had doubts. "It's not a thriller," he adds. "We don't have cliffhangers to drive you to watch the next one. But actually that worked, because it's only five episodes so you felt like you'd entered a world."
The show's launch coincided with a huge spike of Covid-19 cases in the UK. "I remember at Christmas thinking, 'Oh God, we're in the middle of a pandemic and we've got a drama about an epidemic that we've got publicise,'" says Davies. "It felt like a hopeless task."
Shindler, however, felt the timing might have helped. "Maybe people could identify with it because they'd been through a year of the pandemic," she explains. "A disease where no-one knew where it came from or how to stop it had come into their lives for the first time."
Davies is tight-lipped about his future plans, revealing only that he is working on a new project. "I tend to do one thing at a time," he says.
Shindler is currently looking for productions as part of her new ITV Studios-backed venture Quay Street, which she founded in 2020 after more than 20 years at the helm of Red. "It is a new team and they are young and have brought loads of new writers with different ideas and diverse views," she says. "I feel like I'm at a tiny indie again."