The release of slow-burn sci-fi series Tales From The Loop could not have come at a better time. The meditative eight-part series dropped on Amazon Prime in more than 200 territories just a few weeks into the global lockdown that saw audiences with plenty of time to devote to entertainment at home.
Inspired by Swedish painter Simon Stalenhag's 2014 art book of the same name, the series follows the interconnected lives of several residents in the fictional town of Mercer, Ohio, home to an underground facility known as The Loop, a machine built to unlock the mysteries of the universe.
The project marks the first to be created by Nathaniel Halpern, who also wrote every episode and was previously best known for his work as a lead writer on the FX/Marvel Tele­vision superhero series Legion.
"Science fiction is usually dark, cynical and dystopian, but here was an opportunity to tell a science-fiction story that could move you and be emotional," he says. "It's this wonderful marriage between the ordinary and extraordinary with a truly unique aesthetic."
Mapping the tale
Halpern first saw Stalenhag's artwork — in which ordinary people in rural settings are juxtaposed with fantastical technology — at a general meeting with Matt Reeves, director of Cloverfield, two Planet Of The Apes movies and upcoming The Batman. A week later, he had the structure of the series and premises of the individual episodes, which act as standalone stories dealing with concepts such as pausing time, body swaps and sentient robots.
"I knew I wanted to introduce a new science-fiction element every episode so the sense of wonder is reset every time," says Halpern, who cites references including Krzysztof Kieslowski's Dekalog film anthology and Sherwood Anderson's collection of short stories, Winesburg, Ohio.
After writing a pilot script with Fox21 Television Studios, Halpern pitched it around town and secured interest from Amazon Studios, which issued a straight-to-series order. "Amazon saw this would be a different take on science fiction," he recalls. "These stories are the sort that could be told around the campfire and that simplicity almost makes them mythic. They really latched onto that from day one."
The "trusting and very supportive" Amazon Studios co-produced with Fox21 Television Studios in association with Reeves' 6th & Idaho and Swedish production and management company Indio Studio.
Cinematic pedigree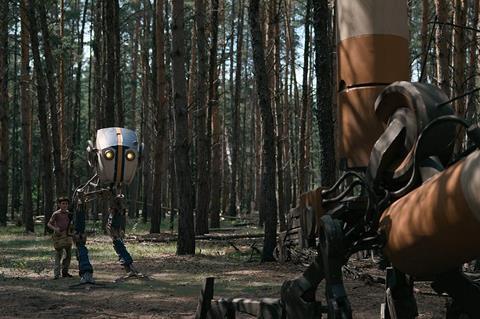 Moving up to Winnipeg, Canada in February 2019, Halpern oversaw six months of shooting with a cast including Rebecca Hall, Jonathan Pryce and Paul Schneider. With the promise of making each episode like a standalone film, the production attracted directors including Jodie Foster, Andrew Stanton and Ti West.
"I sought out each one of them," says self-confessed cinephile Halpern. "I knew this series was going to be far more filmic and wanted people whose aesthetic and sensibility I really admired. I can see their individual fingerprints all over it."
The tone was set in the first episode by director and executive producer Mark Romanek. "Mark did a wonderful job establishing everything," says Halpern. "For him, every detail matters, from a sweater to a tea kettle. It's all telling the story. Television works very quickly, but really trying to have that thoughtfulness at the micro level set the tone from the very beginning."
At a time when production is on hold around the world, Halpern has yet to hear about the possibility of a second season (the first season's eight episodes premiered on Amazon Prime on April 3, 2020).
But, he adds: "There are myriad possibilities of what you can do in this town while, at the same time, I did want the first season to be complete and not end on a cheap cliffhanger. So I would be very excited if there was a second season but, if not, it stands alone as a complete work."