John Morayniss and Pancho Mansfield tell Elbert Wyche how they plan to keep audiences glued to screens.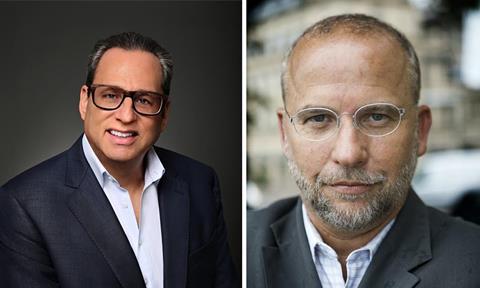 Entertainment One Television delivered 500 hours of original television last year. The company's current line-up of original and acquired content now consists of more than 40 series and long-form programmes commissioned by more than 20 broadcast and cable networks, including The Walking Dead and Designated Survivor from The Mark Gordon Company, which falls under the eOne label, and the upcoming HBO series Sharp Objects starring Amy Adams.
The television studio is experiencing rapid growth under the leadership of eOne Television CEO John Morayniss (pictured at left), who has led the division since its creation in 2008, and Pancho Mansfield (pictured at right), president of global scripted programming.
eOne television saw revenue increase from $244m in 2016 to $426m in 2017, up 75% due to an increase in global sales of content, international distribution deals, and acquired reality producer Renegade 83. eOne announced last month that over the next 12 months it will merge its film and television divisions into one entity.
What are the types of shows that you both like to make?
Pancho Mansfield: One of the things that we pride ourselves on as an indie studio is that we have a real range of shows. Sharp Objects, which stars Amy Adams, based on the Gillian Flynn novel, is a big project for HBO that is the highest of budgets. We're very excited about that. At the same time we're also excited about, and very pleased with, the other side of the spectrum, which is a show that is a fraction of the cost. It is a half-hour comedy that we produce for the Audience Network [for AT&T] called You Me Her. I think that gives you the range. The trick is to find stories and characters that you want to follow. Obviously, we are a studio so we need a network that wants to follow them also.
John Morayniss: We really do take a portfolio approach to content. So, the range is really meaningful for us. We do want to have a mix from a genre point of view. We want to be in the half-hour space in the content space, especially in single-camera half-hour space. We want to be in the high-end premium drama space. We are doing co-productions that tend to be in that kind of middle space from a budget point of view. We're doing procedurals as well as serialised. I think the good news about television is the storytelling and the high demand of viewers around the world that are craving quality. We're also seeing that, because we've done a lot of co-productions over the years, multiple broadcasters are coming together to put these shows together.
Sometimes it can become a bit of a blurry, messy pudding because everyone's got a voice and you can create this kind of generic content that doesn't work well anywhere. With the Amazon's and Netflix's of the world, they are finding local content in a certain territory, but it's being delivered en masse to all of their audience around the world, and people are beginning to watch this stuff. So, specificity of story and character is all something we're finding more and more, and it's a good thing. We're not hiding the fact that something takes place in Sweden but it's for an American audience. That's okay.
Are you finding more instances of internationally flavoured shows finding their way to American audiences?
PM: Yes. To add to what John said, if something takes place in Toronto, you can play the place for Toronto. We have a show that we make called Private Eyes, with Jason Priestly and it's Toronto. It's part of the quality of the show. I think one of the advantages of this explosion of the volume of networks, digital platforms, and buyers is that while some of the larger networks have struggled with ratings, one of the upsides is that it has provided a real range of programmes so that niche shows can really succeed in the United States. The US, in particular, was pretty isolationist when it came to things that weren't produced from the United States. Now you see things here that are playing in their original language. The US market has changed, as John said, with Amazon and Netflix. The global platforms have really opened up the world for audiences and they like to go to those worlds.
JM: There's almost a bit of an indie film feel to what's happening in television. We don't want to do just that; we like doing big commercial projects that can make us a lot of money. Designated Survivor, a show we do with The Mark Gordon Company that we sell internationally, is an example of a show that's a big network series with a big theme that's done really well internationally. In fact, we did a first window deal with Netflix outside of Canada and the US. That's interesting. Part of it is marriage of that creative passion and what we think will work in the US, UK, Canadian, or Australian market, because those are our core English-speaking original programming territories where we're developing and producing.
As you are developing projects for those markets, are you looking for predominantly original ideas, or is the search for IP more prevalent?
PM: We have teams in Los Angeles, Toronto, London, and Sydney to develop for those markets. We use the word global and I think we're practising it in terms of development. It is one team in different places. Yes, they are developing for the local market, but also we are taking things that are coming out of Canada and bringing them to the US. We may find a book that we like in the UK; we find a lot of IP that comes out of Britain. Then, we decide what we think is the best approach into the market. IP is king, there's no question about it, especially for an independent studio. [IP] is key for us so there is a tremendous amount of effort to get in there early and get stories that people want.
JM: From a development point of view we're going after more book properties. We're trying to find IP in graphic novels and even looking at our feature film library and our catalogue, just looking for sources of stories and inspiration that hopefully we can package with a great writer-showrunner and great casting, or a director.
How did the Sharp Objects project come to eOne television?
JM: That's another thing that's really interesting about what's happening in TV right now, and film, is that the lines are blurred and people are developing content, they aren't necessarily developing film or TV. It's all about what's the best way to tell the story. Sharp Objects is a great example of that, because it started with a Gillian Flynn novel that was developed as a film at eOne. We actually bought the book specifically for Jason Blum at Blumhouse to produce as a feature and over a period of time it became clear to us that the story really needed to be told in a longer format. So, we brought in Marti Noxon to write it. Jason stayed attached as a producer and we packaged it with Amy Adams [to star] and Jean-Marc Vallée [to direct] and then we had a bidding war among a number of the premium services in the US and ultimately we went with HBO. So, that checks all of the boxes in what we want to do.
Are there commonalities in regards to the type of creators that you look to work with?
PM: We are involved with a lot of very accomplished non-writing producers. We are involved with a lot of accomplished writers. I think the key thing is finding, whether they're a veteran or not, somebody that really has a vision for a series. If there is someone young, but they have that vision, we will pair them with non-writing producers or a godfather writing showrunner to help them with the craft of it, the running of the train, because it's a machine.
JM: The idea of having creative partnerships is interesting to us. We like finding new, young talent, and take some risks in the development process because there are some really unique voices out there. We have a series that premiered on Lifetime last April called Mary Kills People and a really young writer named Tara Armstrong, that we discovered, wrote the script. She was part of the writers programme at the Canadian Film Centre and she wrote this script that helped her to get into the programme. It made its way around the town and our development team fell in love with this project and went aggressively after the property. We paired her with a more experienced showrunner named Tassie Cameron and we did a first season of six hours. Then we sold it to Lifetime and now we're working on a second season deal.
Are there any trends that you are seeing in the international television space?
JM: Whether it's TF1 [in France] or RTL [in Germany], or anywhere else in the world, they are looking for shows that will work with their audiences. We're finding that there is still a need for good procedurals, heavy serialised dramas, and light comedies. A lot of those markets' local programming is still working really well. So, when we're selling our shows that come out of the North American market place, we're competing not just with all of the other studio shows and the indies that are selling, we're also competing against the local shows in those markets. The quality level just has to go up and up just to stand out among a very crowded market. Certain people are getting used to big productions and high production value. HBO has been doing it for years, look at The Crown. So, filmic [productions] have been really resonating. That's an interesting channel because those are very expensive productions, which means we have to take on more risk in order to do them. We are in a fortunate position as a company where we have capital; we are a publicly traded company. So, we're starting to take more risks on bigger budget shows with bigger casts.
PM: There's probably a bigger appetite for [procedurals and lighter tones] internationally than there is in the States. That's just one of the things we deal with. Everyone in the States wants something that's going to stand out, and that tends to come from something that's serialised.
Can you give an example of an international co-production that filled a need for both the international marketplace and the United States?
JM: We see the need in the marketplace for procedurals that aren't really coming out of the US market in the same volume. So, Ransom is a great example of a procedural that we reverse engineered back into the US. That really started with TF1 [in France] stating very loudly to the market that they wanted more procedurals and more editorial input. So, when TF1 said they wanted more American-style procedurals but they also wanted editorial input, we saw the co-production model [make sense for us]. TF1, CBS in the US, Canadian broadcaster Global, and German broadcaster RTL came together [and made] a US network procedural. That is one way to serve the needs of the international global buyer community that is looking for something that they're not getting out of the US. The US doesn't mind taking a procedural as part of a co-production model, because they're not the lead.
PM: And they're also not on the hook for the majority of the costs.
JM: There are some really interesting opportunities in co-productions and then reverse engineering these shows back in the US market.