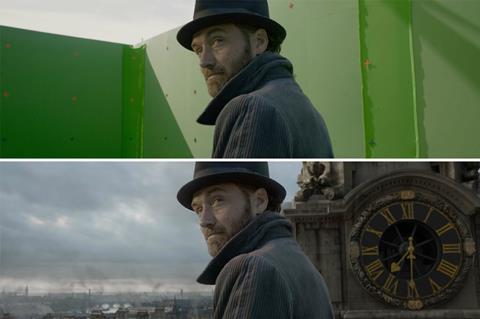 Visual effects (VFX) supervisor Christian Manz is 16 years into his work on the Harry Potter franchise, but he has all the enthusiasm of someone just starting out. "The exciting thing when you're doing a film series is reading the script for the next one, but then knowing that as soon as you've read it, what's in your head has got to stay secret for another two years," he says.
Manz, who is creative director at VFX studio Framestore, was Bafta-nominated for best special visual effects for work on Fantastic Beasts: The Crimes Of Grindelwald, alongside VFX colleagues Tim Burke, Andy Kind and David Watkins. The nomination was Manz's third of the franchise, after Harry Potter And The Deathly Hallows: Part 1 in 2011 and Fantastic Beasts And Where To Find Them in 2017. He explains that it is recognition of a lengthy involvement with each project. "We're on it the longest — with VFX, you start really at the beginning. We started Crimes Of Grindelwald in January 2017, shot from July until Christmas, and were in post-production from Christmas until the end of September 2018."
The entire VFX process is like making the film several times over, Manz says. They begin with "previs" (pre-visualisation), through which key sequences are conceived to assist Crimes Of Grindelwald (and Potter regular) director David Yates in understanding how scenes will look before filming. For this film, these included the opening carriage chase, the Zouwu (one of the titular beasts, resembling an elephant-sized cat) and the final scene in which many of the characters battle among blue flames.
Production begins while previs is still happening, and there are always members of the VFX team on set — often Manz or fellow lead supervisor Burke. "We're there working with David not only technically — we've got a team of people who are there recording data and making sure we've got everything, but also advising."
Puppets provide focus
In the super-advanced, highly computerised VFX world of 2019, some of that advice centres around… puppets. Not Punch and Judy playthings, but stand-ins for what will become a piece of animation, in scenes typically involving Eddie Redmayne as Newt Scamander, zoologist of magical creatures and author of the story's Fantastic Beasts And Where To Find Them textbook.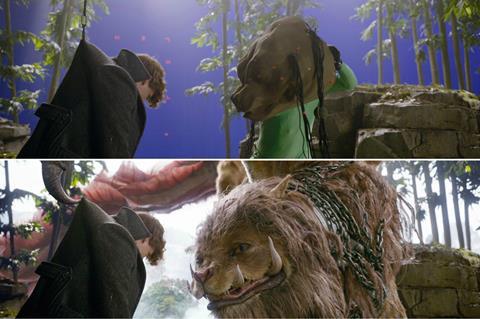 "Learning from the first film was really important," says Manz. "The puppets can act. Eddie's acting against something and David's filming something. It means Tim and I aren't there with a tennis ball on a stick. When you're looking at something broader, you're not looking at a fixed point, and everybody looks at the same thing."
Equally, it was Redmayne's request to have the puppets to work with, including in several shots with the Zouwu, which was occasionally represented by five men hugging in green bodysuits. "Eddie really wanted that; it really was driven by him," says Manz. "Compared to working with a human being, an animal is quite inscrutable. It's not about looking at a face, it's about its presence. It doesn't matter how good the animation is or how beautiful the creature is, if people aren't looking at it, the shot's broken to start with."
Once production is done, it is on to "postvis" — "where we go through the process of designing the story once we've filmed it, and how the creatures are going to integrate into it". For Grindelwald, there were roughly 2,500 shots in postvis, and about 1,500 in the finished film. It is here Manz and the team find out what doesn't work as much as what does. "It's a fun process," he says, but also "the hardest portion of the work, because you've got to do the whole film very quickly."
The amount of work involved requires the army of VFX artists — for Grindelwald, it was between 1,000 and 1,500 on VFX alone. "Tim and I are captains of this huge ship that is the same size as the production crew, so it's quite an enterprise to get it all done."
The majority of Framestore's work on the film took place at their sites in London and Montreal, but Manz and Burke also hire external companies as facilitators. These partnerships are set up at the beginning of the production, with each company bringing their own strengths to create a comprehensive array of VFX abilities. Collaborators on Grindelwald included DNEG, Image Engine, Rodeo FX, Lola and Method Studios. "You're casting the right people to do the right stuff," says Manz. "Framestore's strength is creature and environments work. We know DNEG's effects work is brilliant — fire is a natural thing to give them. It's a collaborative experience — a lot of it is done over the phone as well. Trust is important because you've got to make sure they are delivering."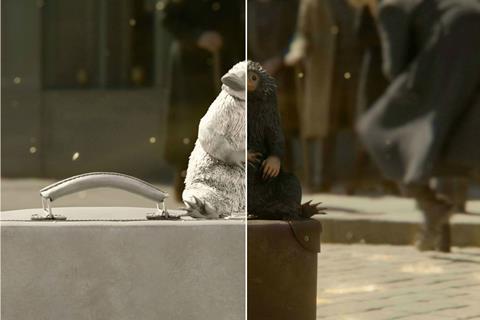 One key collaborator occasionally checked in on the VFX process, so there was a buzz around the office whenever Potter creator and Grindelwald scriptwriter JK Rowling paid a visit. "She wanted to understand what we were doing, so in pre-production and during the shoot she'd come in and spend time with the artists. You feel the pressure — you're like, 'Oh my god, is that OK?' But she's lovely and very generous."
In March 2018, Framestore relocated its London base from a longtime location in Soho to a multistorey office in Chancery Lane, complete with a spectacular rooftop view. Manz says the move has reinvigorated him and other colleagues: "I think everybody who has been here for a long time has got a spring in their step as they come through the door."
It has helped to have the company's various departments under one roof too. "A lot of our work does cross over — between VR, commercials, TV and film. What [Framestore CEO] William Sargent wanted to do was create that cross-pollination — there are lots of bits of the puzzle here that feed into each other."
Less positive is the looming prospect of Brexit. With many staff at Framestore and other VFX houses coming from Europe (some 25% of employees at Framestore London), it poses a threat to the industry in both culture and cost. "We have several hundred people from European countries — that's the bedrock of our company," says Manz. "It's going to make it much harder for us to compete with Canada and the US, and potentially an expense if everybody's going to need sponsored visas to work here."
For now, though, it is back to Potter — work has already started on Fantastic Beasts 3 ahead of filming later this year. "There are already creatures on bits of paper. I've got about 150 concepts. We had about 1,000 concepts for Grindelwald that were driven down to about 40 creatures; we'll be 1,000 or more again. It's that exciting thing of trying to come up with new creatures, new worlds. That's the bit I love — we make films and it should be fun."