Dir/scr. Mia Hansen-Løve. France. 2009. 110 mins.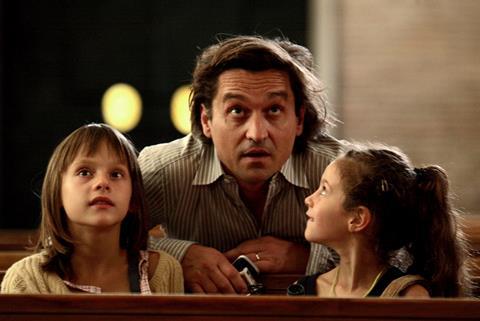 The travails of film producers – and their families – are paid tender homage in Father Of My Children, an insightful, mature and extremely accomplished second feature by French director Mia Hansen-Løve. Inspired by the life and tragic death of revered producer Humbert Balsan, Hansen-Løve's superbly acted drama marks a confident consolidation of her 2007 debut All Is Forgiven.
The film not only has brains to spare, and considerable savvy about the cinema business, it's also guaranteed not to leave a dry eye in the house. Festivals will pounce, as will buyers with an eye to upmarket but accessible French material.
The film stands out as a rare screen tribute to the craft of the producer, one traditionally viewed in France more than anywhere as a truly artistic vocation
The central character is unmistakably modelled on Balsan, who took his own life in 2005 after a career working with such illustrious directors as Youssef Chahine, Elia Suleiman and Lars von Trier. In the film's opening stretch, which plays almost as a breezy movie-biz comedy, Grégoire is shown on his daily round: chain-smoking, talking endlessly on his mobile and trouble-shooting various projects for his beleaguered company Moon Films, including a collaboration with a high-maintenance Swedish auteur. In the face of looming disaster, Grégoire gets by on charm, energy and unwavering faith in the tradition of the obscure art-house masterpiece.
What home life Grégoire has time for is shared with loving wife Sylvia (Caselli) and three strong-natured daughters (Alice de Lencquesaing and the younger Gautier and Driss). They don't see enough of Grégoire, however, and on an Italian holiday, the tensions begin to show.
It soon becomes clear that Grégoire's reserves, financial and emotional, have reached cracking point, and at the film's exact midway point, Grégoire makes a drastic exit – abrupt and shocking, but handled by Hansen-Løve with striking grace and economy.
At this point, Sylvia and her daughters step into centre stage, as they cope with their tragedy and its repercussions. While Sylvia tries to clean up the financial mess that Grégoire has left behind, oldest daughter Clémence undertakes her own research into her father's life. In this second hour, the film zigzags effortlessly between business negotiations and the more delicate emotional drama.
Hansen-Løve's previous feature showed her as an insightful chronicler of family complexities, and in her follow-up she pursues her interests with an enriched novelistic depth. This is a prime example of a film that makes you believe its characters are drawn from life, and Hansen-Løve is aided by a trio of young actresses who, as the daughters, bring a fabulous vivacity and emotional openness to their roles.
De Lencquesaing's Grégoire is surely one of the most convincing producers ever depicted on screen, the character's off-hand exuberance and surface sang-froid only gradually revealing their stress points. Caselli has a much quieter, more brooding role, but gives it an intense, tenderness. In a daring casting choice, de Lencquesaing's own daughter Alice makes a striking debut as the bereaved teenager beginning to discover her own identity. Gautier and Driss, meanwhile, make a winning, never overly cute double act.
As befits Hansen-Løve's past career as a critic, the cinema background offers as informed and convincing an insight into the grandeur and misery of the profession as Truffaut's Day For Night and Olivier Assayas's Irma Vep. The film also stands out as a rare screen tributes to the craft of the producer, one traditionally viewed in France more than anywhere as a truly artistic vocation.
Production companies
Les Films Pelléas
27 Films Production
International sales
Les Films du Losange
(33) 6 89 8 596 95
Producers
Philippe Martin
David Thion
Oliver Damian
Cinematography
Pascal Auffray
Editor
Marion Monnier
Production design
Mathieu Menut
Main cast
Chiara Caselli
Louis-Do de Lencquesaing
Alice de Lencquesaing
Alice Gautier
Manelle Driss