Alankrita Shrivastava discusses her second feature, Lipstick Under My Burkha, which follows four women and their journey to break free from the constraints of society.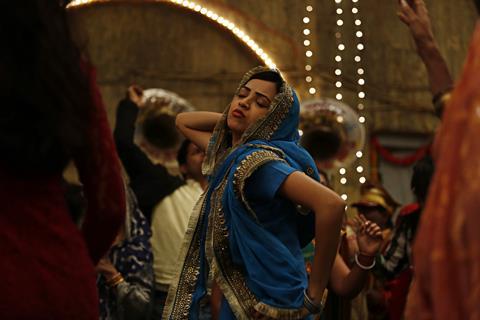 Writer-director Alankrita Shrivastava's second feature, Lipstick Under My Burkha, had its world premiere at Tokyo International Film Festival in October, where it won the Spirit of Asia Award, and also screened at Mumbai Film Festival, where it was presented with the Oxfam Award for best film on gender equality.
The film follows four women in small-town India — a housewife who secretly works as a salesperson (played by Konkona Sensharma); a widow who is having a phone affair (Ratna Pathak Shah); a student trying to fit in with her peers at college (Plabita Borthakur); and a two-timing beautician (Aahana Kumra).
Produced by Prakash Jha, who was also behind Shrivastava's first feature, Turning 30!!! (2011), the film began its journey at NFDC Screenwriters' Lab in 2012. It returned to Film Bazaar the following year when it took part in the Co-Production Market, and graduated to the Work-in-Progress Lab in 2015. Germany's M-Appeal is handling international sales.
Q: How was the film financed and produced?
A: I was working on another film, a complex legal drama, when I submitted this script to Screenwriters' Lab. I realised it was too early for me to take on that legal drama, so I shifted my attention to this film.
Prakash Jha was already on board as a producer in 2013 but I thought I'd look for a co-producer. I realised it would be difficult for me to deal with structuring an international partnership so we decided to go with a 100% domestic set-up. The film is completely produced and financed by Jha, who I assisted on Apaharan and Raajneeti, and who produced both my first feature and a documentary I made on the culture of Bihar. It takes courage to support these unconventional films, but he's always encouraged me to find my own voice.
Q: Where did the idea come from?
A: It started with exploring this feeling of wanting to be completely free but being held back by internal chains. Soon after, my former landlady, who until then I had only seen in her burkha at the landlord's house, came to visit me. I thought it was about the flat lease, but she just started chatting, and I realised she is such a dynamic person. That triggered off the character played by Konkona, and in many ways, the interconnected stories about four women who reside in the same building. Two of the women are Hindu and two are Muslim.
The title is metaphorical and about hidden desires. All four characters, flaws and all, are chasing their small dreams and looking for a little space in their lives. But how much can you keep rebelling in secret? This film is about that moment when they find the courage to become themselves.
Q: What did you want to say about women through this film?
A: Society has defined certain roles for women and they're supposed to live within those boundaries. But as you go deeper you realise that to break through you first have to break out from inside. It was very important that someone watching the film should be able to live that journey with these characters and experience their lives with empathy. It's not about religion, really, but about how it is hard for women to put themselves first and carve out their own identity when society has defined roles for them.
Q: Will the film have an Indian release?
A: We're working on a distribution deal for India. It is screening at five international festivals this year and there was good buzz after Mumbai. Making an independent film is often a lonely process and it's a great victory when a film releases in India.
Q: What's your next project?
A: I'm returning to the legal drama that I was working on before. I'm very excited about it but I need to finish the script. I need a strong female actor and a studio because it will be slightly bigger-budget. My desire is that from film to film I should grow as a writer, storyteller and film-maker.