With the awards conversation dominated by major Oscar contenders, performances in UK indie films must fight harder for attention in the Bafta race. Screen celebrates the work of five actors who are all nominated for the British Independent Film Awards.
Clare Dunne - Herself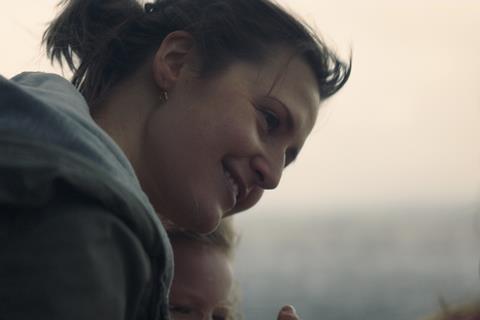 Stage actress Dunne makes her big-screen breakthrough with Herself, directed by Phyllida Lloyd and co-written by Dunne and Malcolm Campbell, in which she takes the lead role of single mother Sandra, whose escape from violent husband Gary (Ian Lloyd Anderson) is only the start of her journey. Dublin-born Dunne is best known for theatre productions such as the Donmar Warehouse's all-female Shakespeare Trilogy and her own one-woman show Sure Look It, Fuck It. She is currently filming Irish TV drama Kin.
Was Sandra fully formed when you sat down to write, or did she evolve through the process?
She definitely evolved. But at the heart of her was always that determination — she doesn't know who she really is until the worst things in her life happen. The world might look at her like a victim, but it doesn't mean she is one. She's a survivor. There were earlier versions where there was a lot of Gary in the story, but I think that just helped me build her story and her history. By the time we got to the end [of the writing process], I realised we only needed to look at Sandra from the point she leaves Gary, and we would fill things in by flashback.
What research did you do to make sure the tone was right?
I spoke with people involved in women's aid here in Dublin, and women who had been through this thing. None of these women were crying to me, saying how awful it was. They were very matter-of-fact because they are survivors, they have moved on and healed. I needed to take that into the film, that people do get through this. And not in a fairy-tale way — just that they are determined and they slowly rebuild themselves.
You have previously worked with Phyllida Lloyd in the theatre. What did she bring to the project?
Working with Phyllida, I found out that I have a voice. I also learned about the importance of clarity and inclusiveness. When I was bringing the script to her, it was as a friend and a mentor. I wasn't asking her to direct it, because I didn't think it would even be in the realm of possibility. But then she came on board, and we built an incredible friendship and sense of trust, and I knew I could just play Sandra and not have to worry about anything else.
How challenging was it to take the lead in a film where you are in virtually every scene?
It was daunting. I learned how to get in the door, have a bath, learn lines and go to sleep. Everything that I was feeling as an actor fed who she was: a tired mother trying to rebuild her life.
The pandemic has delayed the film reaching the big screen. Has that been frustrating?
Covid-19 has made me realise the importance of us being connected and that, actually, we can change our behaviour very quickly when we need to. It also made me think that there's so many women like Sandra, who are being told to stay indoors with their abusers. We're thinking there's a different way of getting the film to people [via streaming], on their laptops or TVs; wherever it needs to get to be seen. And if it gets released [in UK cinemas] in the spring or summer, that's just the cherry on the cake.
What have you been watching lately?
I watched I Hate Suzie, and I haven't shut up about it. Lucy Prebble is a genius, the combination of her and Billie Piper makes for the cleverest, funniest, edgiest thing. They have made the character so human. There's a bit where Suzie [played by Piper] is in an argument with her husband, and they show what she's saying against her real thoughts — it will break your heart and make you laugh. It's great to see characters like that, who are being honest in the moment.
Interview by Nikki Baughan
Sope Dirisu - His House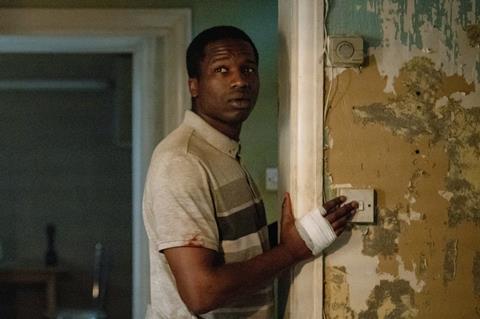 Named a Screen Star of Tomorrow in 2016, British-Nigerian actor Dirisu has made his mark on stage and screen in projects as diverse as Hollywood blockbuster The Huntsman: Winter's War, TV crime drama Gangs Of London and theatre productions for the National Youth Theatre and Royal Shakespeare Company. In Remi Weekes' Netflix chiller His House, Dirisu portrays a Sudanese refugee thrust into the horrors of both a super­natural haunting and the UK asylum system — a role that has garnered him one of the film's 16 BIFA nominations. Forthcoming projects include drama Mothering Sunday and romance Mr Malcolm's List.
How would you describe your character Bol in His House?
I would describe him as a desperate man who is fleeing one horrendous situation into another. One of the things that I wanted to explore was this sense of African masculinity — the pressures that men put on themselves to be the head of the household, to be in control and in charge of the situation. Bol finds himself isolated because he's not willing to take a step back and say that he needs help. Even with his wife [played by Wunmi Mosaku], someone who has been through the trials and travails with him, he can't tell her that he needs her help. If he had done, the film would be a lot shorter and probably a little less scary.
How did you come to the role, and how did you approach it?
Before I got the opportunity to read the script, a lot of my friends had been seen for it and I was desperate to be seen, as it sounded great. Eventually I got the opportunity to audition. In my first or second audition, I got to read with Wunmi. It was like a chemistry test — they were looking to see whether we could carry the weight of their stories, the heaviness of what they had to do in order to survive, and if there was a real connection between those characters.
What research did you do?
I had been in a short film directed by Stuart Gatt called The Dead Sea, and it was a story about a Nigerian couple who were trying to escape Tripoli but found themselves caught in the cycle of detention camps on the Libyan coast. So I had already done research into migration, and listened to those stories. To be able to give a voice to people who are genuinely voiceless is an incredible responsibility. But once you've done that research, it's about stripping it all away and focusing on the characters themselves.
What was the most challenging moment to film?
One of the most harrowing moments was when we were in Pinewood in the water tank. I remember sitting in this rickety dinghy, surrounded by safety divers. When they started loading the child actors onto the boat, and knowing how perilous this thing felt even in a controlled environment, it really struck home to me how terrible the situation is. To know that the only way you would risk your child's life is if the sea is a better option than where you're coming from.
Which filmmakers would you like to work with?
Nia DaCosta, for sure. I am a big fan of hers, and she has Candyman coming out this year. And someone who is very under the radar at the moment is John Ogunmuyiwa, who directed a short film called Mandem. I love the way that he uses the camera, and the stories that he's telling. ns
Interview by Nikki Baughan
Morfydd Clark - Saint Maud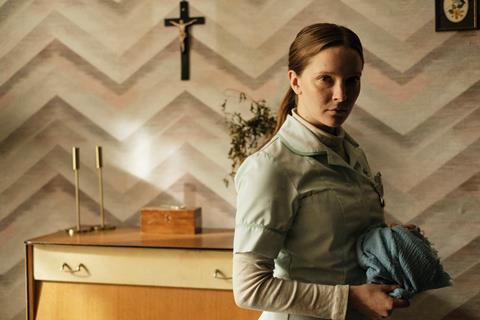 Born in Sweden and raised in Wales, Morfydd Clark made her acting debut just seven years ago, in Channel 4 drama New Worlds, and was named a Screen Star of Tomorrow in 2016. Roles in Carol Morley's The Falling and Whit Stillman's Love & Friendship followed, and in 2019 she was cast by Armando Iannucci in The Personal History Of David Copperfield — playing both Copperfield's fiancée and his mother. Her first major lead is in Rose Glass's Saint Maud, where she appears in almost every scene as the vulnerable Maud, a burned-out former nurse who believes she is a modern-day saint. The film defied Covid-19 to earn stellar box office at UK and Irish cinemas — more than $1.16m (£851,000) since its release on October 9, 2020 — and received 17 BIFA nominations. Clark is currently filming Amazon's much-anticipated The Lord Of The Rings series in New Zealand.
How would you describe the character of Maud?
As someone who needs the world, but doesn't know how to engage with it. She's very lonely, and she's disdainful of herself and everything around her.
How was the audition process? Were you thrown in at the deep end with some of the more intense scenes?
The first three auditions were based on the scenes Maud had with Amanda [a terminally ill cancer patient in Maud's care, played by Jennifer Ehle]. And then for my final audition, we did the scene in the bedsit where she vomits and convulses. I did that with Rose running around the room with her iPhone! I hurt my knee and broke my phone, but it was worth it.
You have a lot of intense scenes with Jennifer Ehle. How was that experience?
I'm a massive fan of Jennifer's and that was very useful in terms of my performance, because I was in awe of her. We also filmed our bits chronologically, so we were getting to know each other as the characters were, and Jennifer helped Maud's actions make sense to me. I was lucky Jennifer and Rose also really cared about Amanda and Maud. That's why I think the film works so well, because there's no judgment coming from Rose towards any of these characters.
Why has the film found such an appreciative audience?
I didn't realise how special it is when we were filming. It was a very small budget, and we were just trying to make something happen with the script. What's happening with it now is miles away from, for example, when we were doing the levitation scene and it was basically every man on set with a scarf wrapped around a different part of my limbs, picking me up. The point of the film for me is that Maud is just invisible to everyone — so I'm really glad people are paying attention to her.
What have you been watching lately?
I May Destroy You and Industry, which made me miss London. But if the world's too much, and I can't watch anything that's too real, I have to go into fantasy. Obviously, The Lord Of The Rings is no longer an option, so my silly addiction was Black Sails, a pirate show which is really about politics in Nassau. My pandemic viewing slipped between hyperreal and fantasy. ns
Interview by Nikki Baughan
Amir El-Masry in Limbo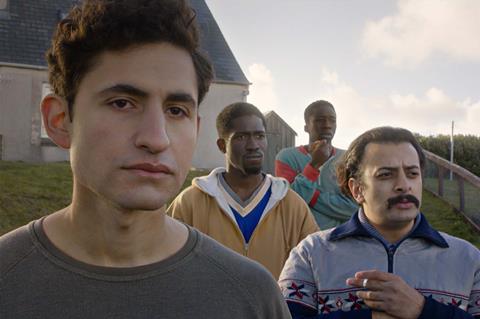 Born in Cairo and raised in London, Amir El-Masry has landed roles in high-profile productions including Jon Stewart's Rosewater, award-winning miniseries The Night Manager and HBO drama Industry. He takes the lead role of Syrian asylum seeker Omar in Ben Sharrock's Limbo, a refugee drama set on a remote Scottish island, which received a Cannes 2020 label and won the top prizes at Cairo and Macao film festivals, as well as earning El-Masry a BIFA nomination for best actor.
How would you describe the character of Omar?
He has the innocence of a child when he comes to the UK but he also carries the weight of his heritage on his shoulders.
How did you prepare to play him?
I spent time with the Syrian Men's Group, who shared their personal stories in detail and used humour as a mechanism to get out of traumatic situations, which is something we felt was important to instil. I also had two months to play the oud, which takes about seven years to master.
What conversations did you have with Ben Sharrock about Omar?
We wanted to make him as humane as possible, to see him laugh and cry. We wanted to find ways to show his strength and make him the decision-maker, rather than have a western character guide him.
What were the most challenging and fun scenes to perform?
The most challenging were the telephone scenes with my mother. Rather than the amazing actor, I was working off a Scottish first AD who was speaking in a thick Glaswegian accent. The most enjoyable were the scenes in which two of the characters argue about Friends, and watching Sidse Babett Knudsen and Kenneth Collard dance in the classroom.
How did you find shooting in remote parts of Scotland?
We had gale-force winds up to 60mph. Filming one scene on a beach, the sand felt like little knives hitting my face. But it plays as a lovely metaphor. Despite being hit from every direction, he's still standing.
How has the film's successful festival journey been for you?
Bittersweet. We managed to get into all the major festivals but weren't able to attend Cannes or Toronto. We went to San Sebastian and won awards there but the best thing for me was celebrating with the people who worked so hard and tirelessly to make this film.
What does 2021 have in store for you?
I have a play coming up at the Royal Court Theatre called Two Palestinians Go Dogging and a feature and miniseries I'm hoping to shoot.
What have you been watching lately?
I loved The Father. Anthony Hopkins is someone I learn from. And I've been watching a lot of Friends. That's my comfort zone.
Interview by Michael Rosser
Cosmo Jarvis in Calm With Horses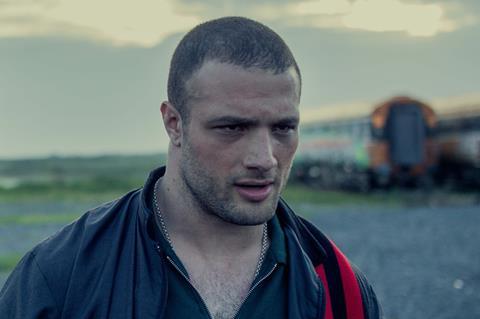 Raised in Devon, England, Jarvis found early fame as a musician — notably with YouTube hit 'Gay Pirates' — and directed, wrote and starred in the 2012 BBC TV feature-length drama The Naughty Room when he was aged just 22. A year later, he was named a Screen Star of Tomorrow. His role opposite Florence Pugh in Lady Macbeth netted him a most promising newcomer BIFA nomination in 2017. Nick Rowland's Calm With Horses (which has 10 BIFA nominations including for Jarvis) sees him play a former boxer, nicknamed Arm, who acts as enforcer for a drug-dealing family in rural Ireland. Since shooting it in 2018, he has completed independent films Nocturnal, Funny Face and The Evening Hour, plus TV sci-fi series Raised By Wolves, with his Calm With Horses co-star Niamh Algar.
How would you describe the character of Arm?
I would say he's a fairly functional person. Void of existential pondering, but obtusely present for better or worse. He loves his son. He is a man who just is where he is, doing what seems to work.
What conversations did you have with Nick Rowland about Arm?
We spoke about fathers and our experiences of them. We talked about family in general, life experience. We also talked a lot about violence.
What preparation did you do?
I had to look as though I could be hired to do the sorts of tasks Arm has to do. This involved eating a great deal and lifting weights. I spent a lot of time in Ireland before we began shooting, wandering around and developing the character. I had lots of conversations with random residents.
You share a lot of scenes with Barry Keoghan. How was that?
Working with Barry was great, he's always in a new moment and bringing this sort of mystifying spontaneity to even the most subtle of interactions. It's very easy to just observe his trajectory — as Arm often does — and react accordingly. When Barry unearths absolute gold, it can be hard not to break character and immediately express acknowledgment of said gold, because it's so unique.
And Niamh Algar?
Niamh and I spent lots of time together in the lead-up to shooting to establish a familiarity between each other — this was effortless. Niamh is someone whose work demands each moment to be so completely invested in. Work aside, she's just an absolute legend. I'm very grateful for the opportunity to have worked with both of them.
How has the film's successful festival journey been for you?
I'm very happy for everyone involved that the film was well received, or received at all even. It was always going to be somewhat of a hopeless bummer that the film might be lost down the Covid-19 hole. It's all been a huge ongoing surprise, and I'm chuffed that the graft of all the talented folks involved has been able to be witnessed.
What have you been watching lately?
I haven't watched much as I have devoted my usual watching time to learning more about the world through independent media sources. That said, Dark Waters was a great movie. Take Shelter by Jeff Nichols, also great. Over Christmas I watched the Australian stop-motion animation Mary And Max for the second time. I'm so grateful that exists.
Interview by Charles Gant