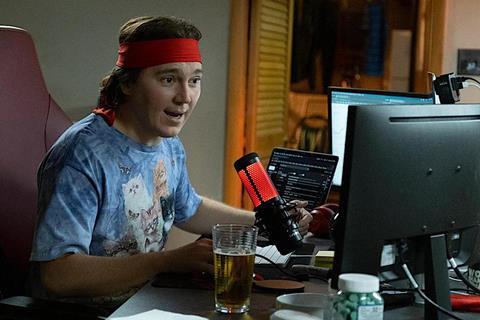 The ongoing SAG-AFTRA strike ensured 2023 Toronto International Film Festival (TIFF) was quieter than usual, although there was some awards season buzz, a handful of famous US actors turned up, and you-know-who forked out a lot of money in the only major deal of the festival so far.
Screen picks out the main talking points of this year's event. TIFF runs through September 17.
Awards launchpad light on heavyweights
Venice and Telluride usually prevail in the annual scramble for world premiere bragging rights to the shiniest awards contenders and this year was no different. TIFF got first dibs on Craig Gillespie's crowd-pleaser Dumb Money and a surprise package in the satirical American Fiction, which puts Jeffrey Wright in line for long-deserved recognition. Both are strong contenders for the TIFF audience award, not to mention other honours in the months ahead. Cameron Bailey and his team also landed the international premiere to Hayao Miyazaki's The Boy And The Heron and the Japanese master's latest work will be a shoo-in for some serious love in the animation categories.
TIFF didn't get North American premieres of Yorgos Lanthimos's Venice Golden Lion winner Poor Things featuring another acclaimed turn by the Greek auteur's muse Emma Stone, nor did Bradley Cooper's Maestro, Michael Mann's Ferrari, or Sofia Coppola's Priscilla starring Coppa Volpi winner Cailee Spaeny travel to Canada after their debuts on the Lido. With the exception of Poor Things, which screened at Telluride right after the Venice bow, the first stop in North America for the other three will be New York Film Festival.
Telluride premieres Nyad and The Holdovers – which Focus pre-bought at TIFF last year – received their international premieres at TIFF, while Jeff Nichols' The Bikeriders goes from Telluride to BFI London Film Festival
Music programming hits a high note
Festival Street really landed this year. An inspired idea ever since it was hatched a number of years ago, the first-weekend road closures outside festival headquarters paved the way for the Nickelback moment. The Canadian rockers performed on the first Friday afternoon and it was nigh on impossible to walk down John Street past the massed ranks of fans. TIFF scheduled the documentary Hate To Love: Nickelback that morning, although the word on the street was the (free) live gig got the better turnout. One industry source and veteran festival programmer suggested TIFF might want to book even bigger acts and more of them next year.
TIFF didn't save musical mayhem for the streets. The world premiere of Larry Charles' Midnight Madness entry Dicks: The Musical (A24 has moved back the US release by a week to October 6) was a blast and featured a surprise performance by gospel singers at Royal Alexandra Theatre. Arguably the highlight of TIFF's music-related programming was the 40th anniversary screening in Imax of A24's 4K restoration of the late Jonathan Demme's beloved concert movie Stop Making Sense, which inspired dancing in the aisles before the entire Talking Heads took part in a Q&A with Spike Lee. Alex Gibney debuted In Restless Dreams: The Music of Paul Simon in Toronto, although Screen understands that was a more sedate occasion.
Quiet market, A-listers (mostly) stay away
The catch-22 effect of SAG-AFTRA's interim agreement (IA) policy was laid bare for all to see in a quiet market as union leadership vociferously encouraged stars to promote festival selections which had secured IA's. Yet most actors preferred to stay away in solidarity with their striking comrades. Notable exceptions who turned up to Toronto were Jessica Chastain (from Michel Franco's Memory), and Daddio leads Sean Penn and Dakota Johnson.
IA's require signatories to abide by the terms of the union's last proposals to the Hollywood companies before contract talks broke down in July (or whatever final terms are agreed upon once the strike is resolved), pushing up eventual budget costs and asking prices. With that in mind, many producers and sales agents with TIFF festival selections up for grabs did not apply for them, so as not to scare off potential studio and streamer buyers. It would not have been a good look for signatories to the SAG-AFTRA minimum basic agreement to agree to terms that their collective bargaining representative AMPTP have thus far rejected.
The headline deal was Netflix's $10m swoop on US and outstanding international rights to Anna Kendrick's acclaimed feature directorial debut Woman Of The Hour. Other than that, trading on international territory rights to festival selections and completed market titles was understood to be steady; not so much for US deals.
At time of writing Richard Linklater's Hit Man was expected to land a deal soon, and there was interest in Christy Hall's Daddio with Penn and Johnson; Thea Sharrock's Wicked Little Letters starring Olivia Colman and Jessie Buckley; Anthony Hopkins drama One Life directed by James Hawes; Keaton's noir Knox Goes Away; and Azazel Jacobs' His Three Daughters starring Carrie Coon, Elizabeth Olsen, and Natasha Lyonne.
Pre-sales has never been a big part of business at TIFF and this year packages were scarcer than ever due to a backlog in SAG-AFTRA's IA approvals process. Without an agreement allowing production to proceed, talent agents by and large have played by the union's strike rules and have not been sending clients scripts (completed prior to the parallel Writers Guild of America strike). Without talent attachments, producers struggled to attach financing and other elements, foreshadowing a lean release calendar in the third and fourth quarters of 2024. The one package of note was WME Independent's The Beast with Samuel Jackson in talks to star as the US president.
Sponsor woes
On the eve of the festival a piece of information was leaked to press that did not make TIFF's communications team happy. After a partnership spanning nearly three decades TIFF and lead sponsor and telecom giant Bell will be parting ways at the end of the year. The whys and wherefores of it all are murky, although a challenging advertising market will have been top of mind for Bell executives.
More specifically, after standing by the festival and its year-round activities through a pandemic, Bell, which reportedly contributes around C$5m to TIFF annually, may have seen a strike coming and baulked at the idea of starless red carpets.
What is certain is the 'Bell' in TIFF Bell Lightbox and other TIFF marketing materials will be gone come September 2024 as the festival faces the challenge of replacing it with another Canadian company of similar stature.
To add to TIFF's sponsorship woes, an open letter signed by the likes of Mark Ruffalo and reportedly now Leonardo DiCaprio has called on TIFF leadership to strike Royal Bank Of Canada from the roster of corporate partners due to alleged "indiscriminate enabling of projects" om Indigenous and BIPOC lands. To be continued…
Stars turn to directorial debuts, sophomore efforts
Actors have always tried their hand at directing, with varying results. This year there were lots of them and the pick of the bunch was the aforementioned Kendrick with her serial killer dramatic thriller Woman Of The Hour. Kristin Scott Thomas's ensemble Night Star earned lukewarm reviews, and the less said about Chris Pine's neo-noir Poolman the better.
Michael Keaton was back in the director's chair after The Merry Gentleman (that crime drama premiered at 2008 Sundance) and his hitman-with-a-heart thriller Knox Goes Away garnered enthusiastic notices for Keaton's performance, more than anything else. There was a broadly positive response to Viggo Mortensen's western The Dead Don't Hurt (his 2020 directing debut Falling premiered in Sundance and played TIFF), while Ethan Hawke's Flannery O'Connor portrait Wildcat got mixed responses ranging from meh to wildly effusive.