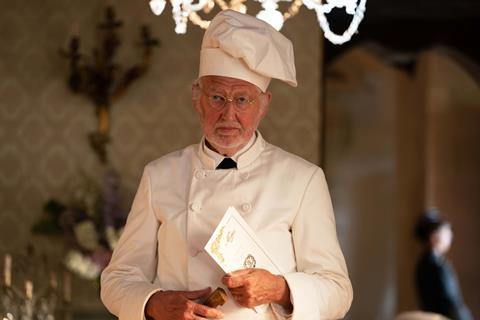 Pierre Gagnaire is one of France's leading chefs, with 14 Michelin stars, and now he is extending his menu to the film world, serving as culinary director and actor in Tran Anh Hung's The Pot Au Feu (La Passion De Dodin Bouffant), which premieres in Cannes Competition today (May 24).
Juliette Binoche and Benoît Magimel play two chefs in love, and co-star opposite a diverse cast of French vegetables, seafood, meats… and quite a lot of butter. The film gives full display to the culinary arts as a closely choreographed procession of food, sounds, textures and gastronomy-fuelled gestures dance across the screen, all orchestrated by Gagnaire. (Olivier Delbosc produced for Curiosa Films; Gaumont is handling international sales.)
Gagnaire's involvement began when Hung came to dine with his wife at the chef's Paris restaurant five years ago. "It was winter, so I served him my pot-au-feu [a French meat stew usually served as two courses]. Once we knew the film would be made, for three days I made every dish they wanted. It was the founding moment of our relationship."
Gagnaire also has a small role in the film – as a chef who regales Magimel's lead and other characters with details of his menu. "[Tran] created the scene because he watched me cook and was moved by my way of cooking. When I cook, I'm another person. I'm like someone who is on stage. I live passionately, and fuse with the kitchen and ingredients."
Gagnaire was on set for several days at a time to establish the menus, and cook certain dishes with his own hands including the titular pot au feu and a pear dessert for "the moment in the film when [Juliette Binoche's] Eugenie falls in love with Bouffant". For the rest of the shoot, his chefs carried out the culinary duties.
He did not interfere with the on-set catering, but says "the dishes we concocted for the scenes… let's just say there was a part of the film crew who enjoyed it after the takes".
And while the film's titular pot-au-feu may be the main event in the plot, the vol-au-vent in the beginning of the picture is his personal favourite. "Visually, it's the most beautiful. It's incredibly sensual."
Majestic presence
Although he'll be walking the red carpet for the first time as an actor, Gagnaire is also the executive chef at the Majestic Hotel in Cannes, where he oversees the menus for Fouquet's and Paradiso Nicole & Pierre.
He has cooked the opening- and closing-night meals for the festival on several occasions, including one memorable closing-night dinner when Michael Haneke won the Palme d'Or for Amour in 2012.
"It was pouring with rain, our feet were soaking in water and the wind was blowing, as if we were windsurfing. And the movie was filled with an immense sadness."
Despite the behind-the-scenes drama, Gagnaire concludes: "The meal was a success."