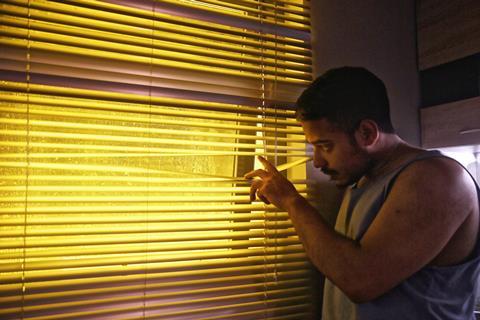 Commercials director Dominic Bridges' feature debut Freehold (previously known as Two Pigeons) is a personal one, born out of his wife experiencing a miscarriage while the couple were trying to buy a home. "I took out my anger on the estate agent, a bad typical male reaction, but it formed the idea, 'How do you seek revenge on an estate agent?'," he recalls.
While the idea came from Bridges, Outpost's Rae Brunton wrote the script with Bridges joking: "It's not often you meet someone who is as fucked up as you are." The result is a creepy, but blackly funny, reverse home invasion tale where a cocky estate agent (Mim Shaikh) doesn't realise someone else is living in his home, messing with his life a little bit at a time.
The invader is played by Javier Botet, a name familiar to horror fans for his work on [Rec], The Conjuring 2 and more, although this is the first time he delivers his impressive physical performance without makeup. "I wanted to give the Boris Karloff of our age his first main English role without the prosthetic camouflage," Bridges explains. "I was nervous meeting him and asking him how he felt about wandering around in his pants, but our relationship blossomed to the point where he would casually say, 'Dom, do you want to see my knob in this shot?'."
We see so much of Botet because Freehold takes place solely within the house, brilliantly captured by DoP Ben Moulden, although Bridges' initial idea was to see more of the set. "I was shooting off set, showing the lovely wardrobe and make-up girls having a tea, and then panning back into the set," notes Bridges. "I wanted Freehold to show everything — the set being built, the set coming down — a film within a film about space, but the powers that be decided I was a loon, so I embraced their ideas!"
The teamwork approach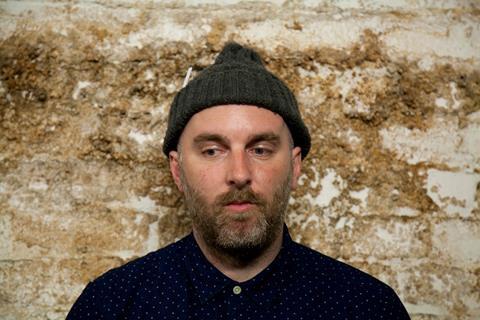 Collaboration, for Bridges, was key on his feature debut which saw him work with most of his crew from his commercials background, such as Moulden and producer Matt Hichens. "I believe the team makes the film, not me, I despise the word director. I prefer thinking that we formulate the best gang which operates like a force to be reckoned with," he says.
It's something Bridges will take onto his second film as director, although he's not yet sure what his next project will be, except that it will be "very different" to Freehold. "We are looking at some heritage period ideas, as well as exploring our own unique storytelling style," he outlines. "I've also read some great scripts from the US, and as we've learnt so much from Freehold, I'm extremely keen to get on with the next one."
First up though is the world premiere of Freehold at Horror Channel FrightFest and Bridges couldn't be more "flattered" to be premiering at the festival. "Freehold is an odd creature, so it's great it's in the festival as it's already opening many new avenues for the film to reach a more diverse audience," he enthuses. "FrightFest is a festival for enthusiasts and where would anyone be without the knowledge of thoroughbred enthusiasts?"
Contact: Marcy Hamilton, TriCoast Worldwide marcy@tricoast.co
Freehold FrightFest Screening: Friday August 25, 11:30
Dominic Bridges is nominated for Screen International Horror Rising Star Award at Horror Channel FrightFest, with the winner revealed on Monday August 28.