The winner will be announced during the festival in London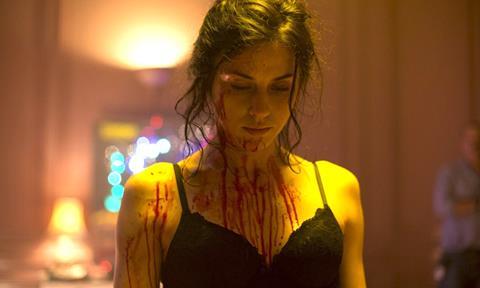 Tom Paton, Dominic Bridges, Joanne Mitchell, Matthew Holness and Danny Morgan have all been nominated for the second Screen International Genre Rising Star Award, in association with Horror Channel FrightFest 2017 (August 24-28).
The award was established in 2016 to celebrate the work of emerging UK genre talent, with the first recipient being Prevenge director Alice Lowe. This year's winner will be announced on Monday August 28.
Danny Morgan has been nominated for his work on horror comedy Double Date (pictured, top), directed by Benjamin Barfoot. Morgan wrote the screenplay and also stars as hapless 30-year-old virgin Jim, whose desire to find love leads him and best friend Alex (Michael Socha) into danger. Morgan has starred in TV shows like Ideal and features including On The Road, and has written several shorts. Double Date is his first feature screenplay.
Tom Paton has been shortlisted for his second feature Redwood, for which he also wrote the screenplay. Playing the Cineworld Discovery screen on FrightFest opening night, the film follows a couple who disturb a nest of vampires while hiking in the woods. Paton is currently working on his follow-up feature, Black Site.
Dominic Bridges is in the running for his feature debut Freehold (previously titled Two Pigeons), in which he subverts the home invasion thriller to make a chilling point about the urban class divide. Bridges previously directed documentary short Underdog, and episodes of TV series Shelfstackers.
Joanne Mitchell has been shortlisted for her work as an actress and producer on Attack Of The Adult Babies, which sees two unwitting teenagers break into a country house where high-powered men enjoy dressing up as babies, as well as previous genre projects including Bait and Before Dawn.
Matthew Holness has been nominated for his successful migration from the small screen, where projects included Garth Marenghi's Darkplace and Free Agents, to shorts such as Smutch and upcoming feature debut Possum. Possum stars Sean Harris as a disgraced childrens' puppeteer who returns to his childhood home to confront his vicious stepfather.
Screen International editor Matt Mueller said: "We are delighted to be partnering with FrightFest again this year for the Genre Rising Star award. Screen is always eager to support exciting new UK talent and we look forward to announcing the winner at this year's festival."
Read more:
FrightFest 2017 to open with 'Cult Of Chucky' starring Jennifer Tilly