Pop culture icon on Sophie Fiennes-directed feature.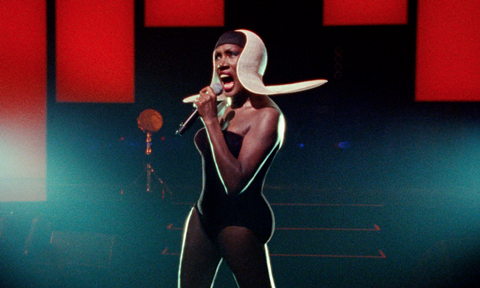 Pop culture icon Grace Jones is set to bare all in a new cinema verite-style documentary Grace Jones: Bloodlight And Bami, which is being launched in Cannes by WestEnd Films.
"This is the first time people will see me in this way," Jones told Screen this week from her home in Jamaica.
"They will see a very candid portrayal. It is raw. It will be like seeing me almost naked."
"I'm very happy with the film," she continues. "I didn't feel like it was an invasion. It was a very smooth and comfortable process".
Sophie Fiennes' (The Pervert's Guide To Cinema) intimate portrait, more than five years in the making, explores the performance, private and public life of the former Vogue cover model and singer, also known for movie roles in Conan The Destroyer and A View To A Kill.
The film includes unique performances of Jones' hits such as Slave To The Rhythm and Pull Up To The Bumper, as well as the more recent autobiographical tracks Williams' Bloods and Hurricane.
In the movie, the songs will link to Jones's family life (including a traumatic early period) via a holiday road trip across her homeland Jamaica.
In Jamaican patois, 'Bloodlight' is the red light that illuminates when an artist is recording and 'Bami' means bread, the substance of daily life.
Jones's own creativity shows no signs of abating and she is currently in the process of finishing her next album, which she is aiming to release later this year.
"That's why I'm working in Jamaica," she explains. "You need to take more control. I'm my own boss. I feel more creative than ever, in the business side of things too."
A feature biopic could also be on the horizon.
"I'm working on a feature film based on my autobiography [I'll Never Write My Memoirs]," Jones reveals.
"There are a number of established movie companies interested in the rights."