Thanks to Carol, Brooklyn and Anomalisa, 2015 proved to be a banner year for UK sales agent HanWay Films. The company's key executives explain how patience has paid dividends.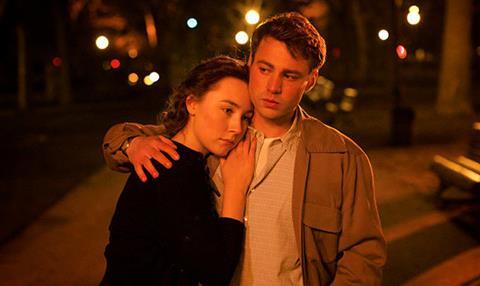 "It was an all-nighter that carried on into the next day. We were exhausted," recalls HanWay Films managing director Thorsten Schumacher about Fox Searchlight's splashy multi-million dollar deal (brokered by CAA - Micah Green was intrinsic - and HanWay) for writer-director John Crowley's drama Brooklyn at last year's Sundance Film Festival.
"There is plenty of adrenaline on those all-nighters," the Cologne-born executive enthuses. "It's exciting when you have momentum but when you're talking in detail about amounts and careers, especially with studios, the laughs do evaporate."
The next day happened to be Schumacher's birthday and he had hoped to find an hour to hit the slopes. "[But] my wife had sent me a big birthday cake so instead of going up the mountain, I ended up eating the cake with Tony [Safford] and Ray [Strache] from Searchlight as we ironed out the deal. We still have those pictures."
"There were challenges on each of our films this year. The slate is the fruit of a lot of labour over years." Thorsten Schumacher
It has been that kind of year for HanWay: one of momentum, firsts, adrenaline, serious deal-making and justified celebration. Heady deals have been matched by stellar critical reception for films such as Carol, Brooklyn and Anomalisa. "It has been the most successful year for us to date," says Schumacher, who joined the company in 2003, four years after it was founded by iconic producer Jeremy Thomas. Schumacher took the reins as managing director in 2010.
"Ten Indie Spirit awards, five Golden Globe nominations, 10 Oscar nominations and 15 Bafta nominations. That could be more than we've had in our entire history," says Schumacher, who predicts Brooklyn will become the company's biggest box-office performer to date, exceeding Woody Allen's 2005 thriller Match Point, which grossed $85m globally. The Wildgaze Films and Parallel Pictures-produced drama has already grossed $40m from its US and UK releases, with international roll-out to come.
Titles from Thomas' production company Recorded Picture Company (RPC) — Ben Wheatley's High-Rise and Matteo Garrone's Tale Of Tales — have also played their part (all RPC films funnel into the HanWay sales pipeline). The former, which debuted at Toronto International Film Festival, is amassing a cult following ahead of its UK release through StudioCanal, while the latter garnered strong notices at Cannes. Both exemplify RPC and HanWay's skill for building relationships.
Keeping patience

Risk-taking and patience have been key to this year's success. "Keeping distributors engaged with films, not just at markets, but 12 months of the year, is always a challenge," says HanWay's head of marketing Jonathan Lynch-Staunton, who orchestrated the marketing behind major festival berths across the year and who with Empire Design crafted the Carol promo that would heavily influence the US and UK trailers.
"There were challenges on each of our films this year," says Schumacher. "The slate is the fruit of a lot of labour over years. In Cannes in 2012, we had scripts for Brooklyn and Carol and a treatment for Anomalisa. At that time, Sam Taylor-Johnson was on board to direct Brooklyn and John Crowley on Carol. It was a merry-go-round." The journey of Duke Johnson and Charlie Kaufman's puppet-animated feature Anomalisa reinforces the point. The film took longer than expected to make and the budget altered over the years. "It was a long journey," admits Schumacher. "We had to keep the fire alive over years.
"We had to think hard on the right finance structure for the film," he continues. "Whether to carve it out for sales worldwide or keep it intact for a studio. The UK was very competitive so it made sense to go with the latter model."
Serious stop-motion animations are not obvious studio fare but years of relationship-building helped pave the way for another multi-million dollar deal — also brokered by CAA — when Paramount swooped on global rights (excluding the UK) during Toronto.
Strong ties

A good relationship with Keith Calder's finance outfit Snoot Entertainment, with which HanWay had worked on horror film You're Next, helped secure Anomalisa in the first place. The Paramount deal was also helped by strong personal ties. "When I'm in Santa Monica, Eben Davidson [Paramount's SVP, acquisitions and productions] and I often go for a pre-market run," says Schumacher. "We run for a couple of hours and cover everything. We discussed Anomalisa early and I knew they liked it. The film played well but it obviously wasn't a typical studio movie."
Trust and loyalty between sellers, producers and distributors (and increasingly, agencies) remain essential in a sales business that has become more difficult over the years and companies have become more entrepreneurial and multi-faceted in their business models. "With companies like [Stephen Woolley and Elizabeth Karlsen's] Number 9 Films and [Finola Dwyer and Amanda Posey's] Wildgaze, we are often brainstorming, thinking about directors and cast," says Schumacher. "It's an organic process. It often evolves to the point when someone in the group pulls the trigger and says, 'Now's the time.'"
The integrated nature of the sizeable sales company also helps engender trust, as Thomas and Schumacher both point out. From business affairs, legal and production development to finance, sales and marketing, HanWay is as close to a one stop shop as UK sellers come.
Frequent collaborators are behind many of HanWay's upcoming films, including See-Saw Films' How To Talk To Girls At Parties and Number 9's Colette. RPC's strong Asian ties secured a fourth collaboration with Takashi Miike on Blade Of The Immortal. "One of our key magnets is that people know us for our love of films and cinema," concludes HanWay founder Thomas. "Businesses are run for various reasons but people will always recognise us for that."