Dir/scr: Mitchell Lichtenstein. US. 2009. 96mins.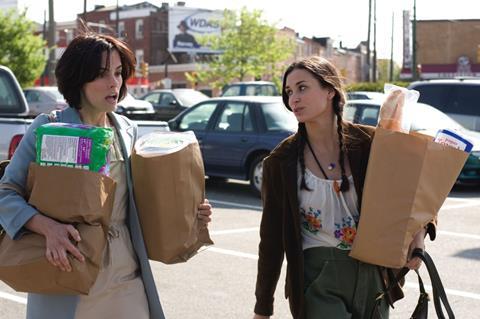 Mitchell Lichtenstein (Teeth) tackles some conventional subject material in an unconventional way in Happy Tears, throwing up a surreal performance from Parker Posey and a surprisingly warm supporting turn from Demi Moore as two sisters reunited in the family home as their tomcat father Joe (Rip Torn) slowly surrenders to dementia.
Posey's out-there Jayne is a love-her-or-loathe her character (like Sally Hawkins in Happy Go Lucky or Anne Hathaway in Rachel Getting Married). Those who go along for the ride will enjoy Lichtenstein's deliberately individualistic storytelling; from striking dream sequences as experienced by Jayne to an unforgettable turn from Ellen Barkin as a crack whore. The story always feels edgily, sometimes jerkily, unpredictable before surprisingly opting for a conventional wrap. Not everyone will buy into Lichtenstein's world, and its prospects will depend on notices and word of mouth. Either way this should have a solid shelf life on DVD, buoyed internationally by the presence of Moore and Posey.
Lichtenstein, son of legendary pop artist Roy, presents Jayne as somebody who has the greatest difficulty acknowledging the realities of life - in fact, she refuses to deal with most things she doesn't like. Whether or not she's mentally all-there is left for the viewer to decide. Jayne is initially shown buying outrageously expensive blue boots in a sequence where the shop assistant turns into a vulture; such playfulness is an elevating factor in Happy Tears.
Jayne is avoiding her sister, the down-to-earth Laura (Moore) who alone is looking after their father Joe (Torn) at the family home in Pittsburgh. While the sisters obviously have humble beginnings, Jayne has married into money; her husband Jackson (Carmargo) is, in what is probably a nod to the director's own story, the son of a famous artist who is overwhelmed by his late father's legacy (Cy Twombly canvases are used).
This financial inequality is a source of friction in the family, although Jayne is obviously much loved by them all when she finally does arrive. Now she has to face up to the consequences of her father's illness, which includes a memorable bout of incontinence, and meet his latest 'girlfriend', the obviously-crack-addicted Shelly (Barkin). Back in San Francisco, her husband appears to be having a nervous breakdown.
Posey is unforgettable as Jayne and this performance will please her legion of loyal fans. Although Moore never really looks as if she's at home in the shabby Pittsburgh lodging or her hippy costumes, she is a warm and sympathetic presence throughout in a difficult supporting role to a flashy character.
DP Jamie Anderson copes admirably with the challenges Lichtenstein has thrown him on an obviously low budget.
Production companies
Pierpoline Films
International sales
Cinetic Media
(1) 212 204 7979
Producers
Mitchell Lichtenstein
Joyce Pierpoline
Cinematography
Jamie Anderson
Production design
Paul Avery
Editor
Joe Landauer
Main cast
Demi Moore
Parker Posey
Rip Torn
Ellen Barkin
Christian Camargo
Billy Magnussen