Brendan Fraser may have hardly been seen on the big screen in the past decade, but his roles in The Whale and other upcoming major titles have been dubbed the actor's 'Brenaissance'.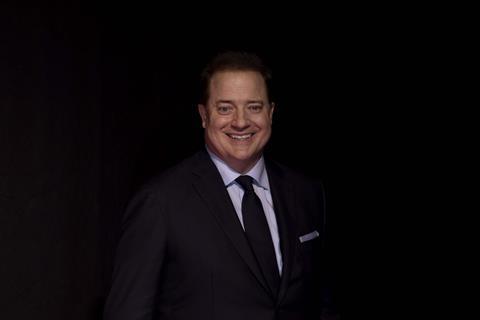 In the late 1990s, it would have been hard to imagine Brendan Fraser — the buff heartthrob star of action comedy George Of The Jungle and blockbuster The Mummy — taking a role like Charlie in The Whale. After all, in Darren Aronofsky's adaptation of Samuel D Hunter's theatrical chamber piece, Charlie is a tender, grief-stricken English teacher who is housebound with severe obesity. The furthest cry from the chiselled, charming adventurers that made Fraser's name.
"I wouldn't have been capable of playing Charlie as a young man," Fraser says when meeting Screen International during October's BFI London Film Festival, just before he receives a standing ovation at the A24-backed film's screening. "The lived experience it took to play this part was personal to me, given how my body has changed over the years since the days I was known for wearing a loincloth or running through the deserts. I've changed, significantly and comfortably."
At 54 years old, the Canadian-­American actor's physique has softened and filled out, but only to the extent you might expect at this age, outside Hollywood at least. And it is effectively from outside Hollywood that Fraser has returned with The Whale, marking his first significant lead film role since the ill-fated Furry Vengeance in 2010. With the likes of Steven Soderbergh and Martin Scorsese now casting him, some are calling it the 'Brenaissance'.
"It makes me laugh," Fraser chuckles on hearing the word. "I'm picturing myself painted on ceilings. But I'll take it. I appreciate the compliment. I was never that far away, mind you. But in Holly­wood years, that can be aeons."
Fraser's on-screen absence (aside from notable roles in TV shows such as The Affair, Trust and Doom Patrol) is something he puts down to "a combination of many things". There was the mere fact of "growing older in an industry that idealises an archetype of an actor to play heroic roles". There was the physical toll of years of action-based antics (he has required a partial knee replacement and a laminectomy, among other procedures). Then there was the fallout from his accusation in 2018 that former Holly­wood Foreign Press Association president Philip Berk groped him at one of the organisation's events 15 years earlier. (The HFPA apologised, but maintained the inappropriate touching was not intended as a sexual advance.) Fraser suspected he had been blacklisted for speaking out. "That's what I said," he confirms now. "I mean, I don't know how to authenticate that. But the feeling of the phone not ringing… The silence is deafening."
He does not appear bitter or resentful when he relates this. Fraser is softly spoken, choosing each word carefully as he speaks matter-of-factly about past travails. It is as if he treats everything that has happened as laying the path to The Whale, and insists he personally relates to the way Charlie is verbally scathed and ridiculed in the film. "Hollywood is a mean place," he says. "It can be hurtful. I know what it feels like to be compared to who you once were, and perhaps held to a standard that is unattainable or unfair."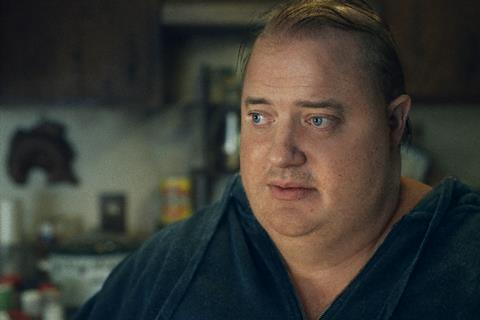 Opportunity knocks
The decision to take the role of Charlie was, he reveals, "a quick one", not least because he considers Aronofsky to be "a world-class filmmaker". Fraser has also long been a fan of prosthetics-based transformational performances, citing John Hurt's John Merrick in The Elephant Man as a childhood favourite. "This presented that opportunity, which is fulfilling because it's a great deal of fun to change."
It was not an easy process, however. It took around four hours each day of the 40-day shoot to don the suit and make-up required to transform Fraser into a 600lb man. Designed by Aronofsky regular Adrien Morot, the suit included a cooling system and allowed Fraser to free one arm for mealtimes, but it was so heavy and consuming that he would suffer bouts of dizziness after taking it off. "I learned quickly — and I know this physically, kinetically — you have to be a very strong person to inhabit a body encumbered by severe obesity," he says. "If you're not, then you become non-­ambulatory and then sedentary, and that's when people's lives become very different and unhealthy for them."
His research into the role — an online tutor who receives visits including from his friend and carer (Hong Chau) and estranged teenage daughter (Sadie Sink) — involved him speaking to people introduced by the Obesity Action Coalition (OAC), which infused Fraser with a sense of admiration and compassion for people like Charlie. "We must know who they are as people, as individuals, as humans," he says. "Obesity in our society is the last domain of accepted prejudice and bigotry. It's standardised and overlooked." The Whale, he believes, could help change that. "I was told by the OAC that this film could save someone's life. That means a lot."
Fraser seems drawn to projects with a social or political agenda, as his presence in Scorsese's Killers Of The Flower Moon suggests. Set in 1920s Oklahoma, it concerns the murder of Native Americans after oil is discovered on their land. "I wasn't aware of this aspect of American history," Fraser admits. The film also gave him the opportunity to work with a director he admires. "Speaking of renaissance, you feel like you're in a Renaissance master's workshop with Scorsese. Scenes play out like an opera."
He still has room for broader material in his repertoire, as the upcoming "slapdash comedy" Brothers shows, in which he is on the trail of twin brother bank robbers Josh Brolin and Peter Dinklage. "It's a caper in the spirit of Raising Arizona," Fraser reveals. Then there was supposed to be Batgirl, the DC movie infamously cancelled by Warner Bros Discovery last summer, in which Fraser had taken the lead villain role. "I'm disappointed and stunned by what happened," he says. "I think little girls deserved to get a Batgirl in Leslie Grace, who is amazing."
What the 'Brenaissance' brings next remains to be seen. "I don't have anything lined up right now," admits Fraser. His mind remains entirely focused on The Whale, which A24 launched at Venice in September, and released in North America on December 9 – and is set for international rollout across Q1 of 2023, including UK and Ireland via A24 on February 3. The film evidently means a lot to him, far beyond the voter attention it might bring to this Oscar and Bafta virgin — whose biggest previous brush with film awards came as part of the Crash ensemble in 2006. "I'm excited for it to open," he says. "Honestly, that's my future right now."