"There was some glass ceiling on why our story wasn't getting better."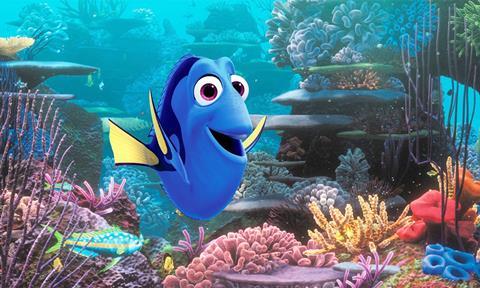 In 2011, Andrew Stanton, director of A Bug's Life and Wall-E, was watching his Oscar-winning Finding Nemo for the first time in almost eight years, in preparation for its 3D re-release.
"To see it again on the big screen really opened my eyes," he reveals. "It was probably the first time seeing it like the rest of the world saw it. That gave me an objectivity I've never had before, and I was really unsettled with Dory at the end of it. It really felt unresolved. It was this parental obligation I felt to this character I'd created, to be at peace."
In Finding Nemo, Dory, a blue fin tang with short-term memory loss, voiced by Ellen DeGeneres, joins forces with Marlin, a clownfish voiced by Albert Brooks, to find Marlin's missing son, Nemo. The film won the best animated feature Oscar for Pixar as well as picking up a best original screenplay nomination for Stanton, Bob Peterson and David Reynolds.
It was, at the time, the highest-grossing animated feature, and went on to become the biggest-selling DVD ever. But while other Pixar hits spawned sequels, Nemo remained a stand-alone, much to the displeasure of its many fans, including DeGeneres herself, who frequently bemoaned the lack of a sequel on her hugely successful US TV show.
"My wife loves it and every time [Ellen] would mention it, you'd get told," laughs Stanton (pictured with DeGeneres, below). "But [at Pixar] we have never made a sequel for the desire to further the franchise. The only movie we did that with was Toy Story 2, in its inception, and we almost made a horrible movie for it. [We] realised we should never make a sequel unless we have a story to tell."
After rewatching Finding Nemo, however, Stanton suddenly had a story worth telling.
"I knew internally [Dory] was a tragic character, even though she was the one generating all the humour in the movie," he explains. "As a writer you fight hard for years to come up with a main character who has that much complexity. It was all just sitting there and I felt like I needed to have closure for this character."
And so, in early June 2012, Stanton hired Victoria Strouse to work on the script with him. "I thought it would be not only a family story, but a story dealing with sisters," he reveals. "So I wanted a female perspective. [Victoria] turned out to be so good. Right off the bat, I could take some of the pressure off having to be the lead writer and that gave me much more focus to be the director. We had a first draft by early September of 2012."
At the time, Stanton was still busy with John Carter, his live-action directorial debut. But when that film proved to be something of a commercial failure, Stanton says he suddenly had "a lot of time on my hands", enabling him "to jump right in, really go to town and get the script going".
As with all Pixar movies, script is paramount, and Dory's underwent as many as 10 drafts as it passed through the company's stringent 18-month to two-year development process. During that time, Stanton and his team (which included producer Lindsey Collins and co-director Angus MacLane) continued to refine the movie via storyboards and story reels that would be picked over by the studio's famed brain trust.
Early drafts featured an adopted sister for Dory - a character that became Destiny, a near-sighted whale shark and Dory's childhood friend - while Dory's parents also had short-term memory loss.
"Dory, in the [first] movie, says, 'I suffer from short-term memory loss. It runs in my family.' I felt I had to stick to that rule and I thought, How tragic would it be that they would forget Dory? They would have this feeling of loss and maybe would come across an abandoned whale shark and adopt her out of their own instincts, so Dory would have been replaced," Stanton notes. "It all made sense, but having three characters with short-term memory loss, trying to have a conversation, is the most annoying thing in the world. You think it might be funny, but it's not. So I decided, You know what? Dory remembered wrong. And we're going to free ourselves of that rule."
Memory test
But even two years into the development process, when the need to start producing finished animation was looming large, a major narrative issue had yet to be ironed out.
"There was some glass ceiling on why our story wasn't getting better," Stanton admits, saying that the problem had to do with having a protagonist with short-term memory loss.
"There were a lot of plot changes but none of these were huge factors. The big thing that started to reveal itself [was] we were never getting that deeply, emotionally, invested in Dory. We finally deduced she never self-reflected because she couldn't remember things. She couldn't express the growth that was going on. But how to solve it turned out to be just as difficult. We never found one answer. We had many small answers. And those trickled in almost to the last minute."
Even at the end of 2015, significant changes were still being made to the story, with the addition of several flashbacks of Dory as a young fish.
"That was probably the last piece to fall into place," Stanton notes. "To be honest, we're always working to the bitter end, but to have that big of an idea that late is not fun."
In the 13 years between Nemo and Dory, CG animation technology has improved immeasurably but, for Stanton, the biggest difference was the ability to animate water.
"Water was very hard to capture and get right and very expensive, and when you look at Nemo there are very few shots where we actually show water. Most of the water is a magic trick where we make you think you're underwater. You can now do it easily, so I went to town. I would say every five minutes of Dory is the entirety of what we could do in Nemo."
Finding Dory was released in June to universally positive reviews. It has grossed in excess of $1bn worldwide, making it the most successful sequel in a summer of belated follow-ups. Inevitably, talk has already turned to whether there'll be a third. Stanton, who is currently working on a number of live-action projects, in addition to his role as vice-president of creative at Pixar, doesn't rule it out; just don't expect him to direct it.
"Will there be another one? I've stopped saying never, but I have now spent eight years with fish. That's a fifth of my life. I don't really want to spend another four years with fish, as much as I enjoyed those eight. Hopefully somebody else will - if there is that great of an idea."
Personal Connection
Finding Dory may feature a mainly aquatic cast, but that doesn't stop it being somewhat autobiographical, according to co-writer/director Andrew Stanton.
"Dory is what I remember being as a kid, and feel I lost," he reveals. "I have an overdeveloped sense of responsibility and I took that to the nth degree with being a father, a husband and a member of [Pixar] as it was being built up. I've often missed the joy of just being caught in the now. And it seemed even harder by the time I was writing [Finding Nemo] and seeing it in my kids - how present they were, and how hard it was for me to be present with them and not always be worried about something. So, Marlin is who I am, and Dory is who I've always wanted to be. I think that's why Dory is popular, because [she represents] an unconscious desire to be free of the anxieties and the fears of the future and the past."
Voices of the deep
Alongside the returning voice talents of Ellen DeGeneres and Albert Brooks, Finding Dory adds Diane Keaton and Eugene Levy as Dory's parents, and Idris Elba and Dominic West as a pair of grouchy sea lions. ("My thinly veiled excuse to get a Wire reunion," laughs Andrew Stanton of the HBO show that starred the pair.)
And with original Nemo Alexander Gould long-since grown up, a new voice actor was required. Hayden Rolence stepped into the fishy fray, although Gould has a cameo — "It felt wrong not to track him down and see if he could do some voice, just to keep him in the family," says Stanton.
Perhaps the most left-field addition to the voice cast is Sigourney Weaver, playing herself as the voice of the marine park Dory washes up in.
"There's always this wonderful left-of-centre idea that ends up sticking," explains Stanton, who had previously cast Weaver as the voice of the ship's computer in Wall-E.
"We tried it at a screening and it was hilarious, [but] thought this will never fly for so many reasons. It'll be too weird for half the audience or it's only funny to us at Pixar. And Sigourney probably won't want to do it. We kept it in because it was always a good laugh and it reminded us, 'If we're going to replace it, we're going to have to replace it with something just as funny.' Then we realised she should be the voice for the entire park and it became clear we could make it more thematic. That's when I finally had the guts to call Sigourney. She only took one session and got everything recorded."