No Time To Die's potent global rollout has steadied the nerves of the international cinema business, but Covid-19 rules still present a mixed bag for audiences.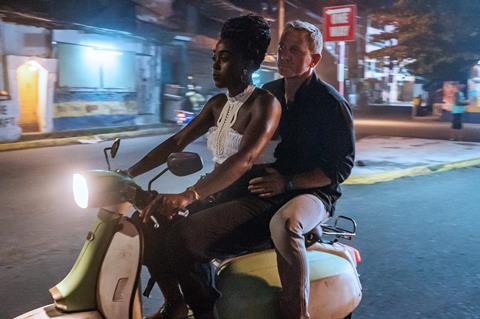 Cinemas may be reopening around the world in most countries but rules on seating capacity, mask wearing and proof of entry for vaccinated audience members or those who test negative, vary from territory to territory and, in places like China and North America, from region to region.
More than 90% of US cinemas are now open and operating at full capacity; the number is slightly lower in Canada but seating capacity is at 100% in both markets. Decisions on mask wearing and so-called vaccine passport requirements are mandated at county level in the US, and province by province in Canada. New York and San Francisco are among the big cities that require cinema­goers to show proof of vaccination status, and those in Los Angeles will need to do so from November. Cities will impose fines on businesses that do not enforce the mandates and enforcement is expected to be strong.
The exclusive theatrical release of Disney/Marvel's Shang-Chi And The Legend Of The Ten Rings has been a success in North American ($221m and counting) and encouraged other studios with their exclusive theatrical releases. Sony Pictures' Venom: Let There Be Carnage ($182m at press time) and Eon/MGM's No Time To Die ($120m) have also performed robustly, while Dune, which Warner Bros is releasing day and date with HBO Max in territories where the streaming service has launched, and Disney/Marvel's theatrical exclusive Eternals on November 5 are also looking like strong prospects.
But audience hesitancy remains to a certain degree in North America, particularly among older people, although it depends on the title. No Time To Die skewed older and did well, while The Last Duel also skewed older but flopped. Halloween Kills skewed younger and delivered a solid result ($73m to date) given that it launched simultaneously on the Peacock streaming service. The main issue is a steady supply of titles for all audiences.
In the UK, close to 100% of cinemas are now open. There is no requirement to show a negative Covid-19 test or have a vaccine passport in England, Scotland and Northern Ireland but cinemas in Wales will have to ask for one of the other from early November in an attempt to combat rising cases in the home nation. Throughout the UK mask wearing is encouraged but not enforced by cinemas. Anecdotal evidence suggests audiences are doing so less and less, in line with a general decline in mask wearing throughout the country. In Ireland, capacity limits remained in place throughout the summer, standing at 60% from September 6, but were removed entirely by late October.
No Time To Die is helping lure back UK and Irish audiences, with a $138m (£100m) final gross in play (Skyfall remains the territory's highest-grossing Bond film with $142m [£103.2m]). With Eternals, West Side Story and Spider-Man: No Way Home among a packed schedule for the remainder of 2021, the challenge is finding space for films — and hoping rising Covid-19 case numbers do not bring back too many restrictions.
In Spain, the country's autonomous regions have different rules. In most, including Catalonia and Madrid which have the highest number of cinemas, capacity is at 100%. The use of masks is compulsory and Spanish authorities do not require vaccine passports. No Time To Die, Venom: Let There Be Carnage and Dune have all opened, and a marketing campaign co-ordinated by the Spanish cinema and film distributor federations with the support of the Ministry of Culture helped encourage audiences back to theatres with half-price cinema tickets from September 27-30. Venom: Let There Be Carnage has been Spain's biggest opening of the year so far, with $3.8m, hinting that younger audiences are the most keen to return to the cinema.
Many major Spanish titles have also hit the screens, including Pedro Almodovar's Parallel Mothers which grossed $1.7m (€1.5m) in its opening weekend in October — half the number achieved by his previous release Pain & Glory. The highest-grossing Spanish film of the year is comedy The Kids Are Alright: Destination Asturias, released in July and taking $9.6m (€8.3m) to date.
Slow return in France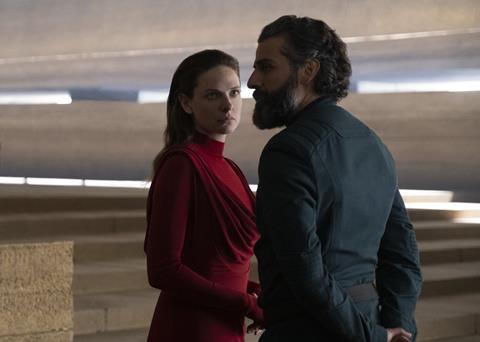 In France, cinemas are open at full capacity but it is mandatory for audiences to show a "health pass" proving full vaccination or a recent negative test and it is agreed that this is hampering the country's box-office recovery. Additionally, independent arthouse titles are struggling to find release slots and audiences as US studio titles including Dune, No Time To Die and Shang-Chi And The Legend Of The Ten Rings as well as event French releases such as thriller The Stronghold (Bac Nord) and comedy franchise OSS 117: From Africa With Love drive admissions.
Italian cinemas expanded capacity to 100% from October 11, with mask wearing mandatory and proof of vaccination or a negative test required to gain entry. Venom: Let There Be Carnage opened on $3.1m (€2.7m), only slightly less than the $3.9m (€3.4m) gross of its pre-pandemic predecessor, while hopes are high for Gabriele Mainetti's local title Freaks Out, which opened on October 28 following a high-profile debut in Venice competition in September.
German cinema owners are frustrated by a lack of unified regulations across the country's 16 federal states. The so-called '3G' rule asks for proof of full vaccination, full recovery or a recent negative test for audiences, but some cinemas have the stricter '2G' admissions policy, thereby excluding non-vaccinated cinemagoers. Mask wearing is mandatory in Bavaria, Hamburg and Baden-Württemberg, and there are regional differences in maximum seating capacity, ranging from 50% in Hamburg to 100% in Berlin.
In Japan, it is all about temperature checks for cinemagoers who are also required to wear masks. Compliance levels are high. However, there are no vaccine passports and most cinemas are open and operating at full capacity. No Time To Die and Dune opened on October 1 and 15, respectively, with the former bringing in more than $5m on its opening weekend. That is $2m more than Spectre made on its first weekend back in 2015, suggesting Japanese filmgoers are more than happy to head to the cinema. Covid‑19 cases are falling sharply and fuelling consumer confidence.
Safety policies in South Korean cinemas are strict, and require audiences to wear masks, undergo temperature checks and provide contact-tracing details. Proof of vaccination is only required for groups of more than four people while social distancing measures demand audiences sit with an empty seat between groups. Venom: Let There Be Carnagegrossed nearly $7m on its opening weekend, while No Time To Die had grossed nearly $10m after a month on release. Hopes are high for Dune and Marvel's Eternals. The latter features Korean star Don Lee and opens November 3.
October is also proving auspicious in Australia with cinemas finally reopening after months of lockdowns. The rules vary across states, cities and regions. In Sydney, masks are mandatory and patrons must show evidence of being fully vaccinated or medically exempt, and check-in via an app or provide contact details. The one person per four-square-metres rule is expected to ease to two square metres in December, which means cinemas are currently operating at low capacity. Unsurprisingly, year-to-date box office is about one-third of the usual annual gross, although there is a certain degree of optimism for the release of Eternals, No Time To Die and Dune.
Top five US studio titles at 2021 global box office (Jan 1-Oct 26)
| Film | Initial release | North America | International | Worldwide |
| --- | --- | --- | --- | --- |
| Fast & Furious 9 (Universal) | May 19 | $173m | $544m | $721m |
| No Time To Die (Universal) | Sept 29 | $120m | $406m | $526m |
| Godzilla Vs Kong (Warner Bros) | Mar 24 | $101m | $367m | $468m |
| Shang-Chi And The Legend Of The Ten Rings (Disney) | Sept 1 | $221m | $197m | $422m |
| Black Widow (Disney) | Jul 7 | $184m | $196m | $380m |
Source: Comscore