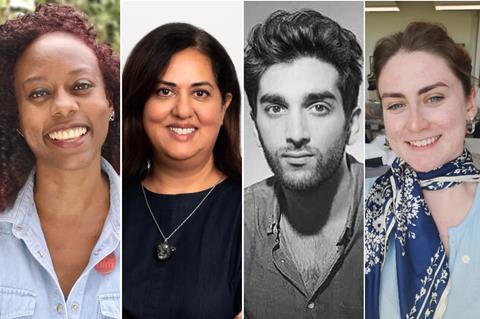 For Ben Bellingham in Wales, it was "the perfect support at the perfect time". Mel Bezalel believes it supercharged her career after maternity leave while Iona Beresford in Northampton now feels confident about starting work in costume.
What made the difference? Mentoring.
Building confidence, extending your network and developing industry understanding are the benefits of mentoring that are regularly cited by the more than 3,000 people who have been supported by the ScreenSkills Mentoring Network since it was established three years ago.
Backed by the BFI – using National Lottery funds as part of the BFI's Future Film Skills strategy – the programme has matched hundreds of mentoring pairs directly but also offered guidance, resources and sometimes funding to a range of partner organisations. These include many tackling under-representation in the industry, such as Women in Film and Television (WFTV), MAMA Youth and TripleC Disabled Artists Networking Community. Others such as BAFTA Scotland and TV Talent North are backing talent in the nations and regions, with yet more operating in specialist areas, from the British Society of Cinematographers to the British Film Designers Guild.
Mel Bezalel had run the development team at a large production company but, after a nine-month maternity leave, feared being a working mother would compromise her career trajectory. Mentoring by former BBC executive Danny Cohen on the ScreenSkills-supported WFTV programme was "a massive boost to my confidence," she says. "I wouldn't have considered interviewing for the commissioning editor job I have now at E4 so soon after mat leave without the mentoring support. I'm more confident now and trust my instincts more. Mentoring has definitely accelerated my career, which I'm really grateful for."
Providing a focus
Ben Bellingham used the Bectu Cymru Mentoring 4 Screen Programme to explore how to switch from unscripted TV and pursue his passion for drama. The most valuable benefit of the mentoring was providing a focus, he says. "Knowing that I wanted to make the move to scripted, I really needed help to navigate that landscape," says Bellingham. "The mentoring opportunity came along just when I needed guidance. I really needed someone I could bounce off and throw questions at."
It helped him secure a job in the art department and then into his chosen department as a camera assistant.
Iona Beresford used ScreenSkills-supported mentoring with Screen Northants, to learn more about working in costume in film, ready for when she graduated with a BA in fashion.
"A key motivator was to grow a network and to understand the film landscape," she says. But her mentor also offered practical advice on areas such as where to find job opportunities and the costume department's responsibilities and invited Beresford to shadow on a shoot. She then secured work as a costume trainee.
"Mentoring definitely moved me on exponentially in relation to my peers, in terms of opportunities and confidence. And it was amazing that the mentoring programme was in my home town."
Invaluable and empowering resource
Manchester-based Vishal Handa spent six years in the film industry in India, first as a performer before moving behind the camera, then returned to the UK last year. "I had no contacts or context for the UK film industry," he recalls. "ScreenSkills has been an invaluable resource – and a place to start in building a network and understanding how the industry works."
Lesley-Anne Macfarlane was in theatre in the UK before working as a film producer in Trinidad for five years. "When I came back to the UK in 2018, I wanted to start my screen career as a producer," she says. "I knew that mentoring could be useful, to help me integrate into the industry and get some direction."
The mentoring expanded her network and was "empowering," says Macfarlane, who has since worked on a short as an associate producer and is co-producing a feature with a social enterprise. "Without the mentoring support it would have been a much slower and less successful process," she adds.
The benefits are also a two-way process. In Wales, Sarah Stevenson has been both mentor and mentee. "There's an altruistic aspect, certainly - but I wanted to invest in good people to work with in the future," she says.
TV executive Fatima Salaria adds: "Mentoring helps me connect with a younger generation. I learn from them, and I'm also reassured that my skillset is relevant. I believe that mentoring makes me a better manager."
If you have experience to share, sign up as a mentor on the 'Become a mentor' page of the ScreenSkills website. For more info and resources, read the Mentoring section by clicking here.


ScreenSkills is the industry-led skills body for the UK's screen industries – film, animation, VFX and immersive technology, games and television including unscripted, children's and high-end.