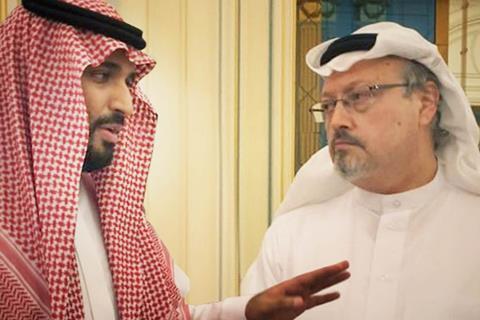 When Bryan Fogel set out to make The Dissident, his searing documentary about the murder in Istanbul of the Saudi Washington Post columnist Jamal Khashoggi, he knew the feature hinged on the cooperation of Khashoggi's fiancée, a young Saudi dissident-in-exile, and the Turkish government.
It took time to win everybody over. What partly earned their trust was how Fogel had handled extremely sensitive subject matter in his 2018 best documentary Oscar-winner Icarus. The Turkish government granted the filmmaker unprecedented access to recount how Saudi Crown Prince Mohammad bin Salman's agents assassinated Saudi journalist Khashoggi.
The Dissident was fully funded by Human Rights Foundation. The film premiered on Friday (24), screens twice on Saturday, and again next week. UTA Independent Film Group represents worldwide rights and a number of buyers were circling at time of writing.
Jamal Khashoggi was murdered in the Saudi consulate in Istanbul on October 2, 2018, when he went to obtain divorce documents to enable him to marry his fiancée Hatice Cengiz. How did you make this film so fast?
It's been 16 months of 24/7 to put this together. With Icarus I was an unproven filmmaker. Over the three years it took to make that film, the budget was coming in in pieces. I was never able to truly assemble a team, like when you're making a feature. On this I had the budget up front in full, which allowed me to build the team. I was filming all over the world and needed the support. I had four editors, eight full-time Arabic and English researchers, and a massive team for the graphics.
Why was it important to get Cengiz in the film?
It's unfathomable to me how you're waiting for your fiancé to come out of the consulate and then then learn they've been murdered, cut to pieces. All of a sudden Hatice, this humble, unknown Turkish writer and intellectual, was thrust onto this global stage. I knew that I had to get to her and it had to happen exclusively. The media can be exploitative in their pursuit of the scoop. I never thrust a camera in her face and gave her all the time she needed. I promised I would respect her, protect Jamal, protect his legacy, and do what I could to help her continue to fight for him. Before Jamal's murder she had never left the Middle East… She's an extraordinary woman.
And why Omar Abdulaziz, the young dissident who had been working with Khashoggi?
He was in Montreal right as the Khashoggi story was breaking. This piece came out in The New York Times alleging that he'd been hacked by Pegasus [spyware created by Israeli company NSO Group Technologies], that the info on his phone compromised what he'd been working on with Jamal, and the whole Twitter thing [Abdulaziz has deployed a Twitter army to counter Saudi propaganda on social media]. That sounded like an incredible story: a young dissident living in self-exile, whom the Saudis had come for a couple of months before they killed Khashoggi, and because they couldn't get [Abdulaziz], his brothers were sitting in jail… I was shooting with Omar and would leave him with a stack of camera cards because he was still building trust and [I told him that] until he said yes, I wanted him to know whatever he shot was his.
From November 2018 to January 2019 you travelled back and forth to Montreal and Turkey. How did you win over the Turkish authorities?
I was building a relationship with the Turkish government who at the end of the day saw the power they could have in this story if they allowed me to tell it, rather than it coming out through Turkish media. They gave me access to [high-ranking intelligence chiefs, prosecutors and forensics experts] who to this day have never spoken on camera or been interviewed. To Turkey, this was not only a horrendous crime but such a smack in the face that the Saudis thought they could come into Turkey, commit this horrendous crime, and try to plant it on Turkey. Regardless of other narratives out there – people love [Turkish president] Erdogan, people hate Erdogan – in this case Turkey have been the only ones who have truly stood up to seek justice over this and have never backed down… I have a huge amount of respect.
How were you able to approach the Turks?
When you win the Academy Award and especially for Icarus, it opened up the doors to be taken seriously by world leaders and governments. I couldn't have made this film without Icarus. People saw how I protected Grigory [Rodchenkov, the whistleblower and former head of Russia's anti-doping laboratory]. People saw how everything we did followed his wishes. We didn't exploit his story and did everything we could to protect him. That gave my subjects a lot of confidence. With regard to Turkey – that's the wonderful power of film, because Hollywood is able to accomplish [things] because it is so global. In the case of Netflix we had this global platform, and most of the people I was dealing with in Turkey had already seen Icarus, or if they hadn't, they went and watched it. It was a slow climbing up of the ladder to get to the people I needed to get to.
The Turks gave you the audio files and transcript obtained from Saudi consulate recordings on the day of Khashoggi's death. It documents his final hours and his desperate fight for his life.
Nobody in the world has that transcript other than the CIA, British intelligence, Turkish intelligence, and the French. Turkey trusting me with that was them saying they wanted the world to see how real this was and this was the way to help me tell that story when I was given this transcript I corroborated that with Agnès Callamard [the United Nations' special rapporteur] who had heard he audio and was investigating and said it was exactly what she had heard.
Turkey has its own human rights issues and president Recep Erdogan is a notorious strongman. How did you feel about receiving their help?
You have to know when to pick your battles depending on that story you're telling… This was not the film to focus on other political matters and in this case Turkey has been a superhero. I felt very strongly that this wasn't the film to go down political rabbit holes. I wanted to keep the focus on Jamal, keep the focus on his murder, and keep the focus on the relationships Saudi Arabia has with all the world powers that are essentially allowing this county to perpetrate these crimes.
Did you reach out to Saudis?
I didn't and the reason is I wasn't approaching the film as a 60 Minutes, where it's about hearing all sides of the story. It's like it was with Icarus. I didn't need to interview Putin because there was Putin on television calling Grigory Rodchenkov a criminal and saying this didn't happen… Why did I need that? For him to tell me it didn't happen or put me in further danger? It's the same reason why I didn't need to interview president Trump [for The Dissident] – I'm simply using what he said. It was the same thing with the Saudis, although I have that little moment in the film when Mohammad bin Salman said he had three million people in the government and how could he have known what they were all doing [when he was asked by a US journalist if he ordered the hit on Khashoggi]. That's completely preposterous. Fifteen people flew in [to Turkey] on private jets with diplomatic passports and half of them were in his detail. Of course it's absurd. I want my films to play like a global narrative scripted feature thriller. When you muddy that you have the danger of it becoming a news piece rather than cinema.
Have you been threatened?
I have not been threatened to date.
What is the legacy of Khashoggi?
There have been two pivotal event in the Middle East in the last decade. One was the Arab Spring, which was ultimately supressed, and what came in the aftermath was worse than what there had been before. Middle Eastern governments realised Twitter and social media gave people the ability to take to the streets. Saudi Arabia and Egypt realised they had to control that space and suppress freedom of speech in the public domain to maintain power, and they came back even harder after the Arab Spring.
Jamal saw that as an awakening of the people. His murder happened and ultimately he is a martyr. The outcome that will ultimately sing from this story is so much larger in his death than it ever was in his life… I needed the world to see and fall in love with Jamal and understand this man was not Muslim Brotherhood or an al-Qaeda sympathiser or all these things being presented by Saudi Arabia or being written about by the alt press in the United States. This was a man who believed so strongly in freedom of speech and have a voice in his own country that he was willing to leave his family and imposed himself in self-exile and begin writing for the Washington Post, because losing his voice to him was the same thing as death. He even wrote that in one of his Washington Post articles: he said that in Saudi Arabia he felt he was being suffocated. The terrible analogy was that in the end he ended up being truly suffocated. The story of Jamal has not yet been written because the world has not forgotten him.
What can distributors do at a time when the United Nations has not censured Saudi Arabia over the murder and the word's nations have maintained relations with the Kingdom?
This needs a very strong global distributor and without naming them we know who they are. They will not act like the banks and businesses that you see at the end of the film that return to Davos in the Desert [Saudi investment conference] at the end of 2019. They will have the courage to stand up to Saudi Arabia… It's these distributors' jobs not just to be media companies; they have to be able to speak truth to power and help storytellers like myself bring stories like this to the world. I'm very optimistic this is going to get the voice it deserves.
Where is Omar Abdulaziz now?
He's in hiding, in as far as he's protected, but he's very public on his YouTube channel. And he's tweeting. He's fearless. It's more important for him to have a voice in his own country and hopefully change the narrative than to worry about his own safety.
How is Grigory Rodchenkov from Icarus?
I'm unable to talk to him. I communicate with him through lawyers. I hear he's OK, doing well and is in good spirits and continues to provide information to global authorities. He hasn't seen his family since November 2015. He lives in isolation.
Where does he live now?
I don't know. I don't want to know. I don't have his phone number. I'd put him in danger.
What are you doing next?
I have some things but my focus is to find the right distributor for this and then I'm going to rest a little.