Royal Film Commission Jordan is spearheading the country's plans to grow and develop its film industry reach, both within and beyond its borders and region.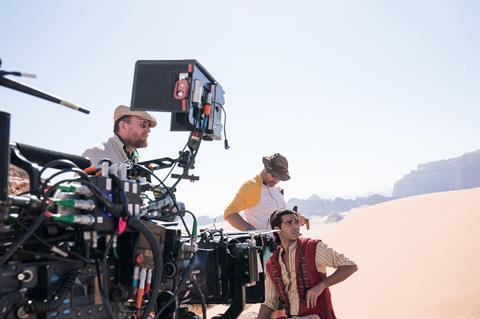 Mohannad Bakri, managing director of the Royal Film Commission (RFC) Jordan, has big ambitions for the country, which include building a studio facility on the outskirts of Amman, the launch of an international film festival and major boosts to existing film incentives for international shoots.
The RFC is also finalising plans to create a cash rebate system for local Jordanian and Arab filmmakers to cement the region's filmmaking output and aid smaller budget international co-productions.
Appointed to the role by HRH Prince Ali in July this year, Bakri returns to an organisation he helped establish in 2003 when Jordan began to lay out plans to build its film presence. (Bakri left to work with the arts centre on the NYU campus in Abu Dhabi for almost five years before his return this year.)
"Four years ago we established our incentive programme, which includes a cash rebate and a tax exemption for foreign productions, and now we are working on local and other productions," says Bakri. "It is on the basis of how much you are spending in the country and there are some other eligibility requirements."
Jordan has increased the maximum cash rebate available from 10% of Jordan spend to 25% for international productions. For a minimum local spend of $1m up to $3m, Jordan offers a 10% rebate, rising to 15% for productions between $3m to $5m. For spends of between $5m to $7m, the rebate is 20% and for $7m and above, productions are offered 25%.
The Warner Bros-backed sci-fi epic Dune, directed by Denis Villeneuve, qualified for the 25% rebate while Disney's live-action Aladdin conjured up 20%.
Jordan has a co-production agreement with Canada and is in the process of finalising one with Belgium. Thresholds for local and Arabic projects from across the Middle East are expected to be finalised "within the next few months", adds Bakri.
Jordanian cast and crew make up between 60%-70% on foreign and local productions shooting here. The first ADs on both Aladdin and Star Wars: The Rise Of Skywalker were Jordanian, hired because of capability and not for tax rebate eligibility.
Fits all sizes
The RFC is also planning to introduce a mechanism that supports lower-budget productions looking to shoot in Jordan. "We are working on a lower threshold system for local and other productions and on co-production agreements with countries for local and regional projects," says Bakri.
The commission's motto is 'Film the world in Jordan'. Bordered by Saudi Arabia, Iraq and Syria among others, Jordan can double for anywhere in the region. It is a safe country compared to some of its neighbours. "Productions locating in Jordan do not need to budget security considerations," notes Bakri. "There are very supportive communities wherever you go. People are getting more and more used to foreign productions coming to shoot in Jordan and the country is prepared."
Jordan can accommodate multiple productions and aims to entice productions to base themselves in the country, not just use it as a location. With high-end infrastructure, hotels and services, Jordan is set to add the next element: a studio facility. "Within 16 to 18 months, Jordan will have the first phase of a studio, most probably with three soundstages, on the outskirts of Amman," says Bakri. "This studio will be a new attraction for Jordan as a destination to film."
Amman International Film Festival, scheduled for April 2020, is the next piece of the jigsaw. "The commission founders always resisted mounting a film festival until there were Jordanian productions to showcase," says Bakri. "Now we have Jordanian stories and the voice, and we want the festival to complete the circle of film culture and industry in Jordan."
The theme for the debut festival will be 'first film' (director, DoP, screenwriter and lead actor/actress firsts will be eligible). Arabic-
language and international films will be considered with an industry programme, pitching sessions and global players from production and distribution set to arrive. Princess Rym Ali is the president of the festival and Nada Doumani its director.
Jordan has played host to three narrative features from local filmmakers in the last three months alone. "I always look at how amazing Jordan has become and look to how far it can go," says Bakri.
Contact: Justin O Cooper, North American liaison officer