The slowed-down beats of cumbia music power the emigrant tale I'm No Longer Here, Mexico's submission to the international feature film Oscar. Screen talks to director Fernando Frías de la Parra.
Fernando Frías de la Parra tells several stories in I'm No Longer Here, Mexico's international feature film Oscar submission. The film follows the leader of a street gang who abandons a life of music and dance and flees to New York when he falls foul of a local cartel.
"I tried to do something that spoke on different levels," Frías de la Parra explains over a Zoom call. "I had different ideas that I wanted to react to, and one of them was the slowed-down version of the cumbia that the Kolombia, an urban tribe from northern Mexico, loves to listen to and dance to."
The filmmaker, an emigré himself who left Mexico City to study film at New York City's Columbia University and has made his home in Brooklyn, was fascinated by the cumbia folk-dance tradition that has its roots with indigenous and African slaves in the Conquest-era Caribbean. The cumbia form has been adopted by many countries in Latin America, and by the central character Ulises and his Los Terkos gang members, dressed in colourful baggy clothes, who indulge in a slowed-down version of the dance popular in Mexico's northeast industrial hub Monterrey.
"If you look at the way they dance it in Colombia, it's fast and they take short steps because the slaves' feet were tied together and that's why they had to do these kinds of dances," says Frías de la Parra. "So they adopted it in Monterrey, and as the years went by and the war on drugs intensified, these communities were fertile ground for crime groups. This darker version of slowing the dance down reciprocated the darkness that the city was living in."
The filmmaker first learned of the slowed-down cumbia scene in Monterrey when a friend brought him a CD. "I love glitches and cultural accidents, and counterculture itself inherently is always a mix of things," he says. "I've always told stories about culture clash, the fish out of water."
That was an impetus to tell I'm No Longer Here, which was produced by Mexico's Panorama Global and PPW Films from the US and is Frías de la Parra's second feature following Rezeta, winner of the 2014 Slamdance grand jury narrative feature award.
The director's latest film also dovetailed with his desire to portray people on the margins of society. Frías de la Parra became familiar with stories of violence while teaching workshops to youngsters in rough areas of Mexico to pay off his university loans. "One kid told me he would never reach my age," he says. "Back then, I was 33. That shocked me. How can we judge people who choose to work at the margins of what is lawful, or who join organised crime, if there are no opportunities in Mexico or Latin America?"
However, Frías de la Parra was determined to eschew the "misery porn" depiction of ultra-violence that has become emblematic of much of Latin American life on screen. "I had never connected with the way the violence in Mexico was being portrayed in narratives," he says. "It had become an export product, like something designed for European festivals… I always wondered how characters are portrayed in films that do well internationally and how do people similar to these characters relate to them.
"I wanted to see if there was another, more humane way of portraying people that seemed more honest," he continues. "A way to connect the dots of reality and make a film about the inner conflict of a coming-of-age kid who has to be displaced."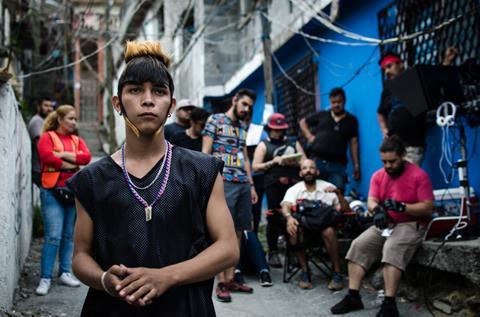 When Ulises upsets a local cartel, he escapes to New York. There he experiences life as an alien: the vibrant colour palette of his Monterrey existence flattens into muted hues, and life becomes bewildering, a little romantic and ultimately lonely. "I wanted to show that not everyone who comes from Mexico to the US is the same," says Frías de la Parra. "I wanted to explore this idea of migrating somewhere that's supposed to be good for you, and when you get there it doesn't quite feel that way.
"By having the kid outside [his home country], the memories of his past in Monterrey were the emotional vehicle. And through his nostalgia I could look back at these beautiful moments of Monterrey and celebrate that culture."
As Frías de la Parra pursued his research, he learned that Monterrey's cumbia culture is slowly vanishing as cartels kidnap children and force them into servitude. "Eventually kids were raising their hands to join, and that's what my character sees when he's in New York — he sees his friends proudly posing with the guns [on social media]."
But Ulises misses his friends and the call of the cumbia, and the yearning to return is strong. "The essential point of the film is that [Ulises and his friends] are just like the slowed-down cumbia — they are like a metaphor for a very fast expiring youth," says the filmmaker.
"By diluting the song and making it last 10 minutes instead of four, it's like saying, 'I don't want to stop dancing, because there's no future for me. For the first time I'm able to dignify myself, because while I have dark skin, live in poverty and live a violent, marginalised life, we embrace that prejudice and we take from the culture this tradition of dressing in baggy clothes, developing our persona, and changing our name.'"
Building rhythm
Frías de la Parra began writing the story in 2012 for his university thesis. Although his tutors did not warm to the idea, the story would not let him go, and he secured development support for the project from Sundance Institute's 2014 screenwriters and creative producers lab. It also received financing from Imcine, and additional support from Cinereach, San Francisco Film Society, Ventana Sur's Primer Corte, Los Cabos Film Festival, Guadalajara International Film Festival and Bengala.
Production got underway in Monterrey in late 2017 and lasted four weeks before a lack of funds and the onset of winter brought everything to a halt. Bureaucracy also played its part — it was proving difficult to get newcomer Juan Daniel Garcia (Ulises), a drummer whom Frías de la Parra had spotted playing the timbales at a municipal show, into the US. "Every time [Juan] went to the consulate to get the visa stamped, he would get rejected," the director recalls. "We had half of the film shot already and I was almost panicking. I was asking myself, 'Would I have to walk through the desert [across the US border] with him?'"
During the hiatus there was a game-changing stroke of luck: Netflix executives heard about the project, met with the filmmakers and came on board as financiers. With money in place and the star's papers in order, I'm No Longer Here resumed production in Jackson Heights in the New York borough of Queens in July 2018 for 15 days. Frías de la Parra started post-production the following month, took a break to direct six episodes of HBO's Los Espookys and completed the film in August 2019.
Netflix proved supportive of screenings in Mexico and other parts of Latin America. There was a strong response at Argentina's Mar del Plata International Film Festival in late 2019, and a theatrical run was set for the territory. Ultimately the pandemic scuppered these plans, and the film debuted on Netflix in May 2020.
I'm No Longer Here has been championed by Mexican Oscar winners Guillermo del Toro and Alfonso Cuarón and has earned wide adulation. Frías de la Parra leans in and shows a photo of a six-year-old boy striking a pose at his Los Terkos-themed birthday party. The filmmaker chuckles: "Representation fucking matters."