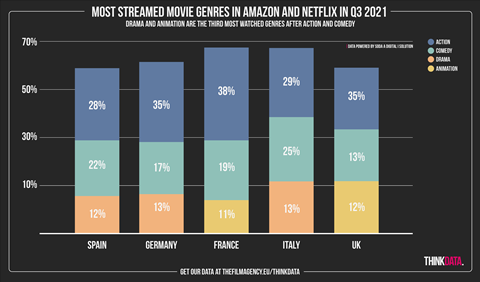 There was a time when box office figures painted the complete picture of a film's success or otherwise. Now, at a time when audience habits have been transformed by streaming, particularly during the Covid-19 pandemic, and day-and-date on-demand releasing is becoming increasingly commonplace, theatrical box office simply doesn't tell the whole story.
To best understand audience behaviours and market trends, data from the full gamut of distribution windows needs to be considered.
Madrid-based marketing agency The Film Agency believes there is a need for an independent, cost-effective solution to this data issue, which will level the playing field for smaller creative companies who are unable to effectively access this knowledge. The Film Agency's new analytical product, Think Data: Bridging The Data Gap, aims to empower independent content creators by giving them access to European streaming data.
With a monthly subscription, users will be able to access reports of SVOD data and a monthly newsletter which identifies the top 100 movies and series as well as the most-streamed genres on SVOD platforms in key territories.
Further analysis will provide a closer look at the performance of independent titles, flagship genres and European content, while users will be able to join webinars to further discuss the findings.
"Think Data is a service crafted for independent players to keep up with the streaming transformations shaping our industry, keeping a particular eye on the European titles that break through the top 100 on the leading streaming services," says Celia Fumanal, The Film Agency's innovation director.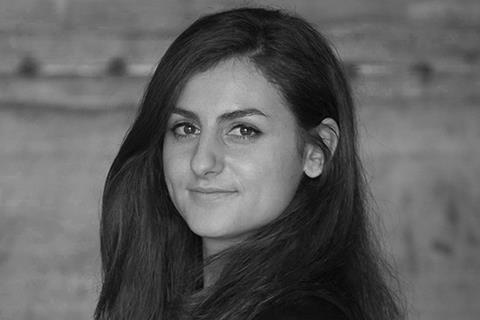 The Think Data product is powered by SoDA, the data and analytics tool created by leading UK-technology and insight company Digital i, who are specialists in TV and media industry analysis. "We did vast research on adaptable third parties and data suppliers, and came up with SoDA as the best partner for the project," she explains.
Drawing from a panel of approximately 20,000 viewers based in Italy, France, Germany, Spain, the Nordics and the UK, SoDA measures Netflix and Amazon streaming across all devices, both inside and outside the home. It is planned that SoDA will expand to encompass other territories and platforms.
"We are really excited to be working with Think Data to help bring the insight of the viewing revolution to all parts of the industry," says Ali Vahdati, Digital i founder and CEO. "Think Data have an exceptional knowledge of the challenges and opportunities SVOD brings to producers and content creators, making them perfectly placed to harness the power of SoDA and turn it into actionable insight."
With Think Data having initially analysed three months of streaming data, from July to September 2021, some interesting global insights are emerging. In terms of the viewing of European films, Italy tops the charts with 16.8% of its streamed content dedicated to European movies, followed by Spain with 15.8% of streams.
Local productions do best with Spanish audiences, accounting for 19.5% of streamed content in Spain versus 9.1% in Italy and 7.4% in France – figures boosted by successful Spanish titles such as Elite, Valeria, The Innocent and Money Heist. German thrillers and action movies performed well across Europe, particularly English-language content such as Prey, Schumacher, Blood Red Sky and Shiny Flake
The UK looks to be the least diverse streaming market, and less receptive to foreign-language hits. Netflix's South Korea hit Squid Game ranked at number four in the streaming charts, while Spain's Money Heist was at number eight. The UK also has the highest rate for the viewing of US sitcoms, accounting for 41.9% (774 million) of streams.
Overall, European content proved to be the second most popular with streamers in the analysed territories, but still way behind productions from the US and Canada.
The Think Data team hope making this type of data accessible to independent content creators will help them target marketing and release strategies more effectively across individual territories. "What we aim to do with Think Data is enable independent players to use the data to inform their analytical thinking," says Sarah Calderon, CEO of The Film Agency. "We are trying to empower small companies by making this data accessible; ultimately, this is the next step in our quest to connect content with audiences."
Visit www.thefilmagency.eu/thinkdata/ for more

Madrid-based The Film Agency are strategic thinkers, opportunity seekers and problem solvers. They have the ability to shift perspectives in order to find the correct marketing solution at the right time, while delivering insightful, cutting-edge assets and genuine campaigns which boost the brand of audiovisual projects. The audience is the priority and key connection between marketing and films and series.
View full Profile