The myriad programmes offered by the UK's ScreenSkills are helping to deliver new and experienced crew and talent to the thriving film and TV sector.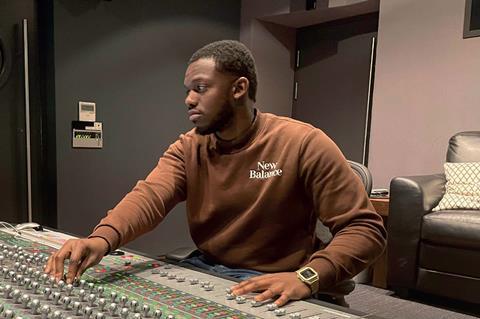 Whether through training, mentoring or bursaries, UK skills charity ScreenSkills is investing industry contributions and National Lottery funds awarded by the BFI to build a skilled and inclusive workforce for the country's booming film and television sector — from indie producers to studios and streamers.
"We help train the people who make the films and shows that the whole world loves to watch," says Gareth Ellis-Unwin, head of film and animation at ScreenSkills.
Sometimes the work is about making it easier for producers and heads of departments to find the right talent. Producer Theo Barrowclough of DMC Film and co-producer Jennifer Monks offered a placement on their feature Scrapper to assistant art director Karen Lau, who wanted to work in the UK after nine years in the industry in Hong Kong. ScreenSkills had chosen Lau for its Film Forward programme, designed to offer career progression to Black, Asian or minority ethnic crew with at least five years' experience, supported with National Lottery funding as part of the BFI's Future Film Skills strategy, which has helped more than 144,000 people in the last four years.
"There are a lot of entry-level schemes for people from under-­represented backgrounds, but Film Forward recognises there is a diversity of talent already working in the industry," says Monks. "It's an opportunity to give more diverse talent more senior credits."
"Film Forward was a massive value added because it gave us a database of experienced screen professionals from under-represented backgrounds," adds Barrowclough. "That is invaluable to low-budget independent filmmaking and running productions in a progressive way."
Sound designer Chad Orororo says working in film has been a dream since he was a 15-year-old hooked on Transformers. Coming from a Nigerian-­Grenadian background that is under-­represented, he says knowing the best route has not been easy. He started in music production, working his way up as a sound designer on acclaimed documentaries at post house Molinare.
Thanks to Film Forward, Orororo is now working as assistant effects editor with producer and 2021 ScreenStar of Tomorrow Chi Thai on her feature debut Raging Grace, and hopes it will be the springboard to becoming an assistant sound editor/­designer in film.
"I have made a strong reputation for myself. I've got the technical credentials," Orororo says "But it's the glass ceiling of not having the experience or connections to work in a different genre. This is going to enable me to utilise my skills in the place I want to end up being."
Thai has received a range of support from ScreenSkills through her career, so offering such an opportunity was a way of giving back. "I've had to build up my profile, build my contacts, build my network, and ScreenSkills has supported that," she says. "If you're from a refugee background [Thai arrived in the UK from Vietnam as a refugee] or a background with a lower income, it can be a really hard industry. You do need the support you can get from organisations like ScreenSkills."
Producer Anita Overland, whose credits include Small Axe and The Beautiful Game, chairs the ScreenSkills Film Skills Fund. She emphasises the urgent need to train experienced crew. "The pressure the industry is under means it is just crucial to fast-track the mid and senior level and provide the workforce to support the demand," Overland explains. "Entry level, such as the Trainee Finder trainees supported by the Film Skills Fund, is important for the future, but it's these experienced crew that people are desperate for — I know from my own experience."
Illuminating roles
ScreenSkills provides a range of ways to attract people and support them in advancing their careers. Immersive film First Day: In Post was created by ScreenSkills to illuminate the range of roles in post-production. The charity also provides bursaries, mentoring and courses starting with short e-learning modules, such as how to tackle bullying and harassment, which aim to help make the industry a better place to work.
Juliana Matsubara took a film art department course at the London Film School and was mentored through the organisation Talking Point, both supported by ScreenSkills.
Mentoring from respected production designer Alexandra Toomey, whose credits include Killing Eve, "has given me the foundation to strengthen my skills and spot my weaknesses," says Matsubara. An art department course offered in-depth tutoring of the essential skills needed to step up from assistant to art director, leading to work on productions such as the Netflix feature Persuasion and the HBO series Avenue 5.
"Thanks to ScreenSkills, I really learned how to engage with the industry and work with different departments in a professional manner. I was helped every step of the way, even after the course and mentoring ended," Matsubara adds.
Georgina Vaughan thought that finding a job in film and TV seemed "like a pipe dream" until she discovered the production assistant craft course with the Centre of Screen Excellence: Yorkshire (CoSE:Y), a partnership with Screen Yorkshire and education institutions. It is another strand of the BFI Future Film Skills strategy being delivered by ScreenSkills.
"It was proving tough to break into the industry," Vaughan admits. The CoSE:Y course, training entry level people in the rigours of production, as well as a place on the ScreenSkills Mentoring Programme, helped get her foot in the door. Work quickly followed on productions including The Railway Children Return, Gentleman Jack as a floor runner and Amazon Prime Video's Citadel as a crowd PA.
"It's funny looking back at my notes with [my mentor] because my first ones say things like, 'How do I get into the industry?' and my final ones say, 'How do I manage all the opportunities I'm now being offered?'" Vaughan laughs.
Bursaries can fund equipment as well as training. Justin Drew, an edit assistant in post-production, was awarded a bursary to upgrade his PC. "The equipment was a barrier," Drew explains. "I want to become an editor, and I needed a computer that can handle heavy processing and allow me to work on it without glitching or running slow. I wanted to be able to take on projects for private clients outside of my full-time job so I could build up editing experience. I've been able to do that."
Even being awarded the bursary gave him confidence. "It was like someone taking notice that I was actually on my way somewhere," Drew says. "I can now really do a good job for people. I can compete."
Pipeline of professionals
The BFI and National Lottery investment has worked alongside industry contributions to the ScreenSkills Skills Funds for the last four years. Industry offers of placements are as vital as the cash, with supporters including WarnerMedia offering experience to ScreenSkills Trainee Finder trainees on productions such as Barbie, Wonka and Fantastic Beasts: The Secrets Of Dumbledore.
Ada Stachura was a trainee in the Warner Bros. production office. "I was given a unique opportunity to learn from the best in the industry and although some days were demanding, I felt supported at every step of my journey," she says.
Kevin Trehy, executive vice president physical production, Warner Bros. UK, says: "This is an incredibly exciting time for UK film and television and we're proud to play a part in helping to not only support the current
generation of British talent, but also to develop a more inclusive pipeline of new professionals across the entire production process."
For more information, go to ScreenSkills.com

ScreenSkills is the industry-led skills body for the UK's screen industries – film, animation, VFX and immersive technology, games and television including unscripted, children's and high-end.