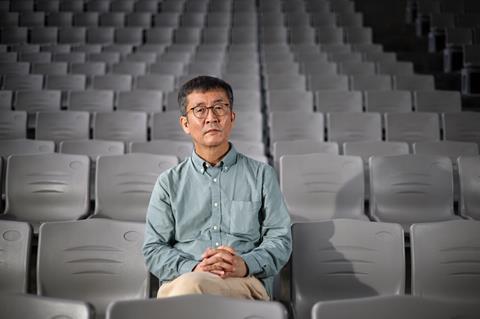 Appointed in March, Busan's new director Huh Moonyung was head of the Busan Cinema Center — known to most festival attendees as BIFF's main venue — where he also served as general manager of the Film Department.
Before that, he was director of the Cinematheque Busan from 2005-11. It marks a return to BIFF for Huh, who was the Korean cinema programmer from 2002-06. A former journalist, Huh is also the author of several books including on directors Im Sang-soo and Hong Sangsoo.
How have you approached your first edition?
We're at the last stage of a long tunnel when it comes to the pandemic and rather than be defensive and contracted, we should be more active and enterprising. We're planning an opening ceremony of a certain size, and although this is a transitional year, we are trying new things.
What are some of the new elements?
The On Screen section represents an endeavour to meet with the changing media environment. It's not simply because of the proliferation of OTT platforms. The concept of cinema is changing fundamentally and the boundaries between films and drama series are collapsing very quickly while the aesthetic value of series has never been higher. And by expanding Community BIFF screenings with BIFF in the Neighborhood — in different locations across Busan — we're trying to create a new model where we can have both a traditional centralised film festival along with decentralised events.
The decentralised events will also include two screenings overseas: Anatomy Of Time in Bangkok at the Thai Film Archive and The Book Of Fish in Singapore. This is a continuation of the screenings we had in three cities overseas last year with online Q&As with the filmmakers and audiences. We need to go to spaces where members of the public can also participate in cinema. This should be BIFF's direction and vision.
What are you most excited about this year?
It's almost unbelievable, in this pandemic, how many great films we are able to screen. You can feel the joy of discovery with all the Asian and Korean films across the sections. Also, director Im Kwon-taek has promised to be at the opening ceremony to accept the Asian filmmaker of the year award. I've always hoped this would happen.
Do you think the time people have had away from physical festivals will impact the future of these events?
I am certain the desire people have for festivals will never go away. Throughout history, festivals have been a part of all humankind's culture as indispensable events. So no matter how well-established online platforms become, I am sure the form of festivals where people gather together will never decline.