Taking on the title role in The Eyes Of Tammy Faye, Jessica Chastain hooked into the televangelist's optimistic humanitarian spirit. She tells Screen why standing up for the underdog is always important.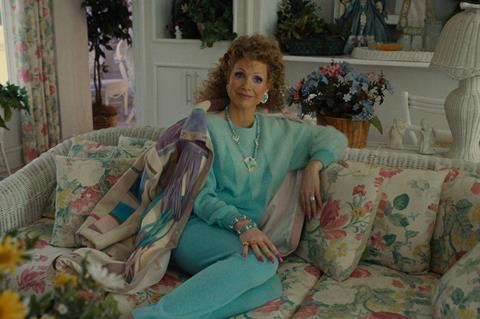 In the years 2011 and 2012, no fewer than 10 films were released showcasing Jessica Chastain in major roles, yielding her first and second Oscar nominations for The Help and Zero Dark Thirty. It was a coming out, Hollywood style. All the attention translated into opportunities, and Chastain leapt to option the film rights to Fenton Bailey and Randy Barbato's 2000 documentary The Eyes Of Tammy Faye, about the televangelist who fell from grace as her husband, Jim Bakker, was jailed for mail and wire fraud.
"I didn't know how I was going to do it at the time," says Chastain, who now has Freckle Films, her production company with Kelly Carmichael as head of development, to help usher projects she likes to the screen. Although the goal is not necessarily for Chastain to star in these titles, "the reality is, sometimes I can help get it made if I'm in it", she explains.
Nominated for a Screen Actors Guild award for her portrayal of Tammy Faye Bakker in The Eyes Of Tammy Faye, directed by Michael Showalter and co-starring Andrew Garfield, Chastain is just happy to have righted the woman's tarnished reputation. "I felt sad and ashamed that her legacy wasn't celebrated for the incredible person and humanitarian she was and that she was made to be a joke by the media," says Chastain, who also serves as a producer on the film.
Chastain spoke to Screen International in between scenes on the set of George And Tammy, which sees her play country star Tammy Wynette in the Spectrum/Peacock limited series.
Is there a different process you take on when portraying a real person as opposed to a fictional character?
Absolutely. The thing I love most about acting is learning new skills and about new people. I'm so curious, and I want to have as many experiences as I can. So, even though, say, Elizabeth Sloane [Miss Sloane] is a fictional character, I went to Washington DC and met with female lobbyists, I studied politics. I based her physicality off one lobbyist in particular and my CAA agent, a very cool and formidable presence. I pieced it together to create a character different from me, because I don't want to just play myself over and over again. With Tammy Faye, I watched everything she ever did — it's all on YouTube. Like the interview she did with Steve Pieters [a reverend diagnosed with Aids]— you can watch it in our movie and then you can check my homework. [Laughs]
Were there things that you were able to tap into about Tammy Faye that you see in yourself?
Yes. I believe everyone is deserving of unconditional love and it doesn't mean you're giving someone a pass to do terrible things — it means that I believe in forgiveness, that oftentimes meanness or aggression comes from someone's own sadness or insecurity. There's a scene in our movie where teenagers are making fun of Tammy, and she walks up to them and has a conversation. That actually happened. And at the end of that conversation, these boys were hugging her. She was able to see the hurt in them and heal it. I'm not saying I'm able to heal people's hurt, but I know that I despise snark and cynicism. I find those things the most boring, lazy form of expression. I love earnestness. I love people who are real, feel their feelings, express themselves. And I think that's also how Tammy was.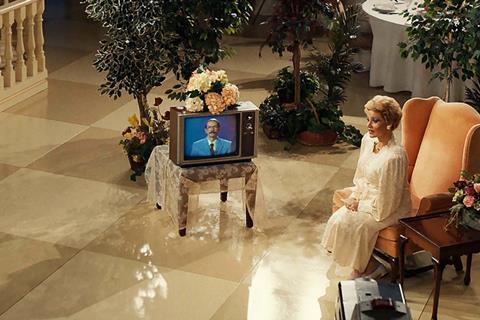 Tammy Faye rose from humble beginnings, and you had a hard start in life too.
There are a lot of people in society who feel invisible. And I'm speaking as a white, straight woman, so it's far worse for others. I absolutely understand that. But as a child, to wonder why the teachers aren't noticing that I'm wearing dirty clothes, that we don't have stuff or why isn't anyone helping my mom, I know what it feels like to not be counted in some way. It's probably why I'm so passionate about using whatever platform I have to amplify the voice of someone who feels that society is ignoring them.
You have been involved in advocacy and activism. Do you think it's the responsibility of people with platforms — like yourself — to use them to help others?
In the beginning, when I started speaking up about stuff, I had people, famous movie stars, in the industry telling me to stop. They told me, "This isn't good for your career." I have been told that I've missed out on certain things — which is fine, because my career feels so full — but people get nervous about how outspoken I can be. I don't know how not to. I've always rooted for the person that no-one else believes in. It's a privilege that I get to use my platform to do that, because 15 years ago I didn't have a platform.
You have a reputation for taking roles in films that have feminist themes — but actually you have quite a diverse portfolio, so it's interesting that opinion has stuck.
People have trouble discerning the actor from the characters. I learned that when I was still at college. I remember Val Kilmer came to do a talk, and he said that Hollywood — and society — isn't unimaginative, they're anti-imagination. That's why I've worked so hard to try to be as private as possible in my personal life, because I want the opportunity to do so many things. Tammy would have been the first person to say that she was not a feminist. I'm playing Tammy Wynette and singing 'Stand By Your Man' — that is not feminist!
There are these moments in actors' careers that are marked: their breakout hit, their first Oscar nomination, or even win. Do you mark your career as such?
The first Oscar nomination [for The Help], for sure. For someone who grew up in an environment like I did, that's the craziest thing I could ever imagine — to be at the Oscars with my grandma. She moved me to New York when I got into Juilliard, helped me get money together; I got a scholarship, I took out a ton of loans. She also moved to Los Angeles with me and was my roommate, drove me to five auditions a day. My family has made so many sacrifices to get me there, so to see my grandma look at me on that stage [presenting an award], I knew wasn't for nothing.
What about the way you mark your life? Is it about the wins?
I've changed a lot. I used to be someone that had new year's resolutions about everything and timed goals. I have definitely settled down since 2012. I got to the point of realising that it's not about achieving goalposts anymore. Now, I'm always asking myself, "Am I still learning? Am I still excited to be alive?" Because what excites me is to do things that scare me and to overcome them. Anything that gets me off my couch and reminds me what a gift it is not only to do what I do, but just to be alive. We forget what it's like to just be living every day.