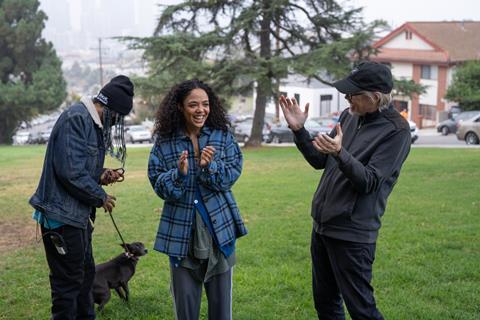 Films that show just one person on screen throughout are rare so it was with some trepidation that Steve Buscemi took on his latest feature as a director, The Listener.
"I was intimidated as hell," he says with a laugh. The film stars Tessa Thompson as Beth, a crisis helpline volunteer who fields calls from lonely and broken people, taking place over one night in her Los Angeles apartment.
Written by Alessando Camon, the Oscar-nominated writer of The Messenger, it is set to receive its world premiere as the closing film of Giornate degli Autori in Venice on September 9 before going on to screen at Toronto. Bankside Films handles international sales with US distribution rights represented by CAA Media Finance and Verve Ventures.
"I was so intrigued and moved by the story, which took me to unexpected places," says Buscemi of receiving Camon's script in the early days of the Covid-19 pandemic. "I love that it deals with mental health issues that the pandemic has made even more intense, and how people over the past couple of years have become more isolated than ever. But when I started to think about the mechanics of how to actually make this cinematic, that's when I would get nervous. There were definitely some sleepless nights."
It marks the fifth film as director for Buscemi, the US actor, producer and filmmaker best known for memorable roles in Reservoir Dogs, Fargo and The Big Lebowski as well as TV dramas Boardwalk Empire, for which he won a Golden Globe, The Sopranos and more recently anthology series Miracle Workers.
After an initial attempt to finance The Listener fell through, financier Hantz Motion Pictures came on board to produce the movie in conjunction with Buscemi's Olive Productions and Sight Unseen.
Lockdown and travel restrictions meant the first time Buscemi and Thompson met was over video link. "We met on Zoom and really connected about what we wanted to do, while acknowledging it was a huge challenge," he recalls. "She's one of the busiest actresses on the planet and we were really lucky that she stuck with us."
Thompson's star has risen in recent years following acclaimed roles in Creed, the Marvel Cinematic Universe and period drama Passing, for which she received a Bafta nomination. The Listener shot over six days in autumn 2021 when the actress was on a week-long hiatus from HBO drama Westworld and marks her first feature as a producer.
"Tessa is such an incredible actress and it was fascinating to watch how she resets after each call in the film before taking on a new call and seeing how that affects her," says Buscemi. "Her face is a landscape and I never ever got tired of watching her."
Cast of callers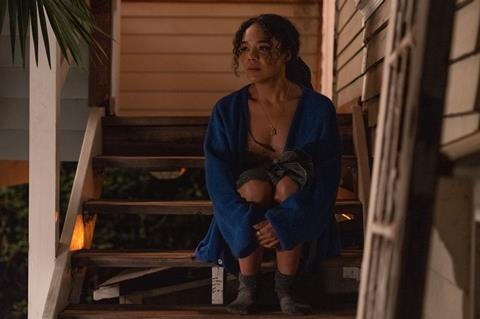 The callers that seek counsel throughout the film are a varied group and are voiced by Logan Marshall-Green, Derek Cecil, Margaret Cho, Blu Del Barrio, Ricky Velez, Alia Shawkat, Jamie Hector, Casey Wilson, Bobby Soto and Rebecca Hall (who directed Thompson in Passing).
"We had a wide variety of people that we thought of for the callers," says Buscemi. "Tessa and I worked on this too, discussing how the different voices might affect who we wanted for the other callers, considering if they were too similar."
At a time when superhero blockbusters continue to dominate cinema, The Listener is Buscemi's attempt to make something more relatable that shows powers in ordinary people. "I like big adventure films and they do provide a welcome relief, but it's rare that you can find a film where you can see yourself or the superpower within yourself," he says.
"It's a very basic thing to really listen to one another but it's through listening that we discover things about ourselves and the people we're talking with, without judgement and without feeling the need to fix it or say something that's going to make a difference. Just to listen."
After his 1996 debut Trees Lounge, prison drama Animal Factory and dysfunctional family feature Lonesome Jim, The Listener marks Buscemi's first film as a director since two-hander Interview in 2007. Will it be another 15 years before his next film?
"It's not for lack of trying," he says. "It's a tough industry. But I've been keeping that muscle going by directing TV and was really grateful to direct two episodes of Miracle Workers, just a few months before The Listener.
"Usually when I direct, I find it incredibly challenging and get very anxious but I think it's because I don't do it enough. So I try and be really careful about the projects I get involved with, knowing that it can sometimes take years to get something off the ground."
Having established himself as a director for TV on series including Oz, The Sopranos, Nurse Jackie, 30 Rock, Portlandia and Miracle Workers, perhaps Buscemi could revisit the world of Fargo, which has proven an award-winning success as a TV spin-off drama for FX.
"I have seen it and I really like it a lot," he says of the series. "I've not been approached and I haven't sought it out… But I would definitely consider it."