Film-maker Baltasar Kormakur and his producing partner Agnes Johansen talk to Wendy Mitchell about building RVK Studios, a Reykjavik firm that has global ambitions while staying true to its local roots.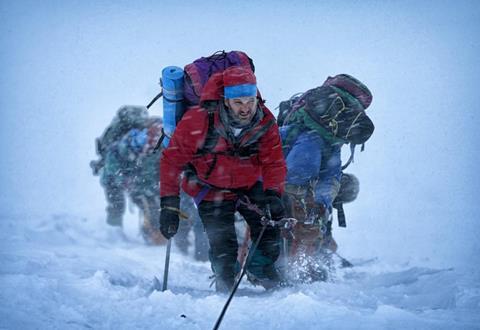 When Baltasar Kormakur was starting his film-directing career ― in 2000 with the hit 101 Reykjavik ― there were not enough local role models for the kind of career he wanted to build. He had to look abroad for inspiration.
"Working Title had a model where it had managed to break out in England and across the pond. It wasn't that I wanted to repeat that business but it was something I could look to," he remembers. (Coincidentally, he is now a frequent collaborator with the UK powerhouse on projects such as the forthcoming Everest.) "There are footsteps of directors from England who have become big directors on the world stage. In Iceland, there were no such footsteps. And not even many from Scandinavia."
'Doing something of scale on your home turf is the ultimate'

Baltasar Kormakur, director
Now Kormakur has taken those steps himself and built something of a small empire in Iceland. He launched his production company Blueeyes in 1999 (producer Agnes Johansen joined in 2002), which rebranded and grew into RVK Studios in 2013 with big ambitions that are now being realised. "The way the world is changing, we're able to do more work from Iceland, we can open it up," he says proudly, sitting in RVK's spacious, industrial-chic offices in a former steel factory near Reykjavik's old harbour.
One ambition was that Kormakur would continue to work on his big US and international films but from his base in Iceland when possible ― his films, 2 Guns, Contraband and now Everest, are being post-produced at RVK's sister company, RVX.
With its launch, RVK also set out big ambitions in international TV production. This autumn, the company starts shooting Trapped, a 10-part crime series that has European partners on board.
Expanding his global career while keeping true to the Icelandic spirit has been Kormakur's MO throughout his career, which has spanned acting, theatre and film. "During my acting days, in the '80s or '90s, the idea of success after making local films was to become a baddie in a Bond film or something. The usual idea was to leave your home and become someone else. That didn't tempt me. I could go there and do the work with the intention of also coming back and building something here."

Climbing Everest
As part of that ambition to build locally, Kormakur also established RVX with visual-effects veteran Dadi Einarsson, a long-time creative at Framestore London who opened Framestore Iceland in 2008. The pair bought out Framestore's stake in 2012 to form RVX, which now works on Kormakur's projects (such as 2 Guns and Everest) as well as third-party work ― from commercials to TV and films. The company can lay claim to bringing visual effects of a global standard to Iceland.
"Baltasar sees this as a major cog in the wheel," says Einarsson. "He had the shared vision to build the business here… he also sees VFX not just as an end-point vehicle but more of a creative collaboration from the beginning."
RVX currently employs about 50 people and is deep into its work on Everest.
The mountaineering epic, set for a September 2015 release, shot for 80 days in Nepal (on the foothills of Mount Everest), Italy (including at Cinecitta and on location in the Dolomites) and the UK (including at Pinewood Studios). The project is made with Working Title Films, Universal Pictures, Cross Creek Pictures, Free State Pictures, Walden Media and RVK.
The story follows a climbing expedition on Everest that must fight for survival after a severe snowstorm.
"It's the hardest shoot I've done and I've done some tough ones like The Deep," Kormakur says with a laugh.
He shot at the highest possible altitudes without putting cast and crew in danger. "You have the real stuff, and then you intertwine more [CGI]. I describe it as work-ing with hair extensions instead of a wig." Taking the cast up real mountains was important, "so they could all have that feeling of being high up, not just imagining".
"It's both epic and character-driven," Kormakur adds. "But it's really about people and the scale of the nature and the mountains; it's not really about heroes and the storm."
The cast features Jason Clarke, Jake Gyllenhaal, Josh Brolin, John Hawkes and Keira Knightley.

The saga continues
There is another big film in the pipeline, Viking (Vikingr), an original story that takes inspiration from classic Icelandic sagas. It has been a passion project for Kormakur for more than a decade, and he now has the clout and connections to make it happen on a large scale. Working Title came on board in 2011 and a studio partner could be confirmed soon.
"The idea of doing something like that here, with our own production company, on your home turf is the ultimate," he says. "It's shooting something that belongs here on that kind of scale."
'Ten years ago, nobody was interested in Scandinavian programmes, now it's the most popular stuff'

Agnes Johansen, producer
Yet Kormakur is not ignoring smaller works. He finished Icelandic-language shipwreck story The Deep between Contraband and 2 Guns, and he still plans to make Jar City sequel Silence Of The Grave.
RVK is also working on other directors' projects, such as Dagur Kari's Fusi and commercials director Borkur Sigthorsson's debut feature Mules. Johansen says of Mules: "It's about two brothers in the aftermath of the economic meltdown who choose very different paths ― the older brother is very driven and a nouveau riche guy living beyond his means, the younger becomes involved in petty crime."
Sigthorsson impressed the industry with his award-winning short Come To Harm in 2011. Kormakur says: "I'm always on the lookout for supporting talents that I believe in. Borkur has the potential to break away from just local success and film festivals."
RVK has also optioned the screen rights for Icelandic epic novel Independent People, Halldor Laxness's classic social-realist story about farmers in the early 1900s.
Kormakur does not plan to make features only for the small Icelandic market. "I don't want to build a local comedy that won't go anywhere. Jar City is a good example ― that was a hit here and it also travelled very well. These films do have a life in the international market."

TV growth
The other move into the international market is with Iceland's largest TV project, Trapped. RVK recruited TV veterans Sigurjon Kjartansson (head of development and head writer) and Magnus Vidar Sigurdsson (managing director) to build the TV slate, which includes anything from Iceland's Got Talent to animated kids' show Hulli to a new show based on CCP video game EVE Online.
Trapped is a 10 x 58-minute series that is commissioned by Icelandic public broadcaster RUV and has partners including ZDF, France 2 and France 4. It starts shooting this autumn and will have directors including Kormakur, Baldvin Z and Oskar Thor Axelsson.
The story is about a local police chief (Olafur Darri Olafsson from The Deep and The Secret Life of Walter Mitty) investigating a murder after a body washes up on the shore of a fjord. The murderer could be among the ferry passengers trapped in the town during a storm.
As Johansen notes, a US deal for the series is in discussion now: "Ten years ago and before, nobody was interested in Scandinavian programmes, now it's the most popular stuff."
RVK slate highlights
Everest Kormakur's epic mountain disaster story will be released by Universal in autumn 2015
Fusi Dagur Kari's next feature, now in post
Viking Kormakur's long-gestating passion project to shoot as a big-budget epic as soon as 2015
Mules Borkur Sigthorsson's debut feature, to shoot in 2015
Silence Of The Grave Kormakur's sequel to Jar City is in development