This stylised coming-of-age movie is set amongst the modernist architecture of Columbus, Indiana.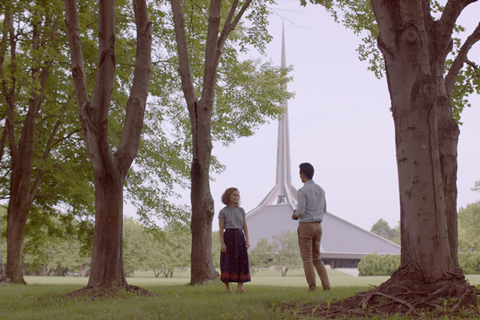 kogonada (the lower case is intentional) became famous online for his superbly constructed video essays on famous filmmakers, for example one-point perspective in the films of Stanley Kubrick.
For his feature debut, the elusive director created an unusual coming-of-age story set in Columbia, Indiana starring Haley Lu Richardson as a 19-year-old working-class girl who is undecided about her future.
The film was produced by Superlative Films, Depth of Field, Nonetheless Productions, Inc., with Visit Films handling international sales. We spoke to the director about Columbus.
How did you get into filmmaking?
While working on my dissertation, I started to make documentaries and other mediated work, which ultimately led to making visual essays for the Criterion Collection and Sight & Sound.
What was your inspiration for making Columbus?
I wanted to explore the meaning of absence through the burden of children. It was the discovery of this particular town and its modern architecture that made this desire tangible.
Was this projects developed through any labs (for example Torino Film Lab)?
No.
What was the biggest challenge when working on the film?
Time. We shot the film in 18 days. We wanted each shot to be composed in a very specific manner. With that said, we kept a fairly steady pace without too much stress or tension. But a little more time would've been nice.
How do you think the film diverts from your previous work?
Quite a bit, I'd say. It's a narrative, which involves collaboration with a cast and crew.
What are you working on next?
Another feature. A series. And maybe some commissioned visual work.