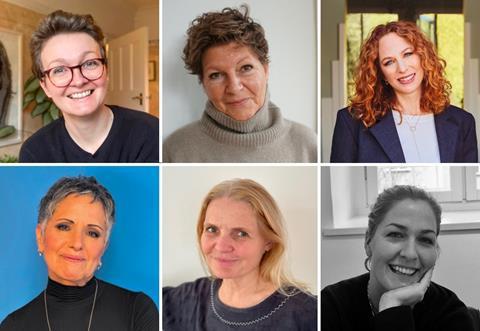 Finding the perfect ensemble of actors for a film requires insight, instinct, taste, knowledge and empathy. Screen profiles the casting directors nominated for this year's Bafta award for best casting.
Sarah Halley Finn - Everything Everywhere All At Once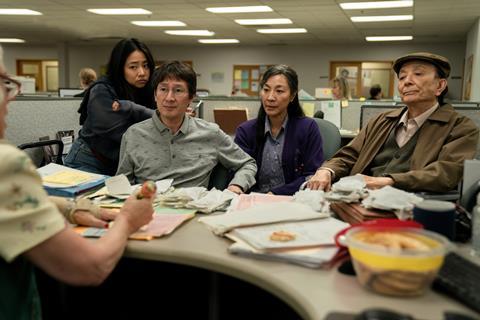 Sarah Halley Finn has cast every Marvel film since Iron Man and has enjoyed a close partnership with filmmakers Joe and Anthony Russo across a range of budgets. So when they, as producers, brought her Dan Kwan and Daniel Scheinert's screenplay for Everything Everywhere All At Once, she jumped in — as both casting director and co-producer.
An initial version starring Jackie Chan did not proceed, and when the gender of the main character flipped, Michelle Yeoh emerged as the ideal choice. "The part of Evelyn is so uniquely demanding," explains Finn, requiring an actress to bring "comedic, dramatic, physical, emotional, intellectual skills".
Los Angeles-based Finn worked with two casting associates from her team on the film — Djinous Rowling and Cecilia Lau — and the latter's fluent Chinese became useful in the casting of Ke Huy Quan as Evelyn's husband Waymond. "Part of our job, hopefully, is to create an environment where the actors can really flourish," says Finn. "I knew that Ke hadn't been auditioning a lot — for about 30 years. We could create a safe and creative space for him to play."
To play adult daughter Joy, Stephanie Hsu was known both to the Daniels (who directed her in an episode of Awkwafina Is Nora From Queens) and Finn (who auditioned her for Shang-Chi And The Legend Of The Ten Rings). "She came in the room knowing there was a lot of love and support for her, and she completely won the role. That was one of the best auditions I've ever seen. It was over an hour of her going in every direction you could imagine and taking any note and running with it."
Finn's team cast "40 to 50" speaking roles for the film, including Jamie Lee Curtis as IRS worker Deirdre — "a really special character" that called for "somebody who would sink into the role, let a lot of ego, vanity fall away, and be able to embrace this character". For grand­father Gong Gong, James Hong, who is now aged 93, stepped up. "Here is an actor who has been in [hundreds of] films, but who understood the spirit of the movie. He wanted to show what he could do with it, and he got up and danced in his audition. It speaks to the kind of atmosphere the Daniels were creating, where actors were really responding to the script and wanting to demonstrate they could do this out-of-the-box performance."
Finn has cast films that have gone on to earn awards attention — notably 2006 best picture Oscar winner Crash — but having four actors simultaneously earn Oscar nominations (as have Yeoh, Quan, Hsu and Curtis) is a first for her. "It's very exciting," she acknowledges. "It's a testament to the writing, the directing, the talent of the actors, and I'm honoured to be a part of it."
Denise Chamian, Nikki Barrett - Elvis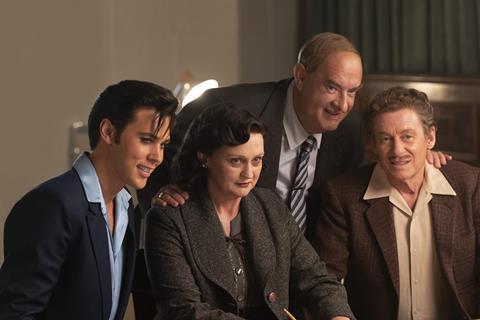 With Tom Hanks already in line to play Colonel Tom Parker, Baz Luhrmann enlisted Los Angeles-based casting director Denise Chamian to help cast the title role in Elvis. Chamian, known for her work from Saving Private Ryan to Uncharted, was the recommendation of the Australian director's usual US collaborator Ronna Kress, who had paused her company to become head of casting at Fox Film.
Chamian staged a worldwide hunt that looked, she says, at "three or four hundred" Elvis possibilities. The search, which required auditioners to both read and sing, took in everything from Elvis impersonators to hot Hollywood names — among them Ansel Elgort, Harry Styles and Miles Teller — before Austin Butler emerged as the leading contender.
"Personally, I knew it was going to be Austin," says Chamian, who had recently auditioned Butler for a role (that eventually went to Teller) in Top Gun: Maverick. "When we went through pictures of the many actors on a list I created, I said to Baz, 'This is your Elvis.'"
But before securing the part, Butler — praised for his supporting performance in Once Upon A Time In Hollywood — had to do extensive screentests and be submitted to what Chamian describes as the "very detailed process that Baz likes to go through".
The decision was made to shoot Elvis in the Australian state of Queensland rather than the US, so Sydney-based Nikki Barrett, who had worked alongside Kress on Luhrmann's The Great Gatsby and Australia, was recruited to find local talent for several roles. When the pandemic forced a six-month delay in shooting and made international travel difficult, however, Barrett was also called on to find Australian talent for roles originally earmarked for US or international actors who had become unavailable.
The pandemic prolonged the casting process and complicated auditions because it closed the border for non-essential travel between Queensland and Sydney's state of New South Wales. And the mostly Australian supporting cast ended up, says Barrett, as "a mix of what I think of as 'Baz's band of players' — people he loves and is loyal to, like Richard Roxburgh [who plays father Vernon Presley], and younger up-and-­coming Australian actors, like Olivia DeJonge [as wife Priscilla]."
Fortunately, says Barrett, who since Elvis has worked with Chamian again on Netflix feature True Spirit, Luhrmann is always open to suggestions: "You can throw any idea at Baz and he'll look at it."
It helps, adds Chamian, that Luhrmann — a former actor himself — is actor-friendly. "Some directors are not as connected to the actors, they care more about the camera, or the script, or whatever," she explains. "But Baz loves actors."
Lucy Pardee - Aftersun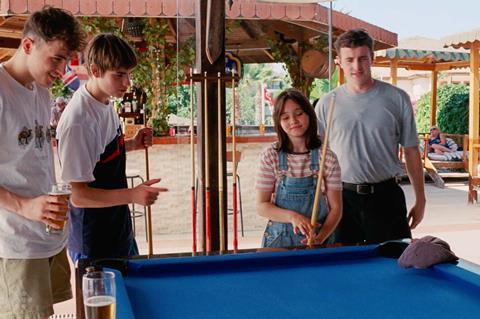 When Lucy Pardee boarded as casting director on Scottish writer/­director Charlotte Wells' indie drama Aftersun, she knew the prime task would be to identify a talented child to play the joint lead role of 11-year-old Sophie, who reconnects with her divorced father Calum on holiday in Turkey. The Covid pandemic meant this would be done remotely — initially at least.
Given that Sophie is defined as Scottish, Pardee called on Glasgow-based casting associate Alison Piper to reach out to primary schools across southern Scotland. That resulted in almost 800 self-tapes with 70 girls then invited to participate in Zooms, where they were set playful tasks such as show-and-tells. "The intention was to find somebody who had the right energy," explains Pardee.
Finally, in February 2021, Aftersun hosted a three-day casting session for 16 girls in a giant Glasgow wedding venue — including Frankie Corio, who clinched the role. "I had a good feeling about Frankie, just because of the natural range she was able to show," says Pardee. For the call-backs, the girls were tasked with learning lines and delivering them in a natural way. "Frankie was a complete natural. She has range, she was able to learn lines, she could be fed lines, and those lines belong to her."
For the Calum role, "the person needed to be brilliant, but also brilliant with whoever was playing Sophie. We needed to completely buy that these two people care about and like each other." Enter Irish actor Paul Mescal, best known at the time for TV miniseries Normal People. "He's got such an incredible mixture of strength and vulnerability," says Pardee of the actor, who went on to be Bafta- and Oscar-nominated for the role. "And Paul's openness to the entire process was such a good omen."
Pardee — whose credits include Andrea Arnold's American Honey and Sarah Gavron's Rocks — proceeded to cast all the kids and older teens Sophie meets on holiday, working with Nottingham Tele­vision Workshop and organisations in Liver­pool, Leeds and Lowestoft. "We wanted the young people to all feel like they would be on a package holiday in the '90s — regional kids from working-class backgrounds," she explains. Most had never met each other until they arrived in Turkey. "They all came up to me at the BFI London Film Festival screening and were like, 'We don't know how you did it, but we all love each other."
Pauline Hansson - Triangle Of Sadness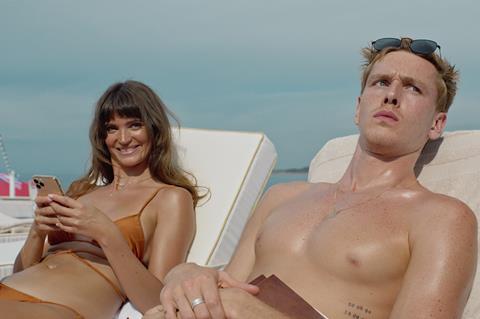 When Pauline Hansson works for Ruben Östlund, it is a fully immersive process: she puts her casting company to one side, and moves in permanently with the Swedish film­maker's Platform. In the case of Triangle Of Sadness, this was for 14 months, and involved visiting Berlin, Paris and London with Östlund, and Warsaw and Manila on her own. No role is ever finally cast without the director auditioning the actor — however big the star. "In Ruben's process, it's almost only improvisation at auditions," she explains. "He has to know, how would you as a real person handle this situation? Then you add the actor's tools afterwards."
Hansson entered her profession after being given the opportunity to street-cast 2015 Swedish indie film Drifters, winning the attention of creative advisor Kalle Boman who recommended her to both Roy Andersson (she co-cast his About Endlessness) and Östlund's producer Erik Hemmendorff (leading to her casting The Square). Triangle Of Sadness called for a collaborative casting approach — as she explains, "I can't know all the theatre actresses and actors in Germany and France." She reached out to casting directors who had worked on films she and Östlund particularly esteemed — Toni Erdmann's Nina Haun and The Lobster's Jessie Frost, for example — and solicited suggestions. In the case of Frost, Harris Dickinson was on her list for the lead role of male model Carl. They met him, "and he did an amazing improvisation".
In Manila, Hansson met 42 actresses for the role of cleaning lady Abigail, who emerges as the main character in the film's final act. "This was actually a bit difficult," she explains. "The Philippines is a big country and they have really big stars. In Sweden, we call it 'culture knock', our way of acting is not the same here." With the help of Östlund back in Sweden, she was able to modulate her direction in the sessions, and then she encountered Dolly De Leon — who played a scene deadly seriously that others had been approaching more comedically. "She really stood out."
Hansson might be due a rest after the intense process of Triangle Of Sadness, but she took the opportunity to have two children, 13 months apart, and is now working on two Swedish TV series while awaiting Östlund's next screenplay. "You can imagine," she says. "It's been crazy."
Simone Bär - All Quiet On The Western Front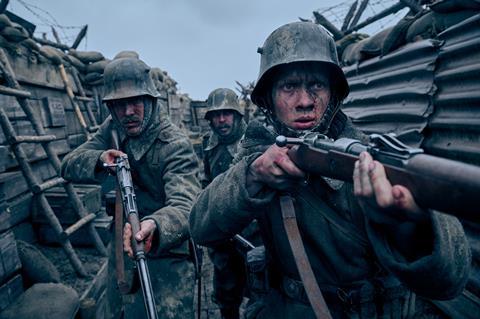 German casting director Simone Bär received her best casting Bafta nomination for her work on All Quiet On The Western Front posthumously – having passed away just three days before the nominations announcement. Screen spoke to the film's director Edward Berger, producer Malte Grunert and executive producer/supporting actor Daniel Bruhl, as well as to Bär's former collaborators including directors Todd Field (she did German casting on TÁR) and Christian Petzold, and actress Sandra Hüller, whom Bär cast in her breakthrough film, Requiem.